---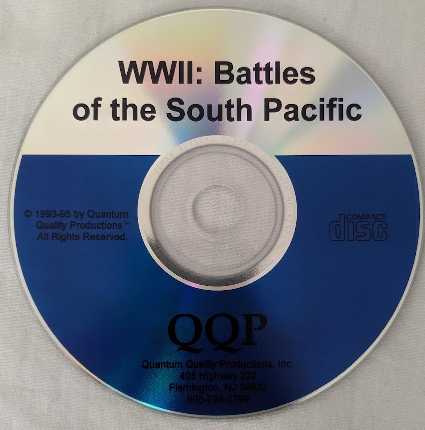 Actual Game 
WWII: Battles of the South Pacific
1-Click Install
Windows 11, 10, 8, 7, Vista, XP
(QQP 1993)
MY PROMISE
My games are genuine, install in one step, look, sound and play in Windows 11, 10, 8, 7, Vista and XP like they did in the old days, or your money back. This is my unconditional guarantee for three years.
WHAT IS INCLUDED
This listing includes the original game CD. An on-screen printable manual is also included. The box is pictured for reference and is not included.
I will also provide a compatibility CD that will allow the game to run under ALL VERSIONS of Windows 11, 10, 8, 7, Vista and XP, both 32 and 64 bit. Note that play by modem is not supported.
INSTALLATION
One step: Insert my CD and the game will automatically work on your computer. Done. Yes, it's that simple.
Want to play? Click the icon. Want the game off your computer? Click Uninstall. Zero hassle.
TECH SUPPORT
Rapid response technical support for three years is always an e-mail or phone call away.
In the extremely rare event I cannot get this title to work on your system I will take it back for a full refund. All I ask is minimal assistance from you during the troubleshooting process.
The Game
World War II: Battles of the South Pacific is seemingly designed for all levels of war gamers rather than specifically for the die-hard purists that demand full accuracy in all things from a war game. While ships, submarines, aircraft and like hardware are based on historically accurate information, the actual game play and strategy needed to complete scenarios successfully doesn't always emulate proven war tactics. That's not necessarily fatal but expert war gamers will definitely be put off by the loosely structured approach to historical strategies and events. An example of this is the rigid and often incorrect alignment of fleet assignments in relation to each other and tactically preferred formations. Another minor gripe involves the unrealistic power of shore batteries when defending against a bombardment attack. The game has a fairly benign learning curve but winning individual scenarios or long campaigns can be tough or frustrating depending on which side you control. Very few of the battles are balanced which does in many instances replicate historical strengths while exploiting glaring or subtle weaknesses.
Individual victory conditions vary significantly from scenario to scenario and won't always be based on what the player may think they should be so careful attention should be given to a review of them before engaging the enemy. As far as in-depth coverage of the South Pacific war arena, a sufficient assemblage of scenarios are provided with eight quick games and three each of battles and campaigns. Length of game play naturally varies with the type of game selected with the short games playable in less than three hours, the moderate battles in day or so and the campaigns with their one-hour turns lasting significantly longer (days, weeks or even months).
Both the graphics and sound in World War II: Battles of the South Pacific well done for the time. The interface is not difficult and, in fact, makes the actual game play fairly simple and intuitive for novice and expert alike with prolonged play almost certain to build a satisfactory comfort level for the player. The scenarios, which include both historically based as well as hypothetical "what ifs", are thankfully diverse and entertaining. A good range of customizable game play factors are available in setting up most scenarios which keeps the replay value on the high side for repeated attempts of scenario success under varying conditions. This feature becomes important in light of the absence of any sort of scenario editor or builder which seems a bit unusual for these game developers. All things considered, World War II: Battles of the South Pacific offers the player a good, easy -to-use but challenging collection of fairly difficult scenarios to master. Although marginally short on historical accuracy but long on game play, the game offers something to every level of war gamer.
The "lost sheep" of QQP, World War II was released with even less fanfare than QQP's usually modest ad campaigns, perhaps because the company was hyping its more ambitious navy wargame The Grandest Fleet-- a wise choice, considering World War II's abstract gameplay that may not appeal to the majority of wargamers. Still, it's a solid wargame that has all the hallmarks of QQP games: solid AI, fun scenarios and complete player history.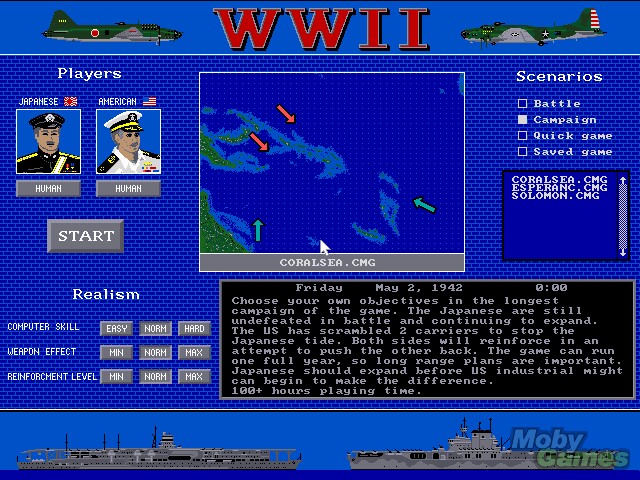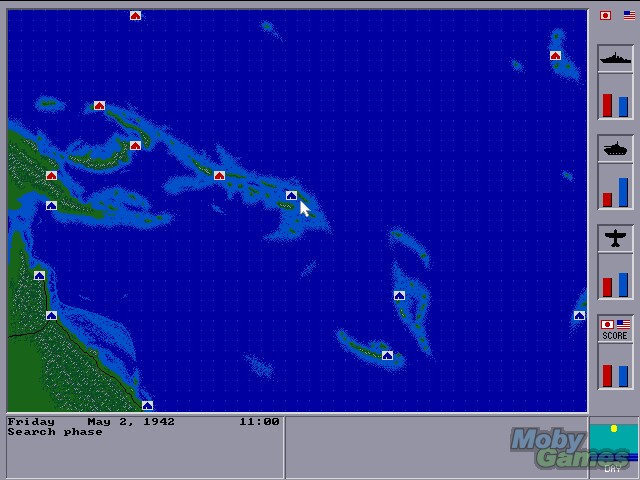 ---
Share this Product