---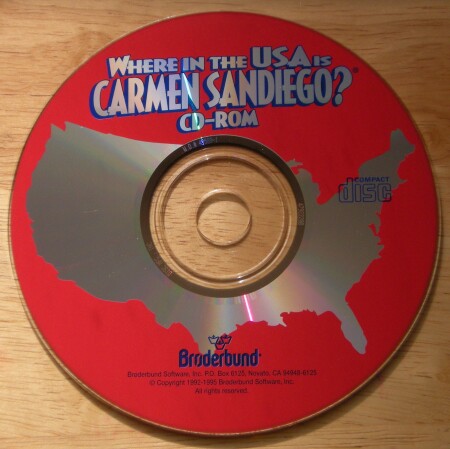 Actual Game
Where in the U.S.A. is Carmen Sandiego?
1-Click Install
Windows 11, 10, 8, 7, Vista, XP
(Broderbund 1996)
MY PROMISE
My games are genuine, install in one step, look, sound and play in Windows 11, 10, 8, 7, Vista and XP like they did in the old days, or your money back. This is my unconditional guarantee for three years.
WHAT IS INCLUDED
This listing includes the original game CD. An on-screen printable manual is also included. The box is pictured for reference and is not included.
I will also provide a compatibility CD that will allow the game to run under ALL VERSIONS of Windows 11, 10, 8, 7, Vista and XP, both 32 and 64 bit.
INSTALLATION
One step: Insert my CD and the game will automatically work on your computer. Done. Yes, it's that simple.
Want to play? Click the icon. Want the game off your computer? Click Uninstall. Zero hassle.
TECH SUPPORT
Rapid response technical support for three years is always an e-mail or phone call away.
In the extremely rare event I cannot get this title to work on your system I will take it back for a full refund. All I ask is minimal assistance from you during the troubleshooting process.
The Game
She's on the loose and nothing is safe! Former ACME detective Carmen Sandiego has turned to a life of crime. Now head of V.I.L.E. (Villains International League of Evil), she is scheming to steal anything she can get her hands on. Some of her booty includes all the maple syrup in Vermont, Abe Lincoln's cabin from Kentucky, the Mason-Dixon line, and more. Will no one put an end to this outrage? Yes! You! As a rookie agent of the ACME Detective Agency, it is your job to track down the members of her gang, arrest them, and eventually, capture Carmen herself! Aided by the Chief (Lynn Thigpen from the popular TV series), the ACME Get-A-Clue Case Pad containing the Clue Log, Suspect Profile, CompuCrook digital warrant device, access to the Crime Net Travel agency, State-A-Base database of information on all 50 states and the District of Columbia, and the Videophone with which you can call the Chief or one of the ACME Good Guides. Just don't let the battery run down or the crook will escape!
To start, you provide your name (or alias) and the Chief appears on the Videophone, informing you of Carmen Sandiego's latest dastardly deed. At this point, you can quit (chicken!), take the time to explore the United States (thereby increasing your knowledge and ability to track the elusive thief), or start right on a new case. After getting the low-down on the heist, you are transported via a morphing Conveyance of uncertain origin to the state where the crime occurred. Once there, you can pan right or left a full 360 degrees to look at the historical or famous spot at which you find yourself. These panoramas are based on actual photos of the real places. As various tourists pass by, you can click on them, thereby stopping them, and ask them questions; two questions, actually: "What does the suspect look like?" and "Which way did the suspect go?". You can save these clues by clicking on the words and dragging them to the Clue Pad. You may spot a dropped piece of paper or notebook. Be sure to investigate as these may contain valuable clues!
When you think you know where the suspect is heading, click on the US map icon to bring up a large map. Several states will be highlighted in blue. If you know the one you want, click on it or on its name in the list to the right. If you don't know where to go, click on one of the blue states and investigate. You know you're getting close when you start running into Carmen's henchmen, the clumsy Ick brothers, RoboCrook, or Carmine, her cat. The Chief will occasionally call you on the Videophone with encouragement or clues. At any time, you may stop and study the State-A-Base which may help you identify where the thief has fled. There is a search feature to this database so you can look for specific items. There's lots of other information, too: state flags, mottos, maps of topography, industry, and other things, history of the state, and a selection of songs related to the state.
By accumulating clues as to the crook's appearance, you build up a description for the Warrant. You must have an accurate warrant or your suspect will walk free! When you capture the crook, you are congratulated and as your tally of solved cases builds, promoted! If you tire of chasing crooks, take a vacation! By going into the browse mode, you can tour any state you wish, guided by one of the Chief's agents such as Rock Solid or Dee Plomacy. Learning is painless this way! The whole package is well-designed and constructed. The graphics are good as is the sound. And there is no shortage of content, both educational and recreational. In fact, it's hard to differentiate between the two.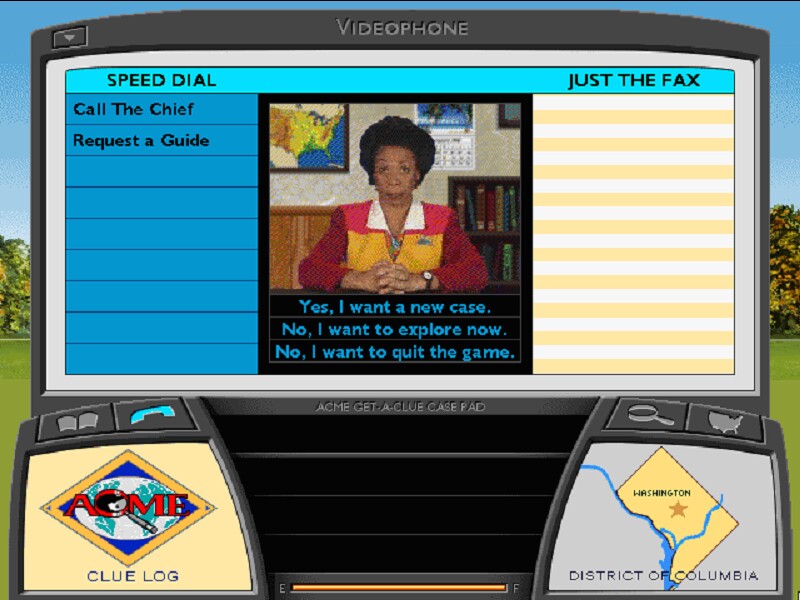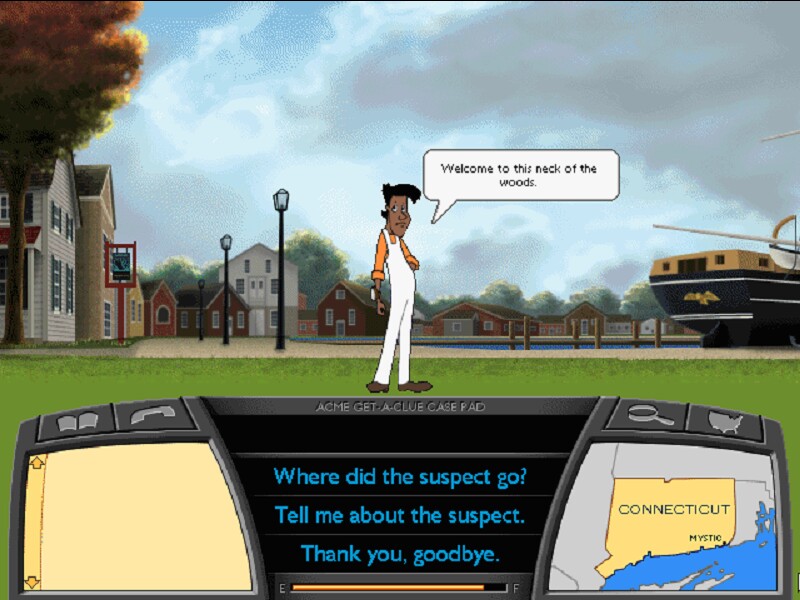 ---
Share this Product