---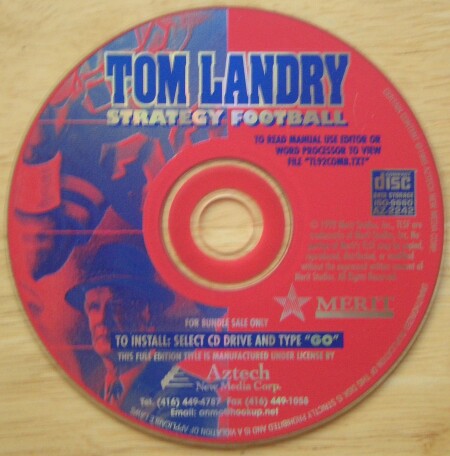 Actual Game 
Tom Landry's Strategy Football
1-Click Install
Windows 11, 10, 8, 7, Vista, XP
(Merit Studios 1994)
MY PROMISE
My games are genuine, install in one step, look, sound and play in Windows 11, 10, 8, 7, Vista and XP like they did in the old days, or your money back. This is my unconditional guarantee for three years.
WHAT IS INCLUDED
This listing includes the original game CD. An on-screen printable manual is also included. The box is pictured for reference and is not included.
I will also provide a compatibility CD that will allow the game to run under ALL VERSIONS of Windows 11, 10, 8, 7, Vista and XP, both 32 and 64 bit.
INSTALLATION
One step: Insert my CD and the game will automatically work on your computer. Done. Yes, it's that simple.
Want to play? Click the icon. Want the game off your computer? Click Uninstall. Zero hassle.
TECH SUPPORT
Rapid response technical support for three years is always an e-mail or phone call away.
In the extremely rare event I cannot get this title to work on your system I will take it back for a full refund. All I ask is minimal assistance from you during the troubleshooting process.
The Game
If there ever was a football game that every one could like then Tom Landry fits the bill.This easy to understand and play game incorporates nearly every aspect of true-life football in all of its glorious detail. Do not be fooled by the dated graphics, which for its time were quite good. The sounds are good too with real announcer's voices and all of the growls and grunts of the players as they shove each other around the field. Every thing that figures into a real game has been brought into this remarkable game. You have the choice of playing against computer opponents or over a modem, or you can let the computer coach both sides. There are weather conditions and home field advantages to affect the out come of your contests.
Your players of course are based on actual team players from the NFL, but the names have been slightly altered so that a Joe Montana will be listed as Montana Joe or something similar, but the abilities will remain the same as the true NFL counter-part. Defensive players are rated at each position on several aspects such as speed, strength, endurance, range and other aspects. Offensive players are rated on speed, hands, agility, endurance and other aspects. Quarterbacks are rated for their speed, throwing arms, ability to read defenses and other aspects. Special teams also carry their own rating stats so that your kick specialists, return specialist, etc all have their impact on the game.
The game allows you to insert players from the bench on any given play and this I find special because in a nickel defense you can put in your best defensive backs in favor of some of your linebackers or throw that real strong tight end with the terrible hands on a tough running play for extra blocking. Speaking of blocking each line, offensive and defensive has ratings for different aspects such as fumble recoveries and causes. You will appreciate the bench because there is a fatigue factor in the game. If your quarterback throws too many passes, you had better bring in his back up to let him rest a few downs. And if that big truck of a fullback does not sit and rest a spell his fumbles and injuries will increase. The same applies for your linebackers and defensive backs. Too many tackles without rest and you are begging for an injury.
The real meat of the game is play calling. On both offense and defense, you have a multitude of plays that you can use to best exploit your strengths and the other teams weaknesses. What's that? You say that you don't know much about calling plays or defensive formations. Worry not! If you really need help, you can seek advice from Tom Landry himself on each and every play with details good enough to make a super coach out of you in no time. Another good thing about this game is that you can form your league with any teams that you desire and the game has a truly wonderful stat keeper that in league play keeps a very entertaining set of stats on every team including rushing, receiving,passing, etc. Leaders. You also have the ability to scout teams before you play them so that you can build your game plays around all of their strengths and weaknesses. This game even charts the opponents play calling tendencies and lets you know what play they are more apt to use in certain instances and positions of the field.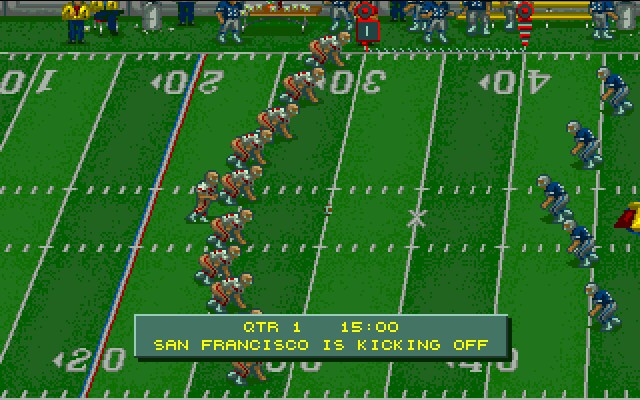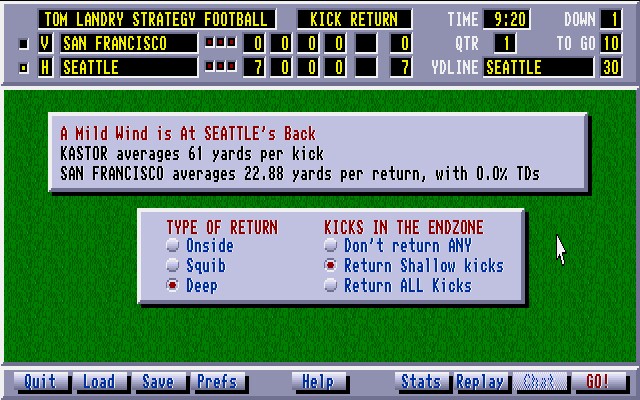 ---
Share this Product