---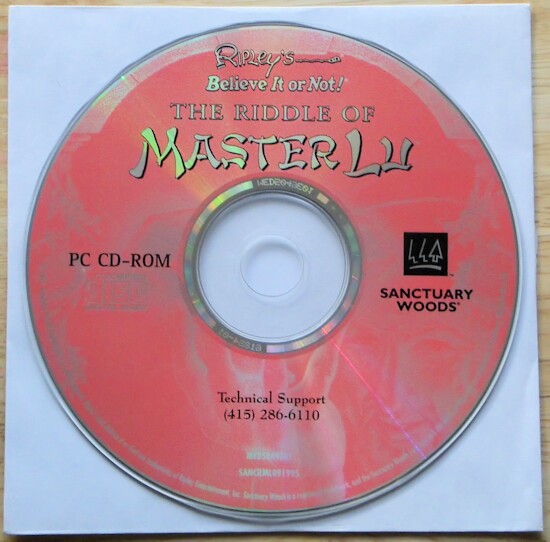 Actual Game 
The Riddle of Master Lu
Ripley's Believe It or Not
1-Click Install
Windows 11, 10, 8, 7, Vista, XP
(Sanctuary Woods 1995)
MY PROMISE
My games are genuine, install in one step, look, sound and play in Windows 11, 10, 8, 7, Vista and XP like they did in the old days, or your money back. This is my unconditional guarantee for three years.
WHAT IS INCLUDED
This listing includes the original game CD. An on-screen printable manual is also included. The box is pictured for reference and is not included.
I will also provide a compatibility CD that will allow the game to run under ALL VERSIONS of Windows 11, 10, 8, 7, Vista and XP, both 32 and 64 bit.
INSTALLATION
One step: Insert my CD and the game will automatically work on your computer. Done. Yes, it's that simple.
Want to play? Click the icon. Want the game off your computer? Click Uninstall. Zero hassle.
TECH SUPPORT
Rapid response technical support for three years is always an e-mail or phone call away.
In the extremely rare event I cannot get this title to work on your system I will take it back for a full refund. All I ask is minimal assistance from you during the troubleshooting process.
The Game
The year is 1936. Robert Ripley, world-famous comic artist and collector of all kinds of curiosities narrowly escaped two hooded men and is now safely back at his New York Odditorium. Safe? Well, almost. Somebody has been there before Ripley, has tied his trusted employee Feng Li to the office chair and left the large and dangerous King's cobra on the desktop as a "guard". After Ripley has secured the snake and freed his friend the latter explains that two men have attacked him and rummaged the office for Ripley's file on the tomb of China's first emperor.
Ripley had already done some research on this tomb, which was built, provided with some protective traps against tomb raiders and finally sealed hermetically by the scholar and architect Master Lu. Last but not least these protective measures also serve to safe-guard the Imperial Seal, a large emerald, said to possess untold powers. Now, action is the keyword as more than enough megalomaniacs would be delighted to be able to lay their hands on the Seal and by that take on world domination.
Along with his partner Mei Chen and the few hints he was able to collect up to now, Ripley hits the road for Peiping, better known as Beijing, where he hopes to find out more about the tomb and its master builder. Alas, Ripley is not the only one and he's running out of time. His persecutors always only one step behind we join Ripley on a journey around the globe. To uncover the riddle of Master Lu we also fly to Danzig (Gdansk), Peru, the Easter Islands and the Himalaya.
The Riddles of Master Lu are not meant for impatient individuals. The puzzles are not linear and we are free to travel to and fro as often as we like. It's not important to solve the tasks in a specific order – the main point is gathering all the information we need to find the mysterious tomb and get inside.
About 85-90% of Master Lu's puzzles are inventory-based which means we collect everything we find and pick up in order to employ it in one way or another somewhere else. More often than not we also have to use some creativity as we won't always have the suitable item at hand. Discovering the items and sometimes even the place where we have to apply them comes with a lot of pixel-hunting which isn't necessarily caused by difficulties in spotting them but first and foremost by the very number of hotspots.
The voice-actors are very well chosen and particularly the one who speaks Feng Li's part manages to convincingly sound like a Chinese. The natives in China only speak Chinese but Mei Chen will translate everything for us. The voices don't belong to the screen-actors apart from Karen Yip who plays and speaks the role of Mei Chen. Some of the voice-actors took over the parts of several characters but I would like to emphasize that unless you pay real close attention you won't notice it. I only learned it myself while watching the end credits. Author and designer Lee Sheldon himself appears in a very small cameo-role – he took over the part of one of the monks in Sikkim. But you will only see his eyes.
A graphic-adventure must include at least three ingredients – a good story, appealing graphics, and a variety of inventory-based puzzles. Regarding these aspects 'The Riddle of Master Lu' is a direct hit. In order to be able to fully enjoy this game, though, one should possess a little experience in the genre. I highly recommend it to every fan of classical adventures.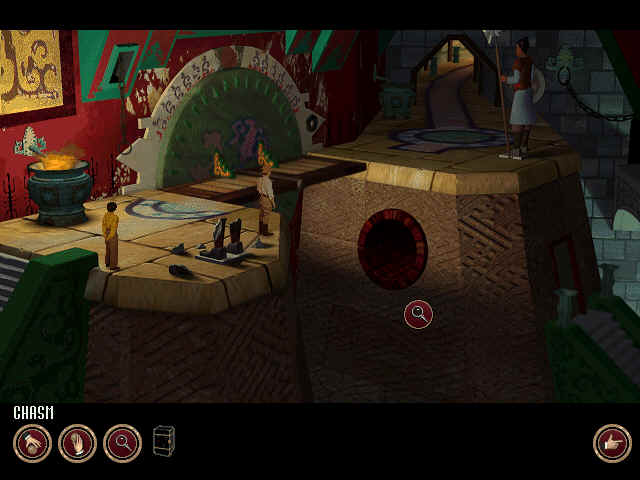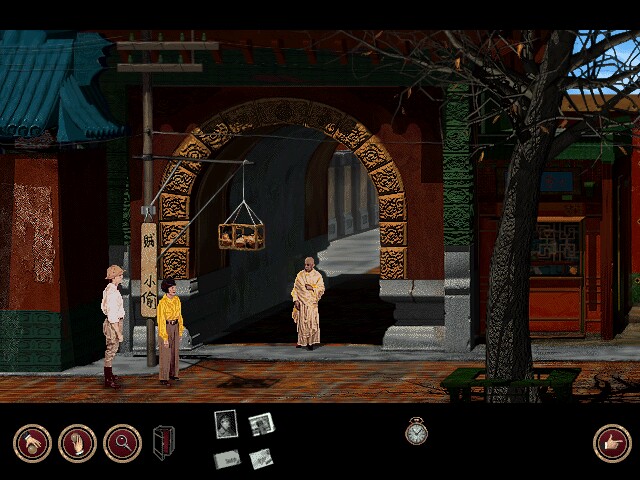 ---
Share this Product