---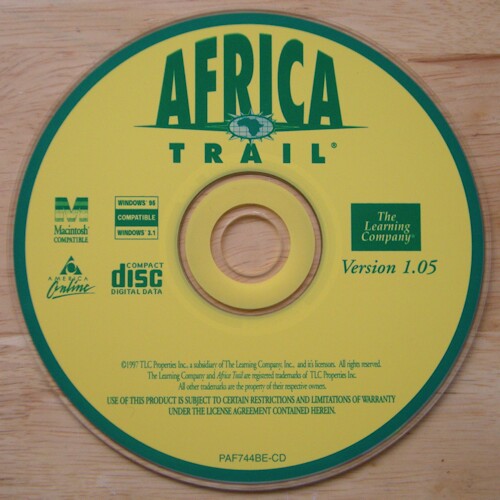 Actual Game 
The Africa Trail
1-Click Install
Windows 11, 10, 8, 7, Vista, XP
(Learning Company 1997)
MY PROMISE
My games are genuine, install in one step, look, sound and play in Windows 11, 10, 8, 7, Vista and XP like they did in the old days, or your money back. This is my unconditional guarantee for three years.
WHAT IS INCLUDED
This listing includes the original game CD. An on-screen printable manual is also included. The box is pictured for reference and is not included.
I will also provide a compatibility CD that will allow the game to run under ALL VERSIONS of Windows 11, 10, 8, 7, Vista and XP, both 32 and 64 bit.
INSTALLATION
One step: Insert my CD and the game will automatically work on your computer. Done. Yes, it's that simple.
Want to play? Click the icon. Want the game off your computer? Click Uninstall. Zero hassle.
TECH SUPPORT
Rapid response technical support for three years is always an e-mail or phone call away.
In the extremely rare event I cannot get this title to work on your system I will take it back for a full refund. All I ask is minimal assistance from you during the troubleshooting process.
The Game
Surviving a 12,000 mile bike trip through Africa is no mean feat, whether you do it in real life or on a computer screen. Time, money, weather and even your own health may well be against you.
You start out in Tunisia with $30,000 and three companions, along with a collection of bike parts that will be used to repair your bikes as you move through Africa. You will always have the need for some bike parts, as the grueling trip takes its toll on bodies and bikes alike.
Every so often, you will need to purchase more food and bike parts from the local vendors. This can be especially expensive and you must keep an eye on your costs. Accepting the first price the vendors give you is a sure way to run out of money before the end of the trip. Luckily, there is a "barter" button. Players can haggle with the merchant and come up with a price acceptable to both. Meat seems to be especially expensive. Check out the local price and the American price. Things can be more expensive than they appear.
Often during the trip, you can take shortcuts through the country to save time. These shortcuts don't always save time, however. Getting caught in a rainstorm or sandstorm, or having an accident on the road can sap time from your schedule as well as make you sick.
The health and morale of you and your teammates is equally important. From time to time you will be told that you or another teammate is injured or sick. You can prescribe treatments or send the teammates home if they are too ill to continue. If you are too ill to continue, the game is over.
As you bike through Africa, you get to see pictures of the land and people. When you stop in major cities or towns, you can also chat with the people, giving you insight into their ways, customs, and attitudes. One thing to remember is to buy visas into every country you can. Not only will this save you time and money later on, but you will be forced to backtrack less often.
At the bottom of the travel screen is a series of buttons. One shows you maps of Africa which can be clicked on to show your route and the countries you are currently traveling through. Another shows you the condition of your teammates, their health and morale. You can choose to rest from this screen. Another button will show you if anything is wrong with your or your teammates' bikes.
At the end of the trip, you are assigned a score based on how long the trip took, how many miles you traveled, and the amount of money you have left.
Africa Trail simulates the feel of a bike trip well and shows players the people of Africa. You'll get a feel for the people and culture along your journey.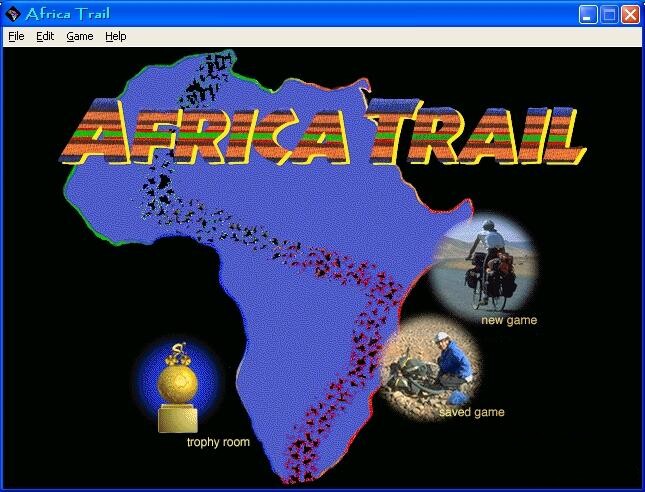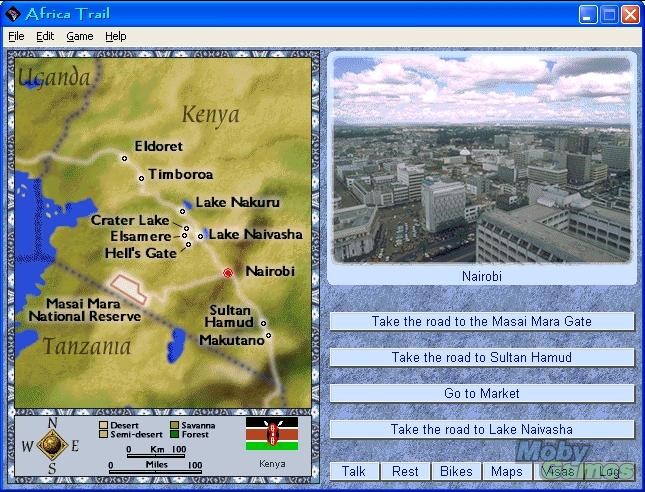 ---
Share this Product