---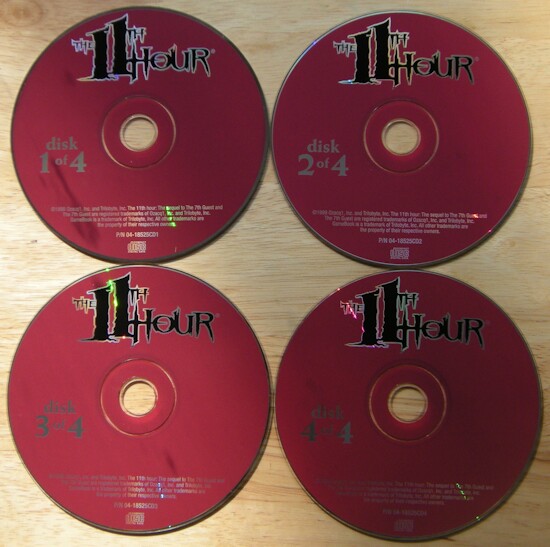 Actual Game 
The 11th Hour
1-Click Install
Windows 11, 10, 8, 7, Vista, XP
(Virgin 1995)
MY PROMISE
My games are genuine, install in one step, look, sound and play in Windows 11, 10, 8, 7, Vista and XP like they did in the old days, or your money back. This is my unconditional guarantee for three years.
WHAT IS INCLUDED
This listing includes the original game CDs. An on-screen printable manual is also included. The box is pictured for reference and is not included.
I will also provide a compatibility CD that will allow the game to run under ALL VERSIONS of Windows 11, 10, 8, 7, Vista and XP, both 32 and 64 bit.
INSTALLATION
One step: Insert my CD and the game will automatically work on your computer. Done. Yes, it's that simple.
Want to play? Click the icon. Want the game off your computer? Click Uninstall. Zero hassle.
TECH SUPPORT
Rapid response technical support for three years is always an e-mail or phone call away.
In the extremely rare event I cannot get this title to work on your system I will take it back for a full refund. All I ask is minimal assistance from you during the troubleshooting process.
The Game
When the 7th Guest was released in 1992, it became one of the first CD-ROM blockbusters. Being packaged with new computer systems certainly helped sales but it was the incredible video and sound effects that really caught the eye of the market; what better CD-ROM to show off the powers of that new computer?
The original game combined high quality video effects with a creepy theme and devilishly difficult puzzles to solve. Gameplay involved trying to solve the puzzles with the reward of being able to see some more video effects. The 11th Hour is a sequel to the 7th Guest and takes place 70 years in the future. Trilobyte was not planning to do a sequel but marketforces demanded one. If you remember from The 7th Guest, the evil toy maker Henry Stauf liked to grant twisted desires to his victims, well in the 11th Hour he grants your desire (for a sequel) and now he has come after you!
You play Carl Denning, an investigative reporter for a TV show. Robin, your producer/former lover was scouting out some mysterious murders that occurred around the old Stauf Mansion. One day a strange Game Book arrives at your door. It's a message from Robin. She is trapped in the evil house! Now it is up to you to save her by entering the house and solving Staufs riddles.
The gameplay consists of two major types of games, puzzles and treasure hunts. The puzzles are similar to the ones in 7th Guest, moving chess pieces, mazes, etc. but seem to be even more challenging. You can get clues from your Techno-Psychic Ally but try to use it sparingly because if you rely on it two much in the beginning, you will use it up and not have anyhelp later in the game. The treasure hunt involves finding an object that Stauf gives clues or riddles about. These riddles involve plays on words and anagrams. You can get three or four clues on each of these by hitting the help button on your Game Book. The game is divided into hours and at the completion of each hour there is a final puzzle that involves matching wits with Stauf. Winning the challenge from Stauf allows you to view the events you've witness in their entirely. The recaps are dramatic screening of the story shown in its entirety with all missing content seen for the first time. This sets up the story for the next hour.
Playing 11th Hour is a real multimedia treat. The four CD-ROMs contain about an hour of 30 frame per minute video (TV quality) which is very impressive. Some of the dialog is kind of strange like in a scene when your producer/lover is breaking up with you. She is in tears and Carl (you) doesn't seem to give a damn if she stays or goes. It kind of sets up the feeling that you're going to play a genuine jerk for the rest of the game.
The audio is excellent and includes about 8 original songs from The Fatman who should be familiar to anyone into games. After all the Fatman is to games what Mike Post is to television soundtracks. The Mr. Death song is great with funny lyrics like "I can't take a bath, without Mr. Death scrubbing my back."
Some puzzles are extremely challenging, such as the cash register episode, which kept us busy for over 2 hours. It seems we were thrown off by the display of 111 11 in the beginning of the game and thought that we were to add and subtract until we arrive at that number. Silly us, the object is to get from 162 00 to 81 81 by raising and lowering the cash register keys. The trick is to do it evenly with eight keys up and eight keys down. The treasure hunt riddles contain a lot of anagrams (words that when mixed up can spell other words) but are a lot easier to solve than the puzzles. All you have to do is find the object mentioned so some of them can be solved by blind luck. Find the object and you are rewarded with a video sequence.
You have to be a puzzle lover to enjoy this game. If you truly enjoyed the 7th Guest and perhaps found it a little too easy or really like challenging puzzles, than this is the game for you.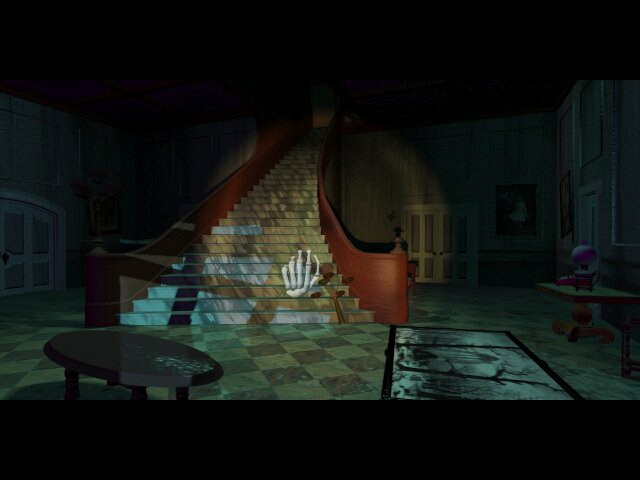 ---
---
Share this Product