---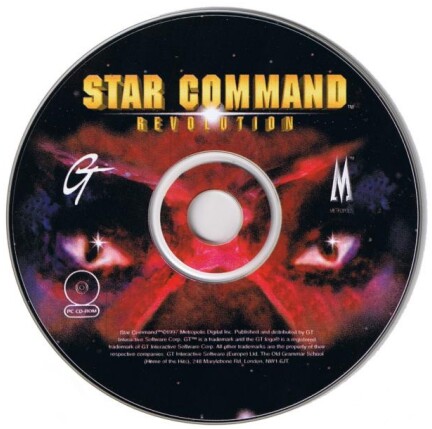 Actual Game
Star Command: Revolution
1-Click Install
Windows 11, 10, 8, 7, Vista, XP
(Metropolis / GT 1997)
MY PROMISE
My games are genuine, install in one step, look, sound and play in Windows 11, 10, 8, 7, Vista and XP like they did in the old days, or your money back. This is my unconditional guarantee for three years.
WHAT IS INCLUDED
This listing includes the original game CD. An on-screen printable manual is also included. The box is pictured for reference and is not included.
I will also provide a compatibility CD that will allow the game to run under ALL VERSIONS of Windows 11, 10, 8, 7, Vista and XP, both 32 and 64 bit.
INSTALLATION
One step: Insert my CD and the game will automatically work on your computer. Done. Yes, it's that simple.
Want to play? Click the icon. Want the game off your computer? Click Uninstall. Zero hassle.
TECH SUPPORT
Rapid response technical support for three years is always an e-mail or phone call away.
In the extremely rare event I cannot get this title to work on your system I will take it back for a full refund. All I ask is minimal assistance from you during the troubleshooting process.
The Game
The graphics in GT Interactive's Star Command Revolution - colorful SVGA terrain, battlestations, and artillery units look very similar to StarCraft. But looks aren't everything in GT's epic saga. In Star Command Revolution, you're given the option to take the side of the Terrans, Computrons, Nomads, or Triumverites, four races who are involved in a bidding war for available resources. Five types of resources can be accumulated: Four of these are particular to an individual race and the fifth, Solinite, can be spent by any race. Each race begins with a mothership, a moveable base that gathers all raw materials and allows you to produce buildings. If the mothership perishes, the game's over. Don't lose the mothership.
Like WarCraft, you construct armories that allow you to build units such as ships, droids, and stationary battle machinery. A notable difference here is your ability to construct a war college. Place your units next to these "universities," and they receive level-ups, increasing units' abilities such in speed, firing frequency, and such. The mothership may also receive a similar education. When the mothership is placed adjacent to the university, it starts to "learn" the technology of another race.. The acquisition of technologies follows a circular hierarchy; each race learns extra-racial technologies sequentially. It becomes advantageous to gain the other cultures' know-how, both because you may end up with an overabundance of resources that only a particular race can spend and because a race may have a unique technology that needs to be implemented at an appropriate time. There are points during a campaign where your fleet might consist of three different races.
Star Command: Revolution, with its four distinct races and sixty-four separate units has plenty of complexity woven into its gameplay. Add in the ability to upgrade troops seven levels, acquire technologies, and warp forward and backward through missions and the game will keep you absorbed for hours on end.
---
Share this Product