---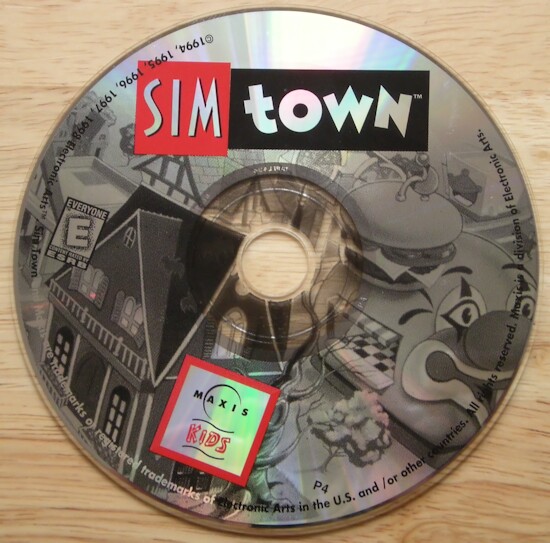 Actual Game
Sim Town
1-Click Install
Windows 11, 10, 8, 7, Vista, XP
(Maxis 1995)
MY PROMISE
My games are genuine, install in one step, look, sound and play in Windows 11, 10, 8, 7, Vista and XP like they did in the old days, or your money back. This is my unconditional guarantee for three years.
WHAT IS INCLUDED
This listing includes the original game CD. Online help is available within the game. The box is pictured for reference and is not included.
I will also provide a compatibility CD that will allow the game to run under ALL VERSIONS of Windows 11, 10, 8, 7, Vista and XP, both 32 and 64 bit.
INSTALLATION
One step: Insert my CD and the game will automatically work on your computer. Done. Yes, it's that simple.
Want to play? Click the icon. Want the game off your computer? Click Uninstall. Zero hassle.
TECH SUPPORT
Rapid response technical support for three years is always an e-mail or phone call away.
In the extremely rare event I cannot get this title to work on your system I will take it back for a full refund. All I ask is minimal assistance from you during the troubleshooting process.
The Game
The mechanics of the game are very similar to Sim City: you start with a piece of land, add buildings, streets, sidewalks, businesses, and homes. If these items are arranged in the proper order, then you will be able to watch your town grow and increase in population. The object is to teach the game player the relationships of managing and building a town, from planning the city, to managing the natural resources to keep it running (including garbage, trees and water), and maintaining the balance and how to restore it once it is lost. This all accomplished in an air of fun and excitement.
Some of these really cool things about Sim Town include : Starter Towns, Fixer-upper Towns, Eco-villians, Natural Resources and Credits, and Awards. Starter towns are towns that are already set up to a certain extent, with a certain theme for each one. These include: Road Town, Park Town, Bike Town, and Mixed Town. These towns allow an inexperienced player a head start in getting his town going. In Fixer-Upper Towns, there is a specific problem with a town, and it is the players' job to correct the problem. These include: Bad Air, No Trees, No Crops, and No Water. These scenarios are for the experienced player who understands the basic concepts of the game, and are looking for a challenge to improve his skills.
In Sim City, there were natural disasters that always kept the players on their toes. Well, they exist in Sim Town also. But they are in two categories. These categories are Disasters Menu and Eco-Villian Menu. In the Disasters menu, you are faced with these natural problems: drought, earthquakes, and fire. The Eco-Villian menu includes Food Pig (eats crops), Water Hog (drinks up your water), Litterbug (produces lots of garbage), and Air Polluter (makes the air dirty). These problems can be turned off for the initial learning of the game, and activated when the player wants a little action. A key element to keeping your city running is keeping you Sim Citizens happy. This is accomplished by ensuring that the city is kept clean and well run. This is done by keeping a good water supply, lots of water, and a good recycling program. In order to manage these items, the player gains credits every month to manage them ( including a certain amount at the start). The amount of credits also vary with the difficulty of the game, which can be played as an easy game or a difficult game.
Sim Town, in its basic form, is a more youthful version of Sim City. But it has enough charm to be an entertaining game in it's own right. There are enough unique features that will make this game appeal to kids of all ages. One feature that my children love is the ability to create specific characters that wander around town. These characters have their personalities created by the player (including their clothes, favorite food, and even their favorite saying), and as many can be created as desired. Some of my favorite items in the game (yes, I enjoy playing it, also) are the buildings themselves. For example, the video store is built out of….what else…..video tapes! The roof of the police station is handcuffs. You can also visit a building to explore it's inhabitants by name, and the type of building it is makes for some very interesting exploring.
All in all, Sim Town for Windows if a very enjoyable game for kids of all ages. It has much more to offer than is covered in this review, and that is one of the enjoyable aspects of this game -- it offers enough variety to keep one entertained for many hours, yet has enough educational aspects to not be a waste of one's time.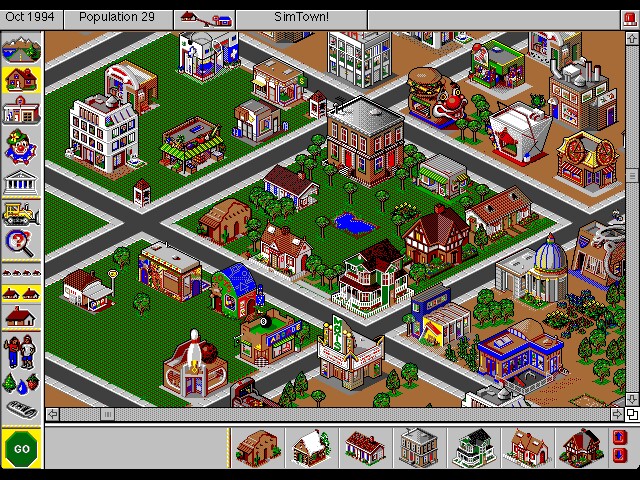 ---
Share this Product