---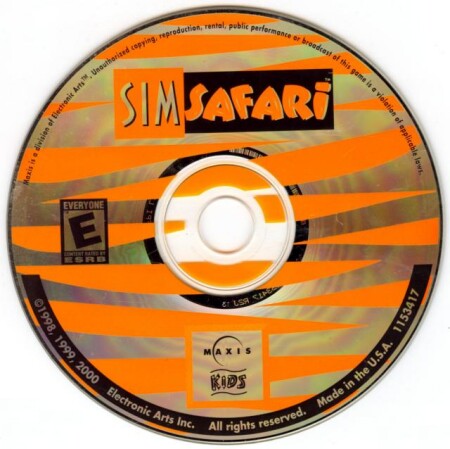 Actual Game
Sim Safari
1-Click Install
Windows 11, 10, 8, 7, Vista, XP
(Maxis 1997)
MY PROMISE
My games are genuine, install in one step, look, sound and play in Windows 11, 10, 8, 7, Vista and XP like they did in the old days, or your money back. This is my unconditional guarantee for three years.
WHAT IS INCLUDED
This listing includes the original game CD. An on-screen printable manual is also included. The box is pictured for reference and is not included.
I will also provide a compatibility CD that will allow the game to run under ALL VERSIONS of Windows 11, 10, 8, 7, Vista and XP, both 32 and 64 bit.
INSTALLATION
One step: Insert my CD and the game will automatically work on your computer. Done. Yes, it's that simple.
Want to play? Click the icon. Want the game off your computer? Click Uninstall. Zero hassle.
TECH SUPPORT
Rapid response technical support for three years is always an e-mail or phone call away.
In the extremely rare event I cannot get this title to work on your system I will take it back for a full refund. All I ask is minimal assistance from you during the troubleshooting process.
The Game
Sim Safari allows kids or adults to build their own Safari park in Africa, populating it with plants and animals and balancing the relationship between the two.
The Park is divided into three basic areas: The Park itself, run by the Ecologist, the Camp, run by the Business Manager, and the Village, which is run by the Village Elder. Each has his or her own concerns. The Ecologist wants to see a bio-diverse park with lots of species, all balanced. The Business Manager wants you to make more money than you spend. The Village Elder wants peace and prosperity for his people.
At the Park, you can add plants, animals, or both. If you add too many predators and not enough prey animals, the predators will eventually starve and the prey will be eaten out of existence. Too many prey and the plants will likewise suffer. Since every animal and plant costs you money to put into the park, you should really listen to the Ecologist's advice.
At the Camp, you can add buildings. There are three classes of buildings: basic, improved, and luxury. Basic accommodations are tents, improved are cottages, and luxury are lodges. This holds true for all the different types of buildings with a few exceptions: Blinds (where visitors can hide to see animals), Pools, Hot Tubs, and Amphitheaters. In addition to raising the buildings, you must staff them and connect them to the park with paths and roads. Try connecting your camp to the park with a road for all the vehicles. Most camp buildings can accommodate larger amounts of people as the luxury rate rises. The opposite is true of the tour vehicles.
At the Village, you can hire staff for the camp. If your park is doing well, the villagers are able to add such things as wells, carts, fences, and medical clinics. If the village is not doing well, poaching becomes more common. You can also fire staff at the Village, but too many firings make people unwilling to work at your camp or in your park.
You can judge how well you are doing by the number of stars your camp is rated with. You get one star for having more than 15 species in your park or people in your camp, and two stars for both. Each advisor you manage to keep happy adds another star. Rejoice if you receive five stars . . . but how long can you keep it that way?
The game also offers a game within the game, called "Safari Smarts." It asks 20 questions about African animals. Getting a question right gives you two points. If you ask for a hint, it costs one point. This game can also be timed.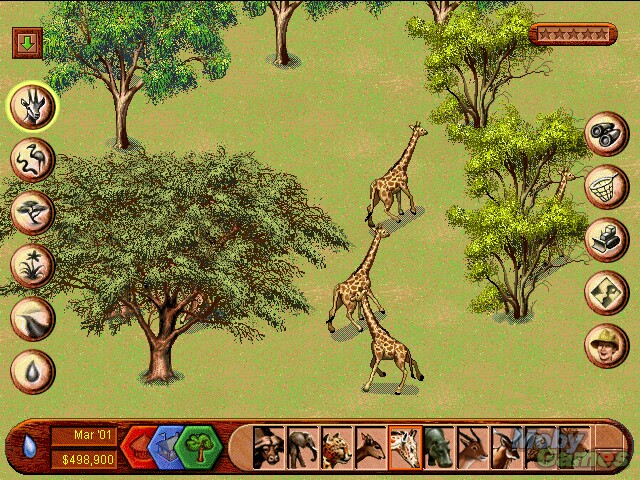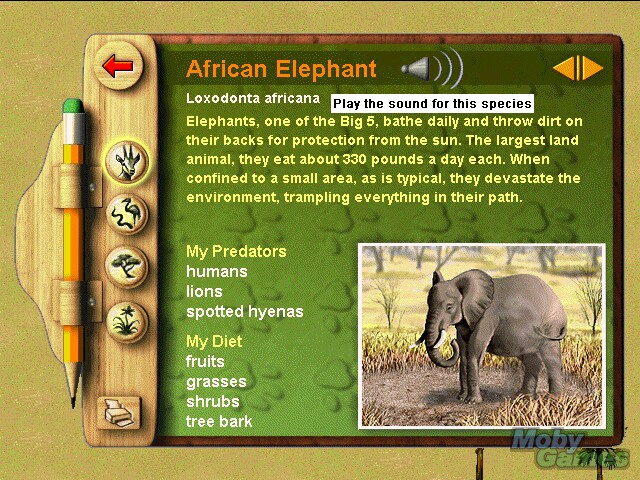 ---
Share this Product