---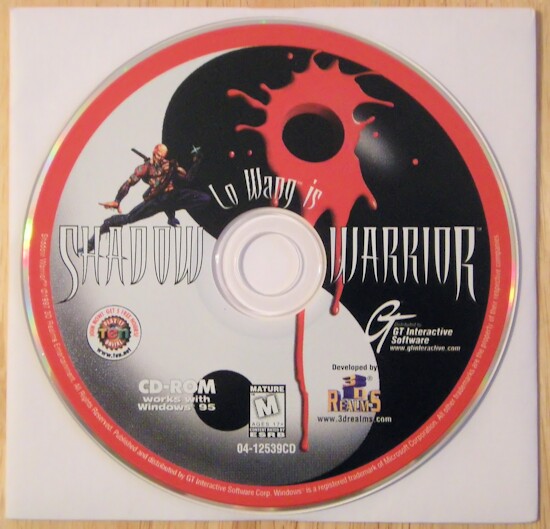 Actual Game
Shadow Warrior
Wanton Destruction add-on
Twin Dragon add-on
1-Click Install
Windows 11, 10, 8, 7, Vista, XP
(3D Realms 1997)
MY PROMISE
My games are genuine, install in one step, look, sound and play in Windows 11, 10, 8, 7, Vista and XP like they did in the old days, or your money back. This is my unconditional guarantee for three years.
WHAT IS INCLUDED
This listing includes the original game CD. An on-screen printable manual is also included. The box is pictured for reference and is not included.
I will also provide a compatibility CD that will allow the game to run under ALL VERSIONS of Windows 11, 10, 8, 7, Vista and XP, both 32 and 64 bit.  Note that multiplayer mode no longer functions.
INSTALLATION
One step: Insert my CD and the game will automatically work on your computer. Done. Yes, it's that simple.
Want to play? Click the icon. Want the game off your computer? Click Uninstall. Zero hassle.
TECH SUPPORT
Rapid response technical support for three years is always an e-mail or phone call away.
In the extremely rare event I cannot get this title to work on your system I will take it back for a full refund. All I ask is minimal assistance from you during the troubleshooting process.
The Game
Shadow Warrior was the last first-person shooter to utilize the Build engine that made Duke Nukem a household name. In the game, you play Lo Wang, an Asian assassin whose exact cultural background is obscured in a morass of toilet humor, exaggerated broken English, and bad Asian jokes. Shadow as one of the last games using sprite-based action, effictively showing the medium in its ultimate form.
Throughout the 22 single-player levels Wang picks up a variety of devastating weapons to take care of unwanted company. Starting with a katana, a close-range sword that deals death in a single blow, Wang moves on to grab more lethal arms when it's really time to clean house - such as a pair of Uzis, or a grenade-launcher. There's even an enemy whose head can be retrieved and used as a flamethrower. Overall, while the game's arsenal seems to mimic that of Duke Nukem 3D in most respects, the weapons are still inventive enough to keep things interesting.
Like Duke Nukem 3D, most of Shadow Warrior's levels are fairly expansive, containing plenty of typical find-the-key puzzles that must be solved in order to advance. The levels are creative, leading you through abandoned warehouses, to a submarine repository, and to a haunted forest village. There you will have to dispense with killer apes, grenade-lobbing henchmen, TNT-toting suicide soldiers, and the ghosts that arise from their fresh corpses. Along with the strong language that the game unabashedly employs, the violence witnessed on your monitor will definitely qualify Shadow Warrior for an R rating.
The Wanton Destruction add-on chronicles Lo Wang's adventures after the original game. He visits his relatives in USA, but is forced to fight off Zilla forces again. The game culminates with a battle against Master Zilla above the streets of Tokyo, which ends with Master Zilla's death. The game features 12 new levels, new artwork and a few new enemy replacements.
Players who still appreciate the older style of sprites in 3D action and who can look past the bad Asian jokes will probably thank their lucky throwing-stars for Shadow Warrior.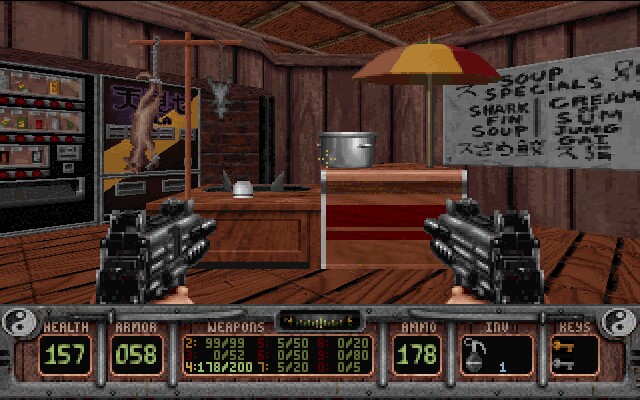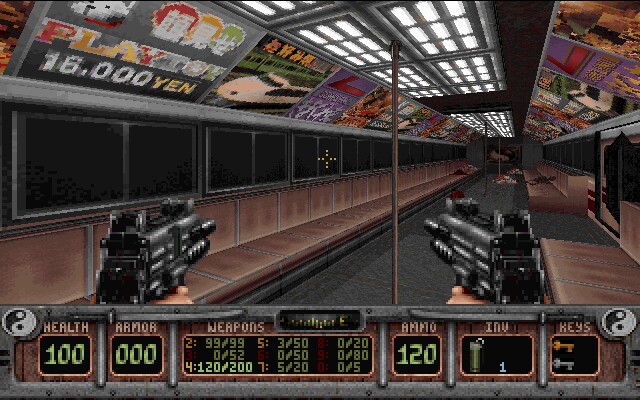 ---
Share this Product