---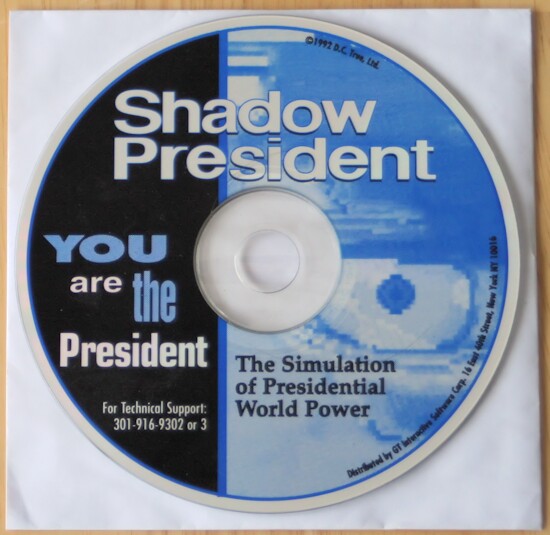 Actual Game
Shadow President
1-Click Install
Windows 11, 10, 8, 7, Vista, XP
(DC True 1993)
MY PROMISE
My games are genuine, install in one step, look, sound and play in Windows 11, 10, 8, 7, Vista and XP like they did in the old days, or your money back. This is my unconditional guarantee for three years.
WHAT IS INCLUDED
This listing includes the original game CD. An on-screen printable manual is also included. The box is pictured for reference and is not included.
I will also provide a compatibility CD that will allow the game to run under ALL VERSIONS of Windows 11, 10, 8, 7, Vista and XP, both 32 and 64 bit.
INSTALLATION
One step: Insert my CD and the game will automatically work on your computer. Done. Yes, it's that simple.
Want to play? Click the icon. Want the game off your computer? Click Uninstall. Zero hassle.
TECH SUPPORT
Rapid response technical support for three years is always an e-mail or phone call away.
In the extremely rare event I cannot get this title to work on your system I will take it back for a full refund. All I ask is minimal assistance from you during the troubleshooting process.
The Game
Think that the president has an easy job? Ever look at Clinton or Bush and think that could have been you? Well, D.C. True has come up with a unique way for you to see just how good of a job you could do as president. Shadow President plays somewhat off the old "Balance of Power" series that Mindscape Software put out a few years ago. The central idea is the same, you are leader of the United States in the early 1980's with the Cold War going strong, and you must keep the U.S. out of nuclear war. Simple, right? But D.C. True added many new twists.
The concept behind Shadow President is to ride out your term and get re- elected. This is not as easy as it seems. Staring out with a 50% approval rating, you must juggle world events along with keeping people satisifed on the home front and also keep your economy going. You are able to influence different countries, sign treaties with them, establish cultural exchanges with them, improve diplomatic relations and even send military, spy, nuclear, humanitarian, or economic aid packages. All of this is done on a country-by-country basis with the possibility of your help being rejected at any time. Invariably, every country will ask for more aid than you may wish to give. Other countries can issue statements of condemnation for your actions or praise them. All of this will ultimately effect your status in the rest of the world.
On the home front, Shadow President divides the budget into several large groups. For expenditures, you have defense, investment, foreign aid and social programs. All of which reflect the budgets of the 80's. As for income, you obviously have several different kinds of taxes. There are personal, corporate, and sales taxes along with tariffs. All of this needs to be juggled in such a manner as to keep the populace happy and promote economic growth. A favorite ploy of mine was to cut foreign aid to $0, raise tariffs as high as they could go, cut personal taxes and raise sales taxes. This left me with a strong economy and a 79% approval rating. If, however, you cannot effectively do your job and your approval rating begins to plummet, the electorate will let you know their ire by pasting a bulls-eye on your back and shooting you.
This game caters to the sim-lover and to the stat lover. I strongly recommend this game to the fans of the old "Balance of Power" and to all other sim-lovers. You will not be disappointed as this brilliantly written game takes into account virtually every factor that can be concieved when it comes to being president.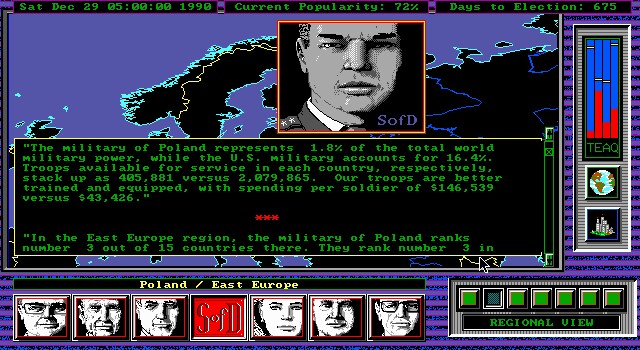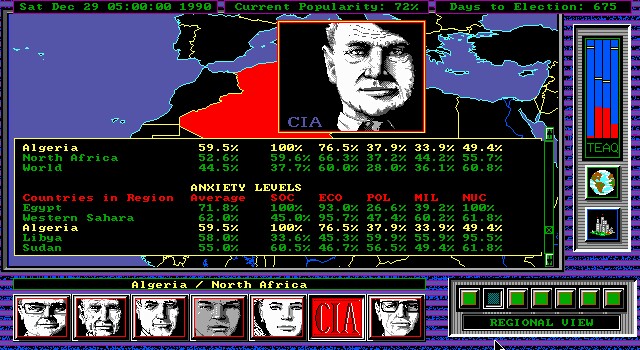 ---
Share this Product