---

Actual Game
Secret Weapons
of the Luftwaffe

With All Tours of Duty
1-Click Install
Windows 11, 10, 8, 7, Vista, XP
(LucasArts 1992)
MY PROMISE
My games are genuine, install in one step, look, sound and play in Windows 11, 10, 8, 7, Vista and XP like they did in the old days, or your money back. This is my unconditional guarantee for three years.
WHAT IS INCLUDED
This listing includes the original game CD. An on-screen printable manual is also included. The box is pictured for reference and is not included.
I will also provide a compatibility CD that will allow the game to run under ALL VERSIONS of Windows 11, 10, 8, 7, Vista and XP, both 32 and 64 bit.
INSTALLATION
One step: Insert my CD and the game will automatically work on your computer. Done. Yes, it's that simple.
Want to play? Click the icon. Want the game off your computer? Click Uninstall. Zero hassle.
TECH SUPPORT
Rapid response technical support for three years is always an e-mail or phone call away.
In the extremely rare event I cannot get this title to work on your system I will take it back for a full refund. All I ask is minimal assistance from you during the troubleshooting process.
The Game
First there was Battlehawks 1942, then came the Battle of Britain and finally LucasFilm released Secret Weapons of the Luftwaffe. Each of these games were "state of the art" when first released and each improved upon its predecessor. Luftwaffe is more than a fighter simulation, it is also a bomber simulator and a modest type of strategic war game! It also has a stunning manual that not only describes game play, but also gives a historical overview of the period covered by the game. This section of the manual could easily be sold separately! It's that good.
Luftwaffe is first a fighter simulator. You can fly American or German planes in flight school (practice), "historical" missions (Can you change history?), custom missions using the supplied mission builder, and tours of duties that are computer generated. In addition, you can fly in and direct an entire campaign where you try to influence the outcome of WWII. In this mode, Luftwaffe becomes a fair strategy game. Luftwaffe also allows you to fly a B-17. So if you like WWII heavy bombers, Luftwaffe would make a good companion.
The following planes are available to fly from the American side:
P-47C & D Thunderbolt ("Razorback")
P-51B
C & D Mustang
B-17F & G Flying Fortress Bomber.
P-80 Shooting Star
P-38 Lightning
The flight model makes defending the B-17 realistically difficult. The B-17 is a frustrating plane to fly and defend. There are 8 gunner positions and, while each can be controlled by the computer, the computer is not very accurate. However, manually controlling each gun requires you to move quickly from station to station. In other words, in this game, the B17 is "cannon folder" and is very satisfying to make a bomb run using the Nordern Bombsight and actually hit the target.
If you are so inclined, playing the German side allows you to fly the following planes:
Bf109G-6 & G-10
FW 190A-5 & A-8
Me 163B-1a Komet
Me 262A-1a & 2a
Gotha Go 229A-0 (never saw action) "flying wing"
Do 335 Pfeil
He 162 Volksjäger
The most challenging German plane in Luftwaffe is the Komet. It is a flying fuel tank and will often explode when attempting to land. It also has a very limited fuel capacity (about 8 minutes). The best of these planes is the Gotha. This plane is a joy to fly. At high altitudes nothing can touch it, as you'll see for yourself.
Luftwaffe is an excellent game on several levels. There are a variety of planes and missions. Each plane has its own characteristics. You cannot fly the P-47C like the P-51 and hope to survive. Each plane has a different feel. The game graphics are good and the missions challenging. For its time the sounds are excellent. Engine, gear, flap, bomb, machine gun, cannon, flak, and explosions are all modeled. There are even some neat little extras. For those so inclined, you can shoot at and down parachuted pilots. LucasFilm has done an excellent job with Luftwaffe.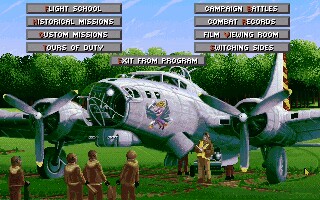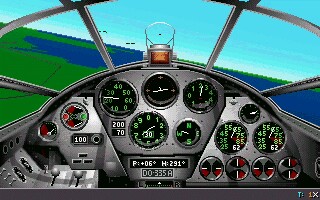 ---
Share this Product