---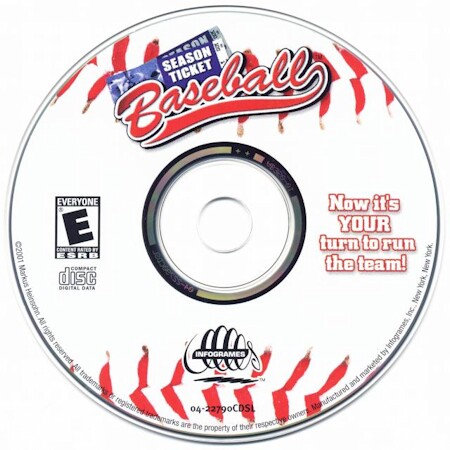 Actual Game
Season Ticket
Baseball 2003

aka Out of the Park 4
1-Click Install
Windows 11, 10, 8, 7, Vista, XP
(WizardWorks 2002)
MY PROMISE
My games are genuine, install in one step, look, sound and play in Windows 11, 10, 8, 7, Vista and XP like they did in the old days, or your money back. This is my unconditional guarantee for three years.
WHAT IS INCLUDED
This listing includes the original game CD. An on-screen printable manual is also included. The box is pictured for reference and is not included.
I will also provide a compatibility CD that will allow the game to run under ALL VERSIONS of Windows 11, 10, 8, 7, Vista and XP, both 32 and 64 bit. Note that online play, Internet updating and 3rd party mods no longer function.
INSTALLATION
One step: Insert my CD and the game will automatically work on your computer. Done. Yes, it's that simple.
Want to play? Click the icon. Want the game off your computer? Click Uninstall. Zero hassle.
TECH SUPPORT
Rapid response technical support for three years is always an e-mail or phone call away.
In the extremely rare event I cannot get this title to work on your system I will take it back for a full refund. All I ask is minimal assistance from you during the troubleshooting process.
The Game
Season Ticket Baseball is a text-based baseball simulator. Stop reading now if that description holds no appeal for you. If, however, you are among the thousands of gamers who have discovered the joy of the format, let me state right away that Season Ticket Baseball is the best text-based baseball game ever created during its time.
Though graphics are not an issue with text-based sims, presentation is. Season Ticket Baseball features the best presentation of any game in the genre. Menus are clearly labeled and easy to access. Every possible instruction a player might need to give his or her team is never more than one or two mouse clicks away.
The game ships without any Major League Baseball, MLBPA, or Stadium licenses. This means that when a player first boots up the game, all players at all levels are fictitious. Now, these players often have numbers and stats that match a corresponding player on the real team (in what is by now a time honored tradition among non-licensed sports games), but their names are randomly generated from a database when the league is formed. Some players might not mind this at all. Others may choose to do the dirty work (made fairly simple by the player editor, but still time consuming) of going player by player through the league and renaming players to match the real-life team. When doing this, it is also possible to tweak the stats of the players if an owner feels that his favorite player's stats don't quite match the way the owner imagines they should be.
The Season Ticket Baseball creators have given players who are really obsessed with stats (which might mean nearly anyone who buys a text-based baseball game) another option for filling out their rosters. The really insane player (like me, for instance) can rename all of the fictional players with new, equally fictional names.
Options are what text-based baseball games have always been about. All fans like to think that they could do a better job running their favorite organization than the real owners do. Season Ticket Baseball gives players a chance to prove it. Season Ticket Baseball allows for, and simulates, total control over the franchise. Players can coach each at bat of a full season, hire and fire coaches from the majors to A ball, make trades, reject trades offered by the A.I. coaches, draft new players into the minor league system, raise or lower the cost of ticket, and even schedule the promotions that their ballpark offers to bring in more fans.
During the course of a season, league leaders are displayed on the left margin of the schedule screen, so the player can keep up with who is in the running for MVP. MVP's, Cy Young Awards, and Rookies of the Year are all awarded at the end of each season based on the stats accrued during the year. These award winners, along with the playoff and World Series results, are all tracked and reported in the League History tab, which updates at the end of each year. I should probably note that if you want your league leaders to earn Cy Young awards, Rookie of the Year awards, MVP awards, or even a World Series championship, you will have to re-name the awards in the League Options menu. Otherwise, players will earn the generic equivalent (like Batter of the Year for MVP).
The final aspect of Season Ticket Baseball worth mentioning is the game engine. Using the real players stats acquired in one of the ways mentioned above produces some amazingly realistic results. When I started an historical league based on the real stats starting from 1999, Barry Bonds didn't hit over 70 homers in 2001. He did, however, hit 63 in 2004. That same year Ichiro led the league hitting .363 and Randy Johnson won 23 games and struck out over 300 batters. These were the biggest numbers in those categories. No 100 homerun seasons or .600 batting averages like I've experienced in other sims. Just solid, realistic numbers that make following what players on teams other than the ones I coach personally compelling.
I honestly feel like I haven't said enough to truly capture the magic of Season Ticket Baseball. It is simply as good as it gets. As a lifelong fan of both text-based and table-top baseball games, I can honestly say that Season Ticket Baseball is the best baseball game I have ever played during the early 2000s.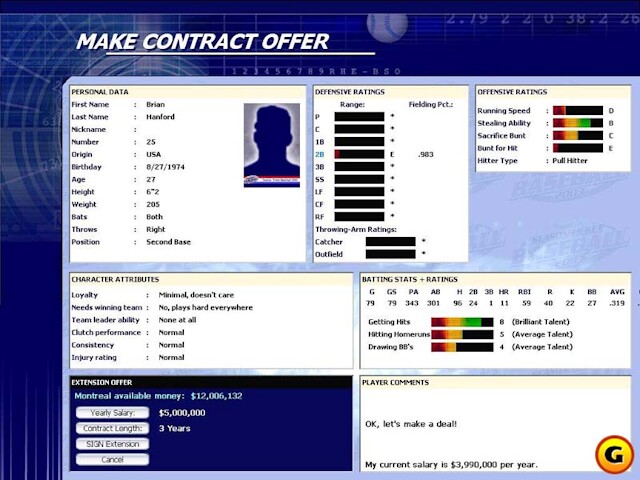 ---
Share this Product