---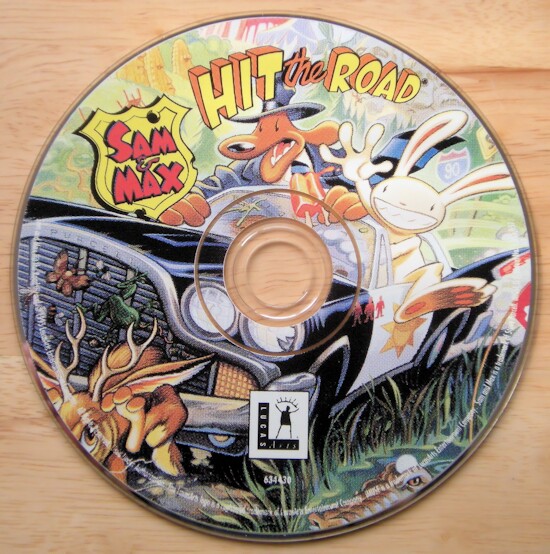 Actual Game
Sam and Max
Hit the Road
CD Talkie Version
1-Click Install
Windows 11, 10, 8, 7, Vista, XP
(LucasArts 1993)
MY PROMISE
My games are genuine, install in one step, look, sound and play in Windows 11, 10, 8, 7, Vista and XP like they did in the old days, or your money back. This is my unconditional guarantee for three years.
WHAT IS INCLUDED
This listing includes the original game CD. An on-screen printable manual is also included. The box is pictured for reference and is not included.
I will also provide a compatibility CD that will allow the game to run under ALL VERSIONS of Windows 11, 10, 8, 7, Vista and XP, both 32 and 64 bit.
INSTALLATION
One step: Insert my CD and the game will automatically work on your computer. Done. Yes, it's that simple.
Want to play? Click the icon. Want the game off your computer? Click Uninstall. Zero hassle.
TECH SUPPORT
Rapid response technical support for three years is always an e-mail or phone call away.
In the extremely rare event I cannot get this title to work on your system I will take it back for a full refund. All I ask is minimal assistance from you during the troubleshooting process.
The Game
A Comic Search for a Bigfoot
Appearing for years in the LucasArts newsletter, the canine shamus and hyperkinetic rabbity thing characters from the mind of Steve Percell entertained many, parodying LucasArts / LucasFilm franchises. Lucas fans, as well as some very fortunate comic book readers, were among the few to know the psychotic (but underused) humor that could come from Purcell. LucasArts aimed to change that, with the release of Sam & Max Hit the Road, released just shortly after other LucasArts greats as Day of the Tentacle and Fate of Atlantis.
Don't Call Him McGruff
As the Freelance Police, the duo are tasked with a mission by the police commissioner to recover a bigfoot, kidnapped from a third-rate carnival. You will lead the crimestopping team across a fictional continental united states, to attractions as prominent as the World's Largest Ball of Twine to a miniature golf course overrun with gators.
But it's not the scenery that keeps you playing, but rather the attitudes of Sam & Max. These two are at their sarcastic and understated best, despite how strange or unexpected the puzzles may become. The obstacles you have to overcome aren't always very hard, but you'd never guess them on the first try. Even some of the easiest puzzles require you to jump into their shoes to think it out. But as foolish as you look, it's incredibly fun to don this rabbit suit for a few hours.
The voice talent portrays the pair perfectly, shooting off the one-liners with ease. Possibly one of the most quoted games in LucasArts history, audio files containing every ounce of speech from the game have long been floating around the web. The music is standard for LucasArts, whose standard for music is exceptionally high.
The nonlinear nature of the game makes the adventure quite challenging at times. Often, you can become so involved with any scene or sub-quest that it becomes very easy to forget what your ultimate goal is. As you come to the end, it becomes even harder for you to rationalize the characters achieving that goal. (Fortunately, they find a substitute solution.) If you are focused when playing adventure games this will not pose an obstacle. I, however, tend to immerse myself in the game world and happily wander around the scenes. LucasArts did a fantastic job in creating an immersive game environment.
Added value comes from the diversions provided. Within the game are a handful of arcade games, only one of which is actually part of the solution. Favorites like Whack-a-Rat and Highway Surfing help release stress as well as provide a hearty laugh.
Sam & Max Hit the Road is an ideal game for x-generation. It is full of irreverence and in-jokes that will make you smile and realize LucasArts has tailored a game for the sarcasm in all of us. This game is ideal for gamers of all ages -- in the same manner that an adult can appreciate Bugs Bunny for his innuendo -- which flies right over the heads of children.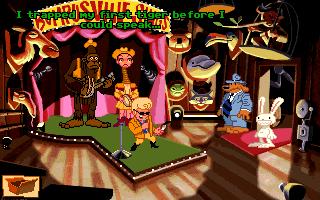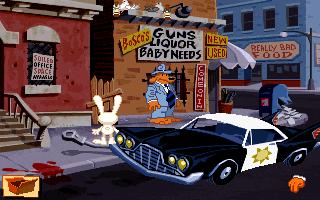 ---
Share this Product