---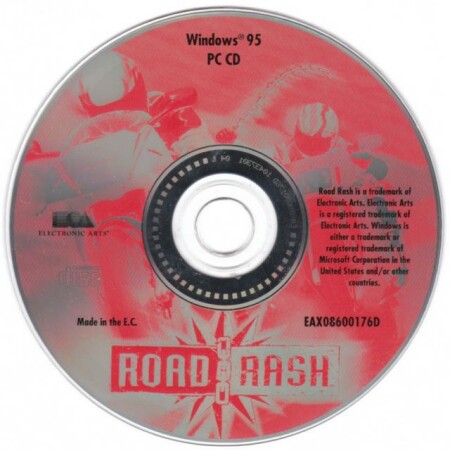 Actual Game
Road Rash
1-Click Install
Windows 11, 10, 8, 7, Vista, XP
(Electronic Arts 1996)
MY PROMISE
My games are genuine, install in one step, look, sound and play in Windows 11, 10, 8, 7, Vista and XP like they did in the old days, or your money back. This is my unconditional guarantee for three years.
WHAT IS INCLUDED
This listing includes the original game CD. An on-screen printable manual is also included. The box is pictured for reference and is not included.
I will also provide a compatibility CD that will allow the game to run under ALL VERSIONS of Windows 11, 10, 8, 7, Vista and XP, both 32 and 64 bit.  Note that X-Box controllers and multiplayer mode do not function. Also, the music in the game's main menu might stutter. This will not affect the rest of the game.
INSTALLATION
One step: Insert my CD and the game will automatically work on your computer. Done. Yes, it's that simple.
Want to play? Click the icon. Want the game off your computer? Click Uninstall. Zero hassle.
TECH SUPPORT
Rapid response technical support for three years is always an e-mail or phone call away.
In the extremely rare event I cannot get this title to work on your system I will take it back for a full refund. All I ask is minimal assistance from you during the troubleshooting process.
The Game
Road Rash puts you on top of your motorcycle and challenges you to stay on it while traveling through cities and other surroundings.
The game gives you the option to either enter right into the Thrash Mode of play, which is modeled after the arcade, or you can take on a personality and enter the Big Game Mode.
In Thrash Mode, you basically just pick the setting of the race and you are off. There are different courses to race on and they vary in style and size. Some of the courses wind around the cliffs along the ocean while others take you for a ride through populated living cities. All the different tracks require you to avoid cars as well as people that are living in that world. For example, while racing through the city, you have to watch out for not only traffic but for pedestrians crossing the road and other hazards along the way. This all has to be done while fighting off the other bikers in the game.
Where the excitement comes into the game is in the Big Game Mode. It is in this mode that you have the opportunity to choose a personality. Each person has different characteristics and different equipment that you begin with. The object in the Big Race Mode is to survive the races to make money — that you then can use to upgrade your bike to move further along in the races. In between each race, you can visit Olley's Skoot-A-Rama bike shop to trade in your existing bike along with some of your winnings to purchase a new bike. If you're not upgrading your bike, you may still be spending money in between races by either fixing your bike from damage that occurred during your previous races or paying fines that you accrued from being pulled over by the cops. You also have the opportunity to visit the Der Panzer Klub, where all the Road Rashers hang out when they are not trying to kick your butt. While inside the Klub, you can either spark up conversion with other Rashers or you can sign up for the next race. When talking with other Rashers, you get the chance to find out some inside information about other rashers as well as tips on how to win more races.
When upgrading you can choose from three different classes of bikes. Rat Bikes are the first class of bikes that you will ride and they are barely good enough to get you to the second level. The second set of bikes are the Sport Bikes. These bikes offer greater stability and speed than the Rat Bikes but more speed means you will have to take on a more conservative driving style. The last type of bikes are the Super Bikes. Super Bikes, the fastest class of bikes, give you the speed to win the coveted Road Rash cup.
Road Rash offers an entertaining twist to your typical racing simulations. There is enough variety to keep even the seasoned gamer occupied for some time , with its harsh tone and hard hitting action.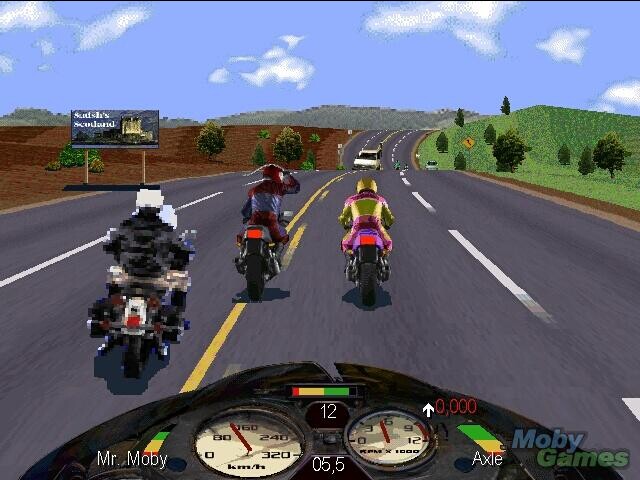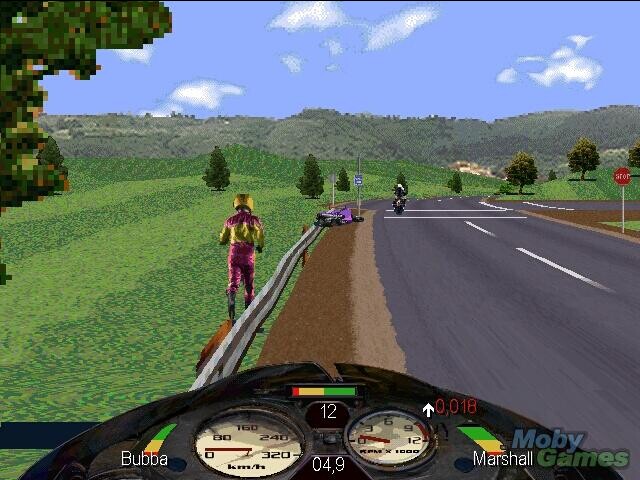 ---
Share this Product