---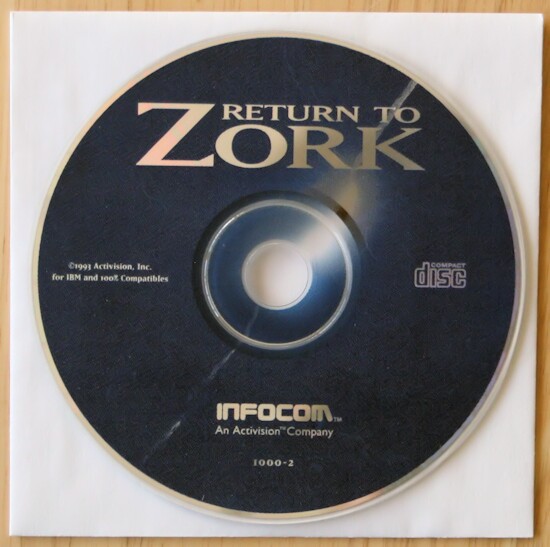 Actual Game
Return to Zork
1-Click Install
Windows 11, 10, 8, 7, Vista, XP
(Infocom 1993)
MY PROMISE
My games are genuine, install in one step, look, sound and play in Windows 11, 10, 8, 7, Vista and XP like they did in the old days, or your money back. This is my unconditional guarantee for three years.
WHAT IS INCLUDED
This listing includes the original game CD. An on-screen printable manual is also included. The box is pictured for reference and is not included.
I will also provide a compatibility CD that will allow the game to run under ALL VERSIONS of Windows 11, 10, 8, 7, Vista and XP, both 32 and 64 bit.
INSTALLATION
One step: Insert my CD and the game will automatically work on your computer. Done. Yes, it's that simple.
Want to play? Click the icon. Want the game off your computer? Click Uninstall. Zero hassle.
TECH SUPPORT
Rapid response technical support for three years is always an e-mail or phone call away.
In the extremely rare event I cannot get this title to work on your system I will take it back for a full refund. All I ask is minimal assistance from you during the troubleshooting process.
The Game
Return to Zork was the very first game in the Zork series to be set in an entirely graphical world. As such the question that sprang to mind was whether or not the essence of the puzzles, dialog, and humor that is characteristically Zorkian could survive the transfer to a graphical look. Return to Zork succeeded as well as could be expected for such a first attempt. While it is not perfect and has some weaknesses in gameplay, puzzles, and humor, it still remains a very good game and a definite must for all Zork fans and adventurers in general!
This Zork story takes place farthest in the future of any of the Zork games. The Great Underground Empire of Zork has been supposedly rediscovered, but things are not quite right. People are disappearing as are whole buildings. You are the lucky sweepstakes winner to take a trip to the Underground Empire. Before you can actually reach the Underground, something goes wrong, and you find yourself in the Valley of the Sparrows, wondering where to go and what to do. As with Zork Grand Inquisitor, your first job is to find your way into the Underground Empire, and then find out what is wrong.
At the beginning of the game, it is said that according to the myth, the Great Underground Empire of Zork was destroyed long in the past and all evil magic was dispersed. Only until now it is claimed to be rediscovered by the IT&L Corporation from which you won the sweepstakes. You begin your journey with a Zony Recorder (hahahahahaha), a camera, and a Tele-Orb.
The production is great considering the time in which it was produced (1993). To modern gamers the graphics may look a bit blocky--especially the movie sequences--but it was cutting edge for its time. What this Zork game started that the succeeding to followed was a very well done merging of computer graphics with live acting. This game gives you all of the control of a computer graphics game with the real life feel and advantages of live acting.
Return to Zork has is regarded as the grandfather of graphic adventures that use a mixture live-action sequences and computer generated images (CGI), and is a rare example of success using this multimedia approach. The CD-ROM version of Return to Zork boosts a soundtrack with over 180 original compositions and over one hour of spoken dialogue, which are absent in the floppy disk version.
Gameplay
The gameplay was very well done. In fact, it puzzles me to no end why Activision abandoned this user interface for Zork Nemesis and Zork Grand Inquisitor. I have never seen another user interface that more closely gives the freedom and flexibility of a text interface while still being extremely easy to use.
The gameplay followed an interesting style that differed a bit from the original Zorks. There were some puzzles, but many of them followed almost a detective-style approach. You needed to wander the empire, talking to people and asking questions. As you asked new questions, new options would unfold. You could tape record what some people said and play it back for others. Basically, you had to put the pieces of the puzzles together from fragmented information from several sources. The game was thus very non-linear and extremely interesting.
Personally, I find the game's strongest highlight is that I can finally see for the first time the infamous white house with its mailbox that hailed the entire Zork series!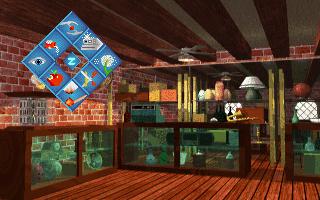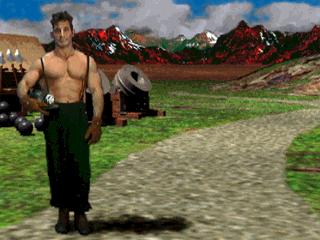 ---
Share this Product