---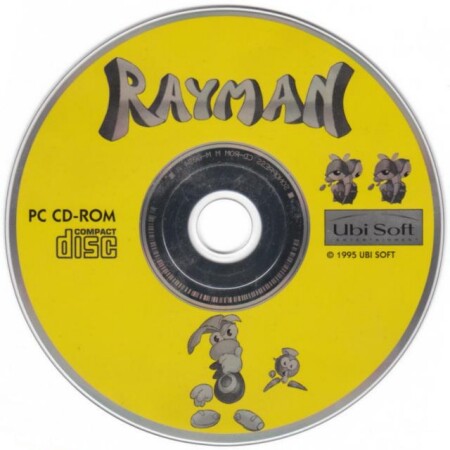 Actual Game
Rayman 1
1-Click Install
Windows 10, 8, 7, Vista, XP
(UBI Soft 1995)
MY PROMISE
My games are genuine, install in one step, look, sound and play in Windows 10, 8, 7, Vista and XP like they did in the old days, or your money back. This is my unconditional guarantee for three years.
WHAT IS INCLUDED
This listing includes the original game CD. An on-screen printable manual is also included. The box is pictured for reference and is not included.
I will also provide a compatibility CD that will allow the game to run under ALL VERSIONS of Windows 10, 8, 7, Vista and XP, both 32 and 64 bit. Joysticks are supported but X-Box style controllers are not.

INSTALLATION
One step: Insert my CD and the game will automatically work on your computer. Done. Yes, it's that simple.
Want to play? Click the icon. Want the game off your computer? Click Uninstall. Zero hassle.
TECH SUPPORT
Rapid response technical support for three years is always an e-mail or phone call away.
In the extremely rare event I cannot get this title to work on your system I will take it back for a full refund. All I ask is minimal assistance from you during the troubleshooting process.
The Game
In Rayman's world, people and nature lived together in peace. The Great Protoon provided and maintained the harmony and balance in the world. This was until the evil Mr. Dark stole the Great Protoon after defeating Betilla, the fairy, while she tried to protect it. The Electoons who used to gravitate around the Great Protoon lost their natural stability and scattered all over the world. Now, strange phenomena is starting to occur. Freaks and hostile characters are appearing everywhere capturing every Electoon they can find. Who will save the Electoons and restore peace? Rayman who is the guardian of this world will come to the rescue! He must recapture the Great Protoon and reassemble the Electoons to restore the world's harmony. Only the villains, some sixty different levels and six amazing worlds will challenge him with action and adventure throughout his journey.
The graphics in Rayman are exceptional for the time. The colors are vibrant, sharp and depict faraway cartoon like worlds in explicit detail. From lush green rain forests to worlds made out of sheet music or ice cream, the backgrounds are always stunning. The foregrounds in Rayman are equally beautiful featuring silky smooth parallax scrolling. This gives the impression of distance by scrolling the background plane(s) slower than the foreground. Foregrounds consist of grassy knolls in the rain forest that integrate perfectly, vines dropping from the sky that can be climbed taking the horizontal scrolling into a vertical one, or bongos in the sheet music level that drum when you run across them. The Sprites in Rayman are quite complex and all animated very well. Take Rayman for example, he is not just a single solitary sprite, but consists of six separate sprites. As the main pun for this world is about Protoons and Gravitrons, Rayman's head, hands and feet all gravitate around his body. Rayman's brilliant animation extends even further as he can pull faces to scare enemies away, and when left by himself will look around and talk to you from inside the screen. When jumping, his hair is blown around and looks like he is having a thoroughly good time.
It is not just the characters in Rayman that are animated. Lovely touches to the backgrounds and foregrounds includes butterflies that flutter around landing on objects, mushrooms that jump about and flowers that dance very similarly to the 80's fad device known as a "Rock Flower". The programming is so efficient however, that these nice touches do not interfere with the scrolling or the game at all. The enemies are also animated well, the initial "bad guys" look like Dark Helmet out of Space Balls and can have large plums dropped on their head. This engulfs their head, and allows you ride around on them.
Other nice animated touches includes guns that fire bullets which sprout mallets and start banging away a la "Who Framed Roger Rabbit". When you save Protoons from their cages they will roam around and if they spy Rayman, little love hearts will sprout as signs of affection. Not only that, but they leave the screen in a beautiful streak of light that makes for some lovely on screen effects. The sound in Rayman is quite functional with thuds when he hits the ground, birds chirping in the background, and water flowing. However, it is the music in Rayman that is just masterful. Consisting of rock fusion pieces, pan flute melodies, and guitar pieces, the music is of exceptional quality and worthy to be played just by itself. Seeing as it is included in the game as CD tracks, it can be too! The game play in Rayman is truly enjoyable and has a very addictive quality to it. The early levels are very easy, giving those new to the genre a gentle introduction. As the game progresses, the levels become longer and considerably harder, and the secrets also become more difficult to find. Power-ups are handed out by a variety of characters, Betilla the fairy pops in to give Rayman new and varied abilities. The first one that will be given is to "throw a punch". This allows Rayman to wind up and throw one of his hands at an enemy. Within the game other power-ups will make the punch faster and more powerful. Betilla will also hand out the ability for Rayman to spin his hair in the fashion of a helicopter. Other characters that you rescue will give level only power-ups. In at least one level, Tarzhan will give Rayman a magic seed to grow large flowers. In a frenzied race to get the top amidst rising flood waters, Rayman has to plant frantically.
Overall the game play is entirely entertaining, and surprisingly varied for one in the scrolling platform genre. Bonus levels are legitimately challenging and the eye candy always pleasing. Rayman is an excellent game for people of all ages.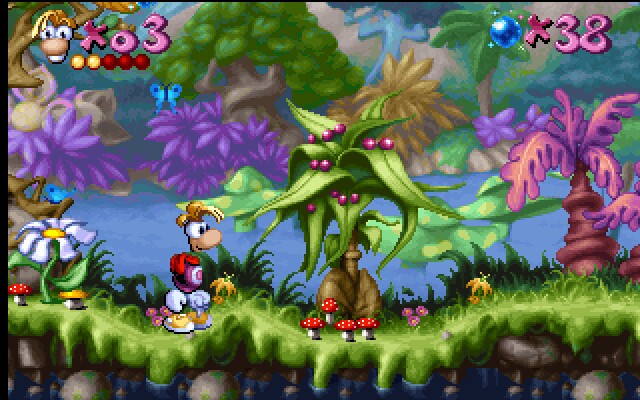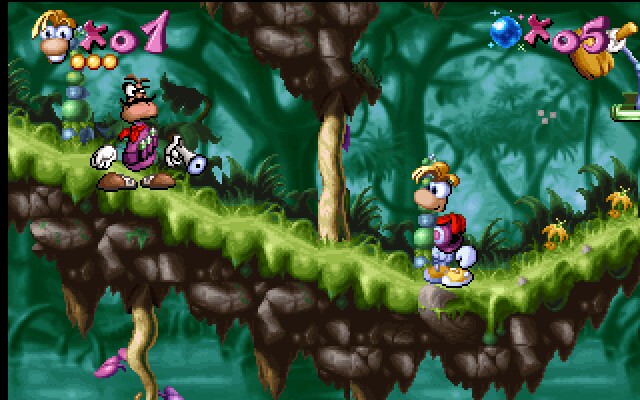 ---
Share this Product