---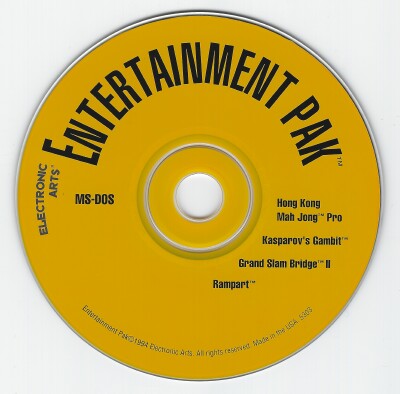 Actual Game 
Rampart
1-Click Install
Windows 11, 10, 8, 7, Vista, XP
(Electronic Arts 1992)
MY PROMISE
My games are genuine, install in one step, look, sound and play in Windows 11, 10, 8, 7, Vista and XP like they did in the old days, or your money back. This is my unconditional guarantee for three years.
WHAT IS INCLUDED
This listing includes the original game CD. An on-screen printable manual is also included. The box is pictured for reference and is not included.
I will also provide a compatibility CD that will allow the game to run under ALL VERSIONS of Windows 11, 10, 8, 7, Vista and XP, both 32 and 64 bit.
INSTALLATION
One step: Insert my CD and the game will automatically work on your computer. Done. Yes, it's that simple.
Want to play? Click the icon. Want the game off your computer? Click Uninstall. Zero hassle.
TECH SUPPORT
Rapid response technical support for three years is always an e-mail or phone call away.
In the extremely rare event I cannot get this title to work on your system I will take it back for a full refund. All I ask is minimal assistance from you during the troubleshooting process.
The Game
I've dropped more than a few rolls of quarters in a little arcade game called Rampart over the years. This addicting game might never have reached the same public "classic" status as games like Pac-Man or Space Invaders, but to me it's one of the coolest designed games around.
Rampart is a very addicting game, mixing puzzle, strategy, and action elements in a neat medieval package. It's what you'd get if you threw Warlords, Missile Command, and Tetris into a blender and mixed 'em up all nice. The idea is simple: defend your castles from the oncoming enemy sea fleet by surrounding your castles with walls and arming yourself with cannons. The game is broken into three phases: the building phase, the arming phase, and the attack phase.
In the building phase, you're given a certain amount of time (default is 30 seconds) to surround your land's castles with Tetris-like pieces of brick. When a castle is completely surrounded by wall, you earn cannons to place within this engulfed territory. The more castles you surround, the more cannons you earn for the arming phase. If you can't surround a single castle within the building phase, the game is over.
The attack phase is a mere ten seconds long you must aim your crosshair over the ships and fire your cannons to destroy the enemy. Ships take two or more shots to destroy, and each cannon must wait until its cannonball has landed before it can fire, so the more cannons you have, the better off you are. Later levels get more difficult: if a ship lands on the shore, it'll unload a flurry of one-tile tanks that will surround castles like ants, filling gaps in your walls. If they surround a castle, you'll find the castle destroyed on the next building phase. And let's not forget the powerful ships that will scorch the land with their powerful cannonballs, making that tile impossible to place a building piece on.
Strategy plays a huge portion in Rampart. You'll have to know the best spots to place your cannons, because if you squeeze them too close to the shores or the edge of the screen, you'll find it near impossible to surround your castles on the next building phase...especially if your enemy's pecked a single hole in your defenses.
Even with a great solitaire challenge, Rampart is tailored for multiplayer action. You've got five battle phases to either cause the other person to not be able to surround his castles, or score more points by controlling a large portion of your land. The victor gets to slice the loser's head in a satisfying guillotine sequence.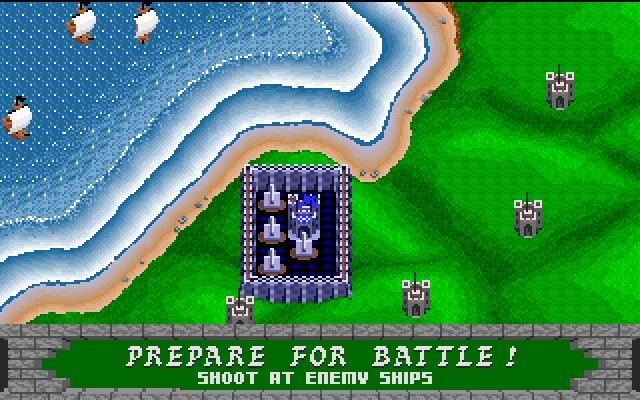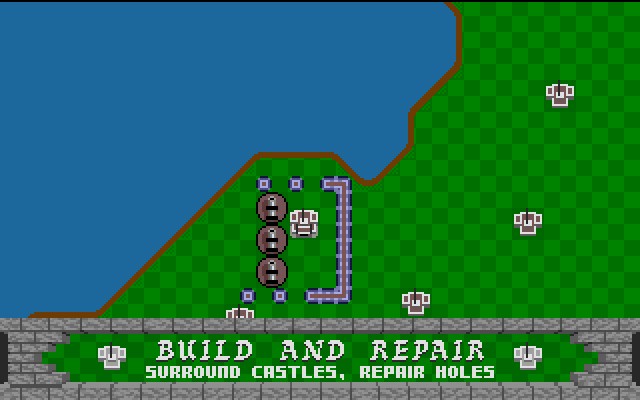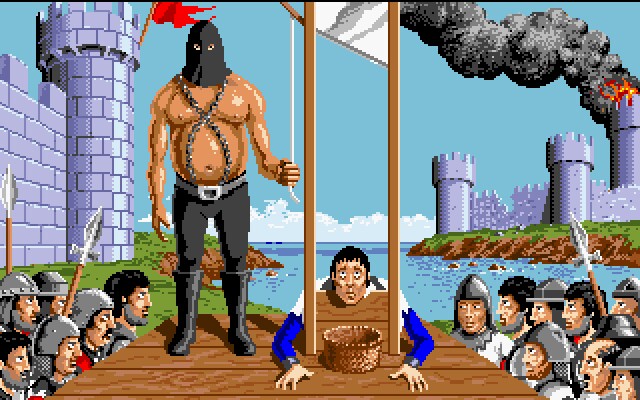 ---
Share this Product