---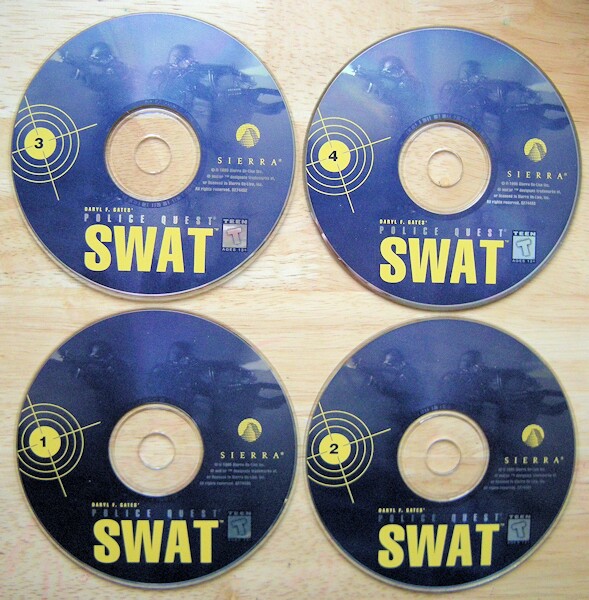 Actual Game
Police Quest: SWAT
1-Click Install
Windows 11, 10, 8, 7, Vista, XP
(Sierra 1995)
MY PROMISE
My games are genuine, install in one step, look, sound and play in Windows 11, 10, 8, 7, Vista and XP like they did in the old days, or your money back. This is my unconditional guarantee for three years.
WHAT IS INCLUDED
This listing includes the original game CDs. An on-screen printable manual is also included. The box is pictured for reference and is not included.
I will also provide a compatibility CD that will allow the game to run under ALL VERSIONS of Windows 11, 10, 8, 7, Vista and XP, both 32 and 64 bit.
INSTALLATION
One step: Insert my CD and the game will automatically work on your computer. Done. Yes, it's that simple.
Want to play? Click the icon. Want the game off your computer? Click Uninstall. Zero hassle.
TECH SUPPORT
Rapid response technical support for three years is always an e-mail or phone call away.
In the extremely rare event I cannot get this title to work on your system I will take it back for a full refund. All I ask is minimal assistance from you during the troubleshooting process.
The Game
As the newest member of LAPD's Special Weapons and Tactics team you're about to find yourself in the thick of urban turmoil. If you successfully resolve these civic conflicts, you'll be awarded medals and career advancements. Promote to the position of Element Leader and you'll be able to call the shots. Or if snipering interests you, train and qualify as a sniper.
Police Quest: SWAT is not your normal Sierra style game. You are a new SWAT team member and as such, need to learn the ropes. And there is much to learn because this game is set up to be very realistic. It is not just a shooting gallery; you need to know your tactics because killing someone is your last option. You are stationed at the Metro station and between call-ups, train in the various weapons and disciplines. Every so often while you are reviewing interviews with actual police officers or training, you will be called up. If you have your sniper qualification, you can go on sniper missions. After each mission, you are debriefed and awarded promotions or awards.
The graphics and realism of SWAT are great. You have many career options. You start by training as an assaulter, that being a SWAT member who storms a building. In addition, you can train as a sniper. These options add some various elements into SWAT to keep you doing something different.
The interface of Police Quest SWAT no longer allows you to talk, examine objects, or give items like the previous episodes of the series. You only have a default arrow cursor, an inventory, the hand signal panel and movement cursors. The inventory contains your weapons and ammunition, your badge, etc... and it scrolls horizontally when you have more than four objects. The Hand Signals panel lets you communicate with your team mates with eight hand signals such as Hold, Look, Hurry and Stop. In the Room Entry panel, you will find the "Slicing the pie" command. This maneuver is used when you want to safely enter a room or round a corner. If you move your cursor over a place where you can use this command, the cursor will indicate you can do the move.
As you progress in the game and succeed in the various missions, you will qualify for promotions that will lead you to successively become an assaulter, a sniper and finally an element leader. Only then, will you be able to give orders through the LASH interface to your team and elaborate a strategy to solve the crisis.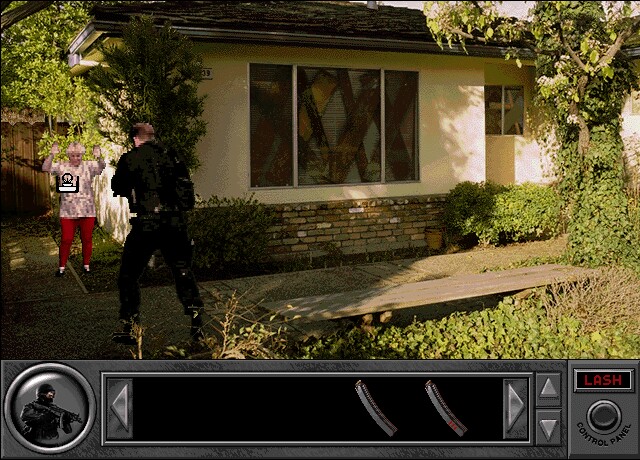 ---
Share this Product