---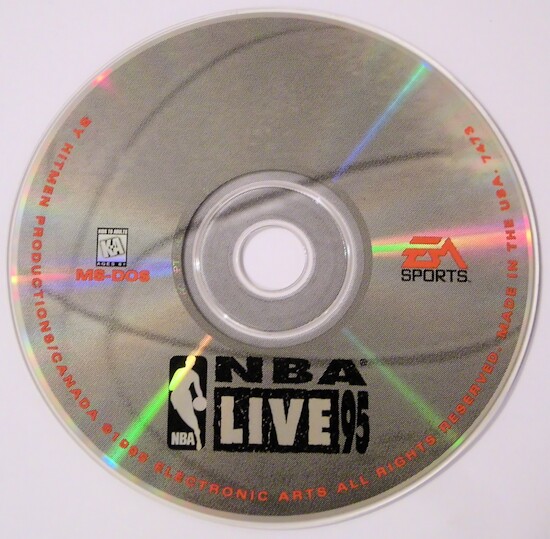 Actual Game
NBA Live '95
1-Click Install
Windows 11, 10, 8, 7, Vista, XP
(Electronic Arts 1996)
MY PROMISE
My games are genuine, install in one step, look, sound and play in Windows 11, 10, 8, 7, Vista and XP like they did in the old days, or your money back. This is my unconditional guarantee for three years.
WHAT IS INCLUDED
This listing includes the original game CD. An on-screen printable manual is also included. The box is pictured for reference and is not included.
I will also provide a compatibility CD that will allow the game to run under ALL VERSIONS of Windows 11, 10, 8, 7, Vista and XP, both 32 and 64 bit.  Note that while the game supports joysticks it does not support X-Box type controllers.
INSTALLATION
One step: Insert my CD and the game will automatically work on your computer. Done. Yes, it's that simple.
Want to play? Click the icon. Want the game off your computer? Click Uninstall. Zero hassle.
TECH SUPPORT
Rapid response technical support for three years is always an e-mail or phone call away.
In the extremely rare event I cannot get this title to work on your system I will take it back for a full refund. All I ask is minimal assistance from you during the troubleshooting process.
The Game
NBA Live '95 is a 5-on-5 basketball simulation based on the hit Sega Genesis/Super Nintendo version. The game took what was then state-of-the-art 16-bit action to the next level with great gameplay, graphics, and sound. All 27 NBA teams are featured with their complete rosters as of February 23, 1995. The only missing players are Charles Barkley and David Robinson, due to contractual reasons.
Each player has his own high-res portrait and in-depth skill ratings. NBA Live '95 features a TV style presentation complete with digitized intros of the starting lineups. This was groundbreaking for a mid 90s game. Each NBA Live '95 court is almost an exact replica of it's real-life counterpart.
NBA Live '95 features 3 modes of play: Exhibition, Season (26, 52, or 82 games), and Playoffs. Using 2 joysticks, the keyboard and mouse, up to 4 players can compete against each other or against the computer. Complete player stats are kept for every single player throughout season play. The stats can be sorted by any category, simply by clicking on the stat heading.
You can also trade any player in the league. The game even allows you to make up to 4 custom teams. (Try playing against a team of 12 Shaqs!) The gameplay is similar to the Genesis/Super NES version. It's fast paced and smooth and you're in control of everything from dunks and blocks to alley-oops. The animation very well-done. You'll see behind-the-back passes and a variety of different dunks. The players are detailed well and you can easily tell them apart.
There are 3 difficulty settings, ranging from a normal computer to a down-right cheap computer. For example, when the computer is losing by more than 10 points or so, it will shoot 3's at almost every opportunity. By the end of the game, the computer will have shot about 8/43 from the 3-point line. On the hardest setting, the computer has no problem blocking shots and stealing the ball.
Despite poor artificial intelligence, NBA Live '95 is the definitive 5-on-5 game for its time. It's digitized graphics and sounds add to the great gameplay and detailed stats. If you are a fan of PC basketball sims NBA Live '95 is worth a try.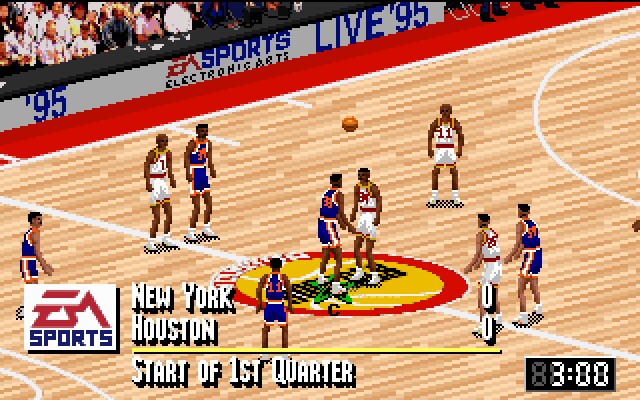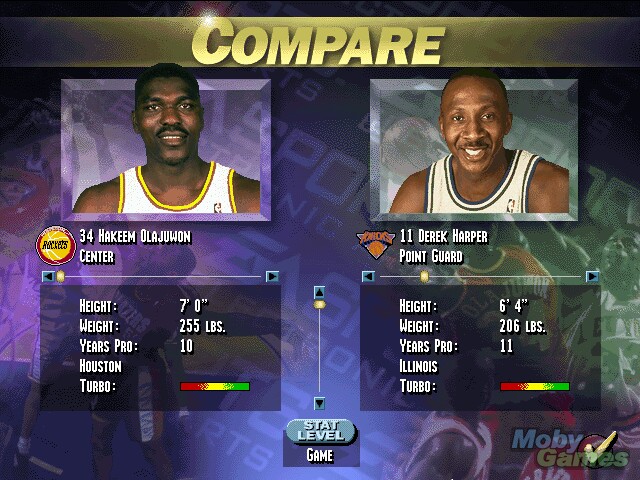 ---
Share this Product