---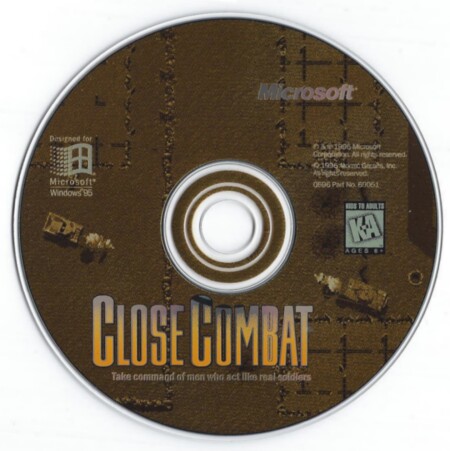 Actual Game
Microsoft Close Combat 1
1-Click Install
Windows 11, 10, 8, 7, Vista, XP
(Microsoft 1996)
MY PROMISE
My games are genuine, install in one step, look, sound and play in Windows 11, 10, 8, 7, Vista and XP like they did in the old days, or your money back. This is my unconditional guarantee for three years.
WHAT IS INCLUDED
This listing includes the original game CD. An on-screen printable manual is also included. The box is pictured for reference and is not included.
I will also provide a compatibility CD that will allow the game to run under ALL VERSIONS of Windows 11, 10, 8, 7, Vista and XP, both 32 and 64 bit. Note that network play no longer functions.
INSTALLATION
One step: Insert my CD and the game will automatically work on your computer. Done. Yes, it's that simple.
Want to play? Click the icon. Want the game off your computer? Click Uninstall. Zero hassle.
TECH SUPPORT
Rapid response technical support for three years is always an e-mail or phone call away.
In the extremely rare event I cannot get this title to work on your system I will take it back for a full refund. All I ask is minimal assistance from you during the troubleshooting process.
The Game
A typical day at the beach: the sand under your feet, the roar of the surf… and the ripping sound of German machine guns as they cut your troops to pieces. The beach is in Normandy. The date is June 6th, 1944—D-Day. Your mission, should you choose to accept it, is to take control of either the German or American forces and rewrite history. Atomic Games, creators of the popular V for Victory games, has joined with Microsoft to create one of the most innovative military simulations on the market. Close Combat offers a real-time approach to warfare, delivering an experience you may never forget. Close Combat's unique feature is the impact of combat psychology on the engagements. Over a six-week period, your troops will gain experience, rise or sink in leadership, and pay a price for their wounds. As their commander, you cannot simply order your troops to charge to their deaths. They react realistically to stress on the battlefield, and few things are more stressful than another human being's attempts to put bullet-sized holes in your body (if the psychology twist starts to overwhelm you, though, you have the option to make your troops follow your every command without question).
The real-time aspect of Close Combat makes this a fascinating game. You give the orders as you go, then see what happens. The scenarios force you to think on your feet. If you make bad decisions, the frighteningly realistic screams of your dying troops will unnerve you. The chatter and roar of guns on the battlefield can increase your stress level as well as that of your men. The Artificial Intelligence shows flashes of brilliance, and can turn your men into heroes as well as cowards.
Close Combat looks slick. At first the numerous panels on the main display may seem confusing, but the well-designed tutorials show you how to use them effectively. The control is of the drag-and-drop approach; you select troops, give them basic commands, then tell them where to go. The battlefield is incredibly detailed - muzzle flashes, smoke rounds, and the bodies sprawled in the rubble give you an idea of your progress. I strongly encourage you to read the excellent manual, which provides invaluable information on the tactics and history of the Normandy invasion, before plunging into combat.
Microsoft and Atomic Games raised the bar when they released this game. Real-time combat with troops that think provide gamers with an opportunity to discover what kind of commanders they really are. Will they be the next Patton... or the next Saddam Hussein?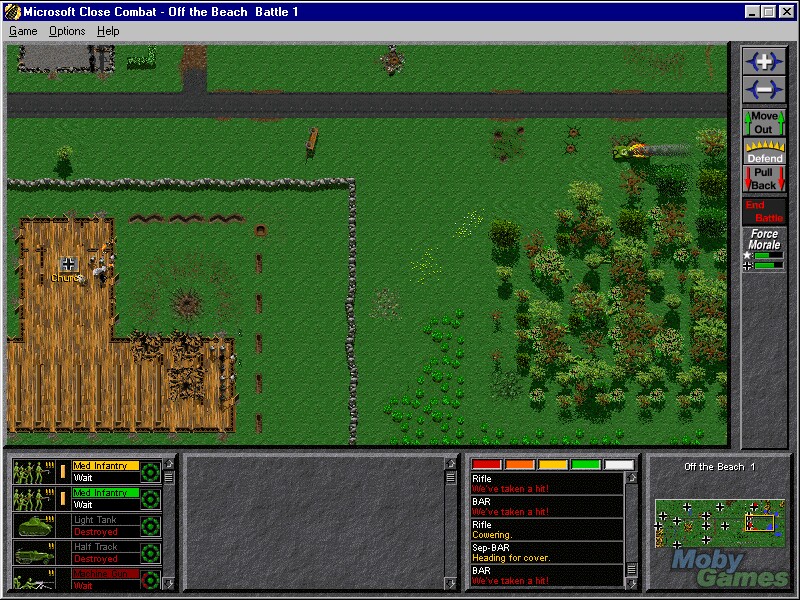 ---
Share this Product