---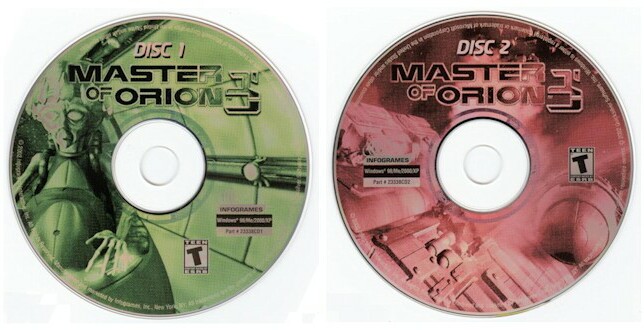 Actual Game
Master of Orion III
1-Click Install
Windows 11, 10, 8, 7, Vista, XP
(MicroProse 2003)
MY PROMISE
My games are genuine, install in one step, look, sound and play in Windows 11, 10, 8, 7, Vista and XP like they did in the old days, or your money back. This is my unconditional guarantee for three years.
WHAT IS INCLUDED
This listing includes the original game CD. An on-screen printable manual is also included. The box is pictured for reference and is not included.
I will also provide a compatibility CD that will allow the game to run under ALL VERSIONS of Windows 11, 10, 8, 7, Vista and XP, both 32 and 64 bit.
INSTALLATION
One step: Insert my CD and the game will automatically work on your computer. Done. Yes, it's that simple.
Want to play? Click the icon. Want the game off your computer? Click Uninstall. Zero hassle.
TECH SUPPORT
Rapid response technical support for three years is always an e-mail or phone call away.
In the extremely rare event I cannot get this title to work on your system I will take it back for a full refund. All I ask is minimal assistance from you during the troubleshooting process.
The Game
The long-awaited follow up to the "spaceploitation" strategy classics Master of Orion and Master of Orion 2, MOO 3 attempts to combine unprecedented depth with user-friendliness in one ultimate "4X" gaming eXperience. The basic game formula is the same, though: start out with one planet, eXplore the galaxy, eXpand by founding new colonies and bases, eXploit resources, and then eXterminate your opponents--or at least show them who is boss!
Many years in the MOO timeline have passed since the last installment of the series. The Antarans have triumphed and imposed their rule on the Orion sector, even dubbing themselves the "New Orions" in their pretentiousness. Most of the old alien species have been defeated and nearly exterminated by the New Orions, but a few remnants of their civilizations still remain as non-playable races, so you will occasionally come across the odd colony of the Darlok, Bulrathi, Alkari, Mrrshan, Elerian, or Gnolam variety. The 16 playable races that have survived the wrath of the Antarans include the insectoid Klackons and Tachidi; the reptilian Raas, Sakkra, and Grendarl; the fishlike Trilarian and Nommo; the robotic Cynoid and Meklar; the humanoid Human, Evon, and Psilon; the crystalline Silicoids; the ethereal Imsaeis and Eoladi; and the genetically-engineered harvesters, the Ithkul.
Management is handled primarily at the imperial level through general plans and policy decrees, with a system of AI viceroys assigned to doing most of the grunt work in managing the various regions of your colonized planets. Up to four great leaders at a time may come forward and join your empire, adding bonuses (and perhaps also penalties) to your base racial abilities. Research is divided into six schools: economics, energy, biological sciences, social sciences, physical sciences, and mathematics; some 380 technological advances are available overall, and not all will be available to your chosen race.
Ship and ground combat have both changed from previous MOO games. Naval battles are played out in real time, with orders being given to ships assigned to the various task forces you organize before any battles take place. The player now has more tactical options in commanding ground forces in planetary assaults. Espionage is still available for implementing a variety of dirty tricks on opposing empires, and diplomacy is expanded so that you can now negotiate not only on an inter-empire basis, but also through the Orion Senate. With enough votes, laws can be passed by the Senate which have galaxy-wide effects, thus making it possible for the clever diplomat to change the rules of the game to his own advantage.
Victory is yours if you can accomplish one of three things: eliminate all opponents and become Sole Survivor, garner enough votes through diplomacy to become President of the Senate, or recover the five mysterious alien artifacts--the "Antaran Xs"--scattered across the galaxy. Just be prepared for a tough fight, because powerful Guardians will once again stand between you and total mastery of Orion.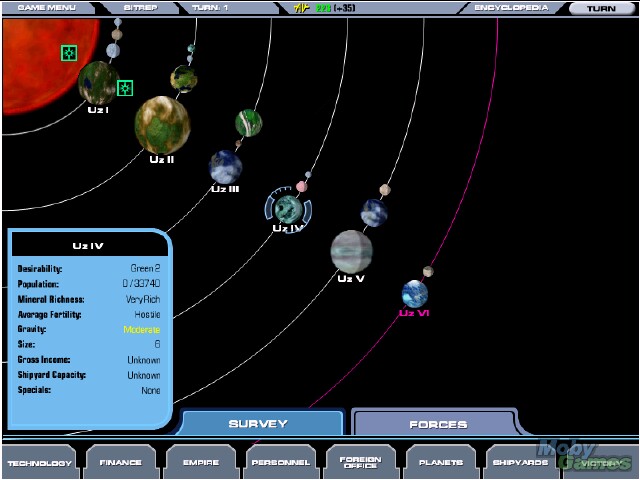 ---
Share this Product