---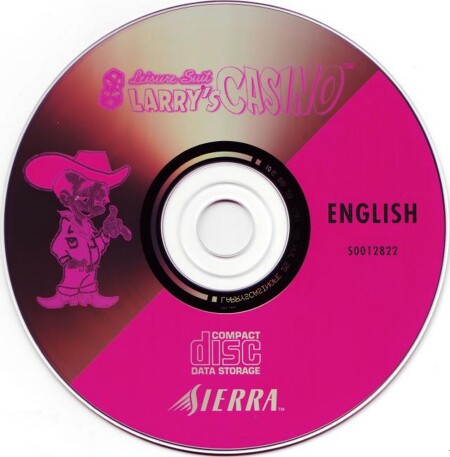 Actual Game
Leisure Suit Larry Casino
1-Click Install
Windows 11, 10, 8, 7, Vista, XP
(Sierra 1998)
MY PROMISE
My games are genuine, install in one step, look, sound and play in Windows 11, 10, 8, 7, Vista and XP like they did in the old days, or your money back. This is my unconditional guarantee for three years.
WHAT IS INCLUDED
This listing includes the original game CD. An on-screen printable manual is also included. The box is pictured for reference and is not included.
I will also provide a compatibility CD that will allow the game to run under ALL VERSIONS of Windows 11, 10, 8, 7, Vista and XP, both 32 and 64 bit. Note that Sierra shut down its multiplayer servers years ago so online play is no longer possible; therefore Pick-Up Master, The Funny Comedy Club, and Say What will not work.
INSTALLATION
One step: Insert my CD and the game will automatically work on your computer. Done. Yes, it's that simple.
Want to play? Click the icon. Want the game off your computer? Click Uninstall. Zero hassle.
TECH SUPPORT
Rapid response technical support for three years is always an e-mail or phone call away.
In the extremely rare event I cannot get this title to work on your system I will take it back for a full refund. All I ask is minimal assistance from you during the troubleshooting process.
The Game
Leisure Suit Larry's Casino is more of a virtual casino simulation than a gambling game. It allows you to assume the guise of a high roller at a casino owned by the sleaze-king himself, Larry. The single-player game allows you to play five standard casino games, and the Internet multiplayer style gives even more varieties of play through interaction with other players in a comedy club and party games. Within the context of the casino atmosphere, you win money and spend it at the gift shop, restaurant, or bar.
Before you actually start tossing those cyberbucks around, you've gotta pick a persona that'll represent you when you go online -- and given the average play of the computer opponents in the single-player mode, you'll be online in pretty short order. All the characters you can choose to represent you appeared in Leisure Suit Larry 7: Love for Sail! (Cavaricchi Vuarnet is actually from LSL 6, but what the hey?) -- a subtle plug for the game, no doubt, and annoying for those of us who'd like to tweak our images a little bit to more accurately represent who we really are (or aren't).
LSL Casino features simulations of four casino favorites: slots, blackjacks, poker, and roulette. Poker variations include Seven Card Stud, Seven Card Stud Hi-Lo, Texas Hold'em, Omaha Hold'em, and Omaha Hold'em Hi-Lo.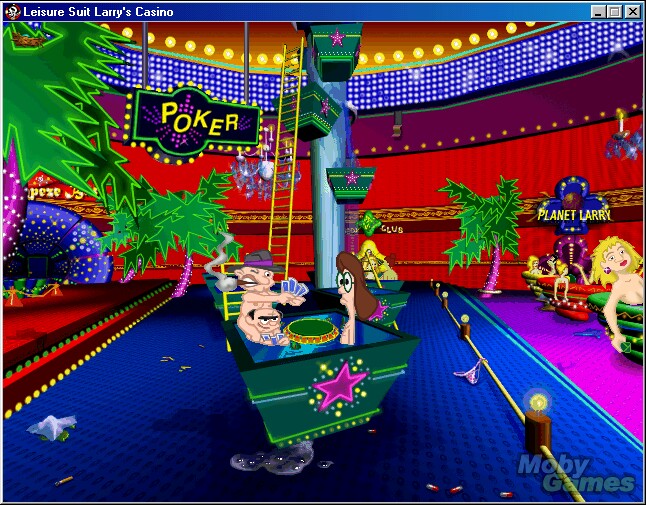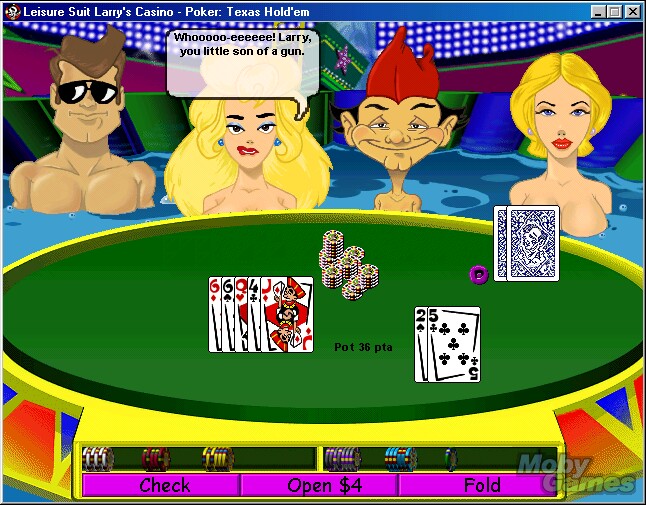 ---
Share this Product