---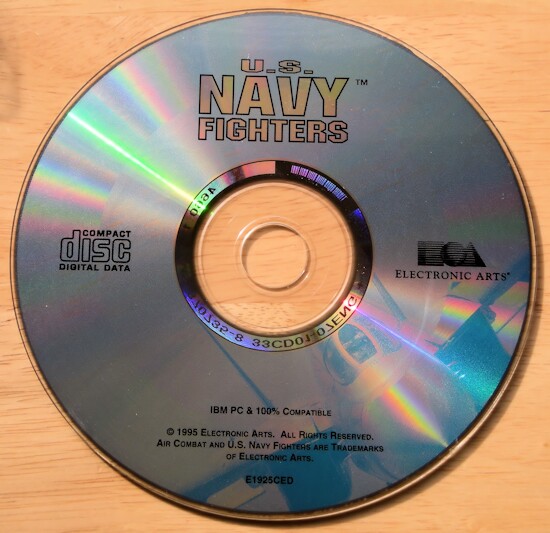 Actual Game 
Jane's US Navy Fighters
1-Click Install
Windows 11, 10, 8, 7, Vista, XP
(Electronic Arts 1994)
MY PROMISE
My games are genuine, install in one step, look, sound and play in Windows 11, 10, 8, 7, Vista and XP like they did in the old days, or your money back. This is my unconditional guarantee for three years.
WHAT IS INCLUDED
This listing includes the original game CD. An on-screen printable manual is also included. The box is pictured for reference and is not included.
I will also provide a compatibility CD that will allow the game to run under ALL VERSIONS of Windows 11, 10, 8, 7, Vista and XP, both 32 and 64 bit. Note that joysticks are supported but X-Box style controllers, rudders and pedals are not.
INSTALLATION
One step: Insert my CD and the game will automatically work on your computer. Done. Yes, it's that simple.
Want to play? Click the icon. Want the game off your computer? Click Uninstall. Zero hassle.
TECH SUPPORT
Rapid response technical support for three years is always an e-mail or phone call away.
In the extremely rare event I cannot get this title to work on your system I will take it back for a full refund. All I ask is minimal assistance from you during the troubleshooting process.
The Game
US Navy Fighters gives you the choice of all existing weapons: sidewinders, A-A missiles, A-G missiles, guns, everything that these planes can carry. You can take off from the ground or the carrier (only the landing will make your hands sweaty). You can configure your system for maximum performance, multiple texture levels for the ground, the sky and water; which mirror do you want an image and so on.
In the game you are the wing-leader. When you fly, you can give orders to up to two other friendly planes in your squadron. Command them to protect you, disengage from battle, tighten up their formation, etc. Another novelty is the possibility of creating a mission, with any element from any of the other missions that you like. You can choose the number of opponents, what they fly, their skill level, the weather, time of day, the wing size, etc.
If you think that you're a really deadly pilot you can choose things like the no-missile option (from the cheat menu) and engage the enemy one on three in a dog-fight. Good luck. We'llget in touch with your next of kin.
Of course all the usual features from mid 90s sims are also present: Multiple viewpoints from above, under, wingman, from the target back to you, tactical, and others. Many pre-made missions are included with the game which serve as a tutorial, and are very handy in learning to control your plane. The first one is take off, the second is a fog landing and the third is stall recovery. Help in combat or during the landings are given by radio communications. They are very clear, and easily understood. All the other typical technological help is also present; RADAR, the HUD, flares, chaff, etc... If you choose to do a full campaign (tour of duty), all the briefings, info, and reports will be accompanied with video and digitized speech (more than 40 minutes of it). All menu pictures are high definition photos from aircraft found on a carrier. All data on aircraft, choppers, ships, tanks, armored vehicles, ground constructions, can be visualized either in pictures or in 3D. You can also view them from any angle.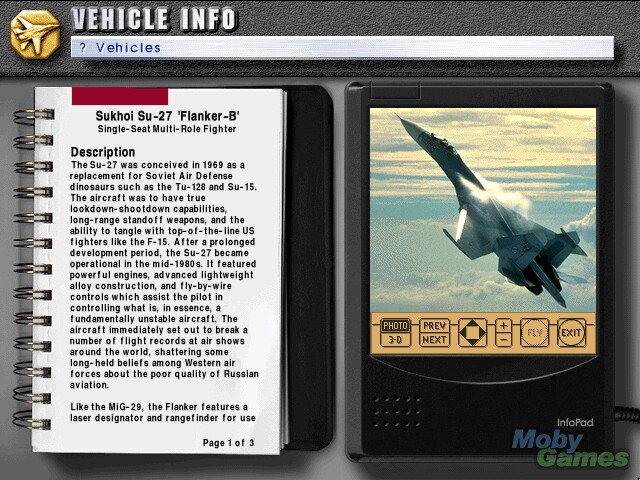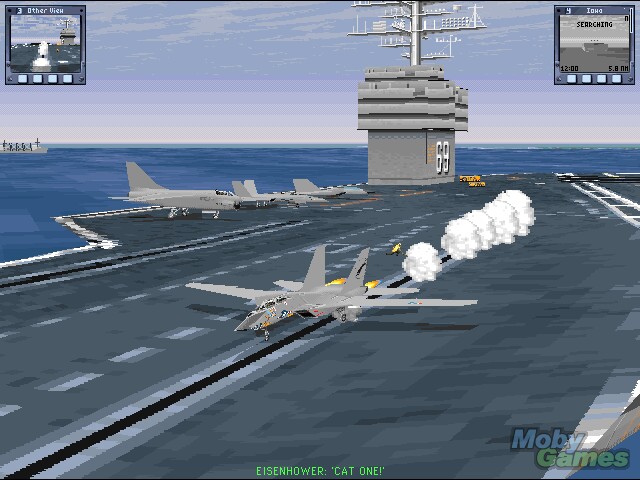 ---
Share this Product