---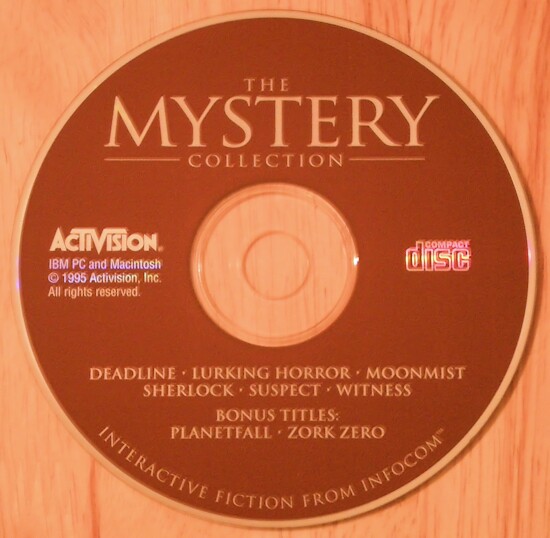 Actual Game
The Infocom
Mystery Collection

Deadline
Lurking Horror
Moonmist
Sherlock
Suspect
Witness
Planetfall
Zork Zero
1-Click Install
Windows 11, 10, 8, 7, Vista, XP
(Activision 1995)
MY PROMISE
My games are genuine, install in one step, look, sound and play in Windows 11, 10, 8, 7, Vista and XP like they did in the old days, or your money back. This is my unconditional guarantee for three years.
WHAT IS INCLUDED
This listing includes the original game CD. On-screen printable manuals are also included. The box is pictured for reference and is not included.
I will also provide a compatibility CD that will allow the game to run under ALL VERSIONS of Windows 11, 10, 8, 7, Vista and XP, both 32 and 64 bit.
INSTALLATION
One step: Insert my CD and the game will automatically work on your computer. Done. Yes, it's that simple.
Want to play? Click the icon. Want the game off your computer? Click Uninstall. Zero hassle.
TECH SUPPORT
Rapid response technical support for three years is always an e-mail or phone call away.
In the extremely rare event I cannot get this title to work on your system I will take it back for a full refund. All I ask is minimal assistance from you during the troubleshooting process.
The Game
Deadline
You have 12 hours to solve the murder of Mr. Marshall Robner. If it was a murder... Mr Robner was found locked in his library, dead -- from a lethal dosage of anti-depressants. Friends and family are calling this a suicide of depressed wealthy industrialist. As Chief of Detectives, you find something just doesn't smell right about this case. You go out on a quest to find a suspect, his motive, method, and opportunity.
The Lurking Horror
In The Lurking Horror, you are a student at G.U.E. Tech. You have braved a snowstorm to get to the Computer Center and finish work on an assignment. But the snowstorm has turned into a raging blizzard, and has trapped you in a complex of buildings late at night. You are not alone, fortunely ... or perhaps, unfortunately. Thus you begin the story, unaware that anything may be wrong beneath or within the veneer of the quiet campus.
Moonmist
In Moonmist, you are a famous young American detective. An old friend, Tamara Lynd, has written you a letter (included in the package), asking for your help. And so you have travelled to England to test your detective skills. As the story begins, you are outside Tresyllian Castle - the old, dark, hauntingly beautiful castle where Tamara now lives. Tamara greets you, and you meet some interesting guests. But your visit soon turns to mystery, as a trail of riddles and clues leads you to a hidden valuable treasure. But Tamara is worried about a ghost that is tormenting her. What does the ghost want? Is it jealous of her? Does the ghost want the hidden treasure for itself? Or is the ghost a fake - just someone dressing up to frighten Tamara? If so, why?
Sherlock: The Riddle of the Crown Jewels
In The Riddle of the Crown Jewels, you play the role of Doctor Watson. You have received an urgent summons to the rooms of your good friend Sherlock Holmes by his landlady, Mrs. Hudson. Normally you are not up and about so early on a Saturday. But here you are, outside the Baker Street residence, and not a moment too soon; for the fog has thickened and travel without a lamp has become impossible.
Suspect
You are a suspected murderer and time is running out because the police are ready to throw the books at you. If you ever want to return to your normal life of being a reporter you better prove your innocence. However, the real murderer probably watching your every move -- so be carefull.
The Witness
The Witness is a text adventure in which the player takes control of a police detective working near Los Angeles. The year is 1938, and on this stormy February night a wealthy but frightened man has asked the detective for protection. In spite of his best efforts, a death occurs, and the hero has twelve hours to solve the mystery and try to arrest the killer. If the player thinks there is enough evidence against one or more suspects to convince a jury of their guilt, he can arrest them and conclude the case.
Planetfall
The game starts with the user assuming the role of a lowly Ensign Seventh Class on the S.P.S. Feinstein, a starship of the Stellar Patrol. Overbearing superior Ensign First Class Blather assigns the player to mop decks, not exactly the glorious adventures promised by the recruiters on Gallium. But a sudden series of explosions aboard the ship sends the player scrambling for an escape pod, which eventually crash-lands on a nearby planet. There are signs of civilization, but curiously no traces of the beings that once lived there. Eventually encountering a helpful but childlike robot named Floyd, the player must unravel the mysteries of the single deserted structure on the planet, Resida, and find a way to get back home. As the fate of the planet's former inhabitants becomes clearer, a time limit also imposes itself. Planetfall was Infocom's first game to make extensive use of red herrings. Unlike previous titles, it contains a number of useless items, inaccessible locations, and other false clues.
Zork Zero
Zork Zero: The Revenge of Megaboz is chronologically a prequel to the first three Zork games, and is a text adventure with a graphical interface and scene-based colors and borders. Like its predecessors, the game relies on puzzle-solving, including inventory item manipulation as well as logic-based puzzles. An interactive map, in-game hint system, and the included Encyclopedia Frobozzica are there to make the player's task somewhat easier. The game also includes four graphical mini-games based on popular logic puzzles.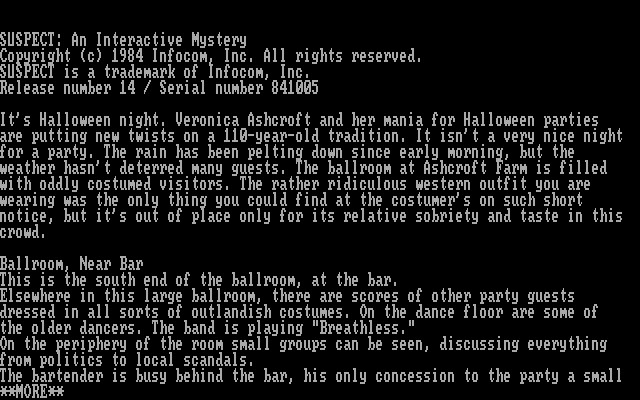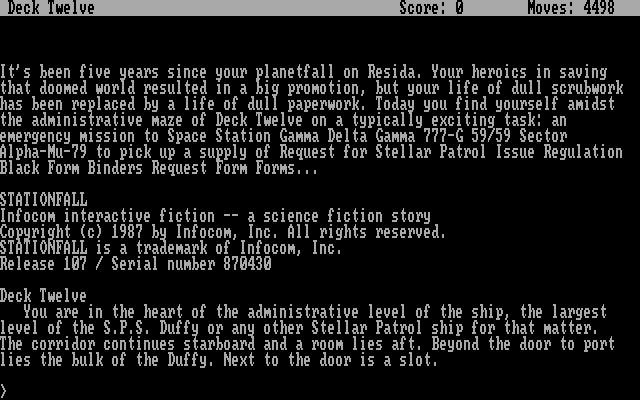 ---
Share this Product