---

Actual Game
Indycar Racing
ALL Track Packs
1-Click Install
Windows 11, 10, 8, 7, Vista, XP
(Papyrus 1992)
MY PROMISE
My games are genuine, install in one step, look, sound and play in Windows 11, 10, 8, 7, Vista and XP like they did in the old days, or your money back. This is my unconditional guarantee for three years.
WHAT IS INCLUDED
This listing includes the original game CD. An on-screen printable manual is also included. The box is pictured for reference and is not included.
I will also provide a compatibility CD that will allow the game to run under ALL VERSIONS of Windows 11, 10, 8, 7, Vista and XP, both 32 and 64 bit. Note that gamepad controllers and steering wheels are not supported.
INSTALLATION
One step: Insert my CD and the game will automatically work on your computer. Done. Yes, it's that simple.
Want to play? Click the icon. Want the game off your computer? Click Uninstall. Zero hassle.
TECH SUPPORT
Rapid response technical support for three years is always an e-mail or phone call away.
In the extremely rare event I cannot get this title to work on your system I will take it back for a full refund. All I ask is minimal assistance from you during the troubleshooting process.
The Game
Indycar Racing was the much hoped for sequel to 1989's Indy 500. Indycar picks up on all of the features and improved them. Indycar reproduces 8 races in the CART Indycar championship. You get to race in Luna Seca, Long Beach, Michigan, Milwaukee, Newhampshire, Nazerath, Portland and Toronto. You can race in the Champion-ship series, individual race, or Test session practice. You have a choice of 6 chassis and 5 motors. You can put these together in any combination you want. Example: You could run a Penske-Ford Indycar.
In what was then the exception for early 90s gaming, just about everything is bit-mapped. The cars have decals. There is a "driving groove" in the turns. (In Michigan there are skid marks going into the concrete wall!) Smoke, dust, sparks & fire! (Just what most people watch races for.) Speaking of watching there is a very extensive REPLAY feature. This shows about all of the common television ESPN camera angles. Even a "speed shot" (TV2) of the cars whizzing by at high speed.
The sound and music has been greatly improved compared to 500. The tire squeals are not annoying and actually serve a purpose (warning of over driving your car). The engine sound is not over-bearing. Multiple engine sounds, that occur when other cars are near are very nicely done. This really helps your situational awareness.
The actual game play is very exciting , particularly setting up the cars for each track. It is like solving a puzzle. You also get a feel for what the PRO's have to go through. For example: I have a race setup for Nazareth that is 2 mph faster than the race field. Problem is that I can't qualify better than 7th. Passing seems just about impossible in Nazareth. So I have the speed during the race, but I can't get past anyone! If I could qualify on the pole, I would probably do well in the race. This is the type of game play that makes the game so exciting & realistic. One of the poorer aspects of 500 was the artificial intelligence (AI) of the computer cars. Indycar made some welcome advances here. When you come around to pass a "back marker", they get out of the way. This is very proper in real racing & the way racing should be. At least they won't "Hammer" you when you try to pass on a straight.
The car setup options in Indycar is extensive. You can adjust fuel load, wings, tires (compound/pressure,stagger), shocks, camber, steering LOCK (throw) and gear ratios. One adjustment affects all of the others. This REALLY gives a clue as to what the Pro's have to deal with. This is the puzzle you have to solve. As it turns out, if you use the ACE setup for Michigan & New Hampshire, you will have a very competitive setup. I was able win the pole position by 5 mph (229.9) in Michigan with the ACE setup. Then I walked away from the field during the race. I suggest trying New Hampshire with the provided ACE setup to get used to the game. As you race around the track, monitor the tire temperatures (and stay in the groove). This is the key to a good setup. Ideally the tire temps should be between 200-300 degrees. This is a rough estimate, but gives you an idea of what to shoot for. Tire temperatures above or below this will make for a poor handling car. Setting up the car for Toronto (street course) was very fun and exciting. The key is lower shock settings.
Indycar Racing is a great game/simulation and example of early 90s state of the art. Anyone who liked Indy 500 and World Circuit would be pleased with Indycar Racing.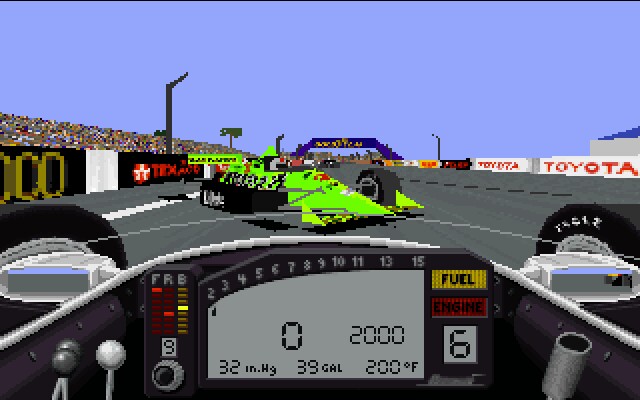 ---
Share this Product