---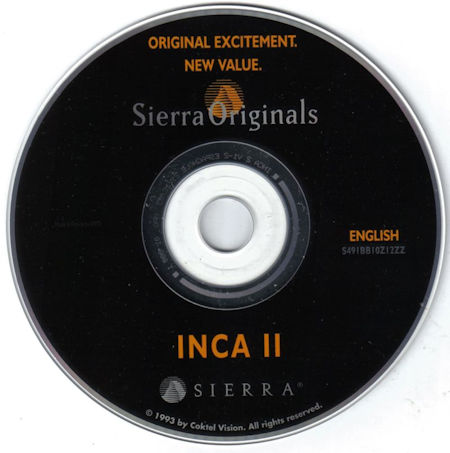 Actual Game
Inca 2
Nations of Immortality
1-Click Install
Windows 11, 10, 8, 7, Vista, XP
(Sierra 1994)
MY PROMISE
My games are genuine, install in one step, look, sound and play in Windows 11, 10, 8, 7, Vista and XP like they did in the old days, or your money back. This is my unconditional guarantee for three years.
WHAT IS INCLUDED
This listing includes the original game CD. An on-screen printable manual is also included. The box is pictured for reference and is not included.
I will also provide a compatibility CD that will allow the game to run under ALL VERSIONS of Windows 11, 10, 8, 7, Vista and XP, both 32 and 64 bit.
INSTALLATION
One step: Insert my CD and the game will automatically work on your computer. Done. Yes, it's that simple.
Want to play? Click the icon. Want the game off your computer? Click Uninstall. Zero hassle.
TECH SUPPORT
Rapid response technical support for three years is always an e-mail or phone call away.
In the extremely rare event I cannot get this title to work on your system I will take it back for a full refund. All I ask is minimal assistance from you during the troubleshooting process.
The Game
The plot takes up several years after INCA 1, in which Eldorado (the hero) established a new Inca Empire in space, despite the efforts of a pirate/ conquistador named Aguirre. Aguirre is still around, and plots to destroy the empire, using a mysterious asteroid that jams interplanetary communications. The pseudo-mystical stuff that made up the bulk of Inca 1 is still present, especially towards the ending, but this time around it is dominated by the faux-Star Wars elements, particularly when a Han Solo clone named Kelt Cartier joins your side.
Like its predecessor, Inca 2 is a hybrid of Wing Commander style space combat and point-and-click adventure, proceeding in mostly-linear fashion from scene to scene. It mercifully leaves out the mazes of the original, and adds a third element just as significant to the whole as the combat and the puzzles: extensive cut scenes.
The combat scenes offer a first-person view, several types of missile to choose from, steering with joystick or mouse, etc. The radar screen is confusing at first - up is actually forward - but other than that, it's a breeze. Control is smooth and responsive, but gets increasingly rough and jerky as your ship takes damage. Some particularly difficult battles are optional, but winning them makes later scenes easier. One annoying point: sometimes combat will be interrupted to show a cut scene.
Puzzle sequences are very pretty and pleasingly surreal, focusing on machines and other objects left behind to test you. All you can do is click on things with an item from your inventory, or click on things without an item from your inventory.
As with the cut scenes, the style varies wildly. Some scenes will have 3-D rendered animation as you walk from room to room. Some will have morphing bitmaps, as mystical energies take shape before your eyes. Others will have video-captured actors.
Music is played from the CD in most scenes except space combat. Vaguely Peruvian woodwinds give way to synth-pop or pompous faux-John Williams. I actually liked the vaguely Peruvian woodwinds.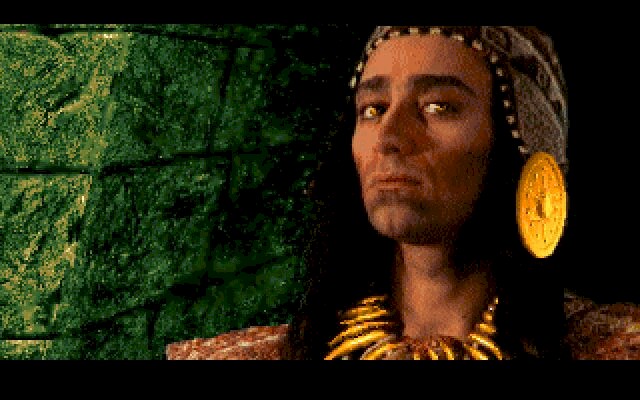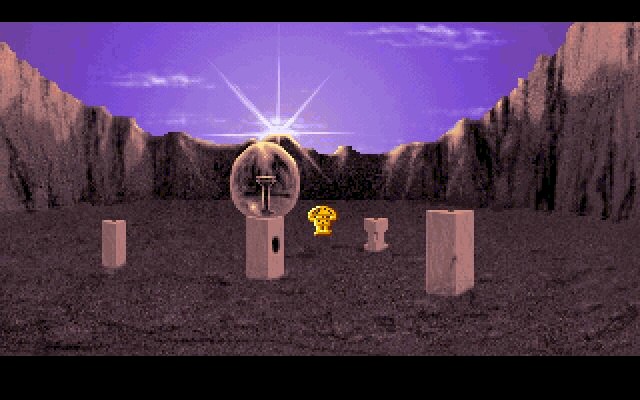 ---
Share this Product