---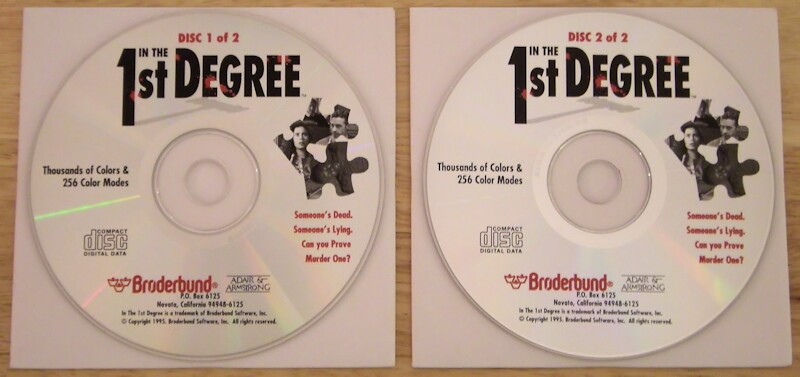 Actual Game 
In the First Degree
1-Click Install
Windows 11, 10, 8, 7, Vista, XP
(Broderbund 1995)
MY PROMISE
My games are genuine, install in one step, look, sound and play in Windows 11, 10, 8, 7, Vista and XP like they did in the old days, or your money back. This is my unconditional guarantee for three years.
WHAT IS INCLUDED
This listing includes the original game CDs. The box is pictured for reference and is not included.
I will also provide a compatibility CD that will allow the game to run under ALL VERSIONS of Windows 11, 10, 8, 7, Vista and XP, both 32 and 64 bit.
INSTALLATION
One step: Insert my CD and the game will automatically work on your computer. Done. Yes, it's that simple.
Want to play? Click the icon. Want the game off your computer? Click Uninstall. Zero hassle.
TECH SUPPORT
Rapid response technical support for three years is always an e-mail or phone call away.
In the extremely rare event I cannot get this title to work on your system I will take it back for a full refund. All I ask is minimal assistance from you during the troubleshooting process.
The Game
In 1995 the creators of this interactive, story-intensive drama used their resources wisely, developing a good, solid script and thoughtfully crafting the interaction to create a sense of realism unrivaled in this genre.
Because of the distinct process that an attorney must follow when doing his work questioning witnesses, establishing motives, and linking evidence—crime-solving is well-suited for simulation through a logical cause-and-effect structure like the one used in this game. In The First Degree quickly teaches you how to think like a criminal prosecutor. In no time you'll be analyzing various characters' motives, and asking the right questions to make your witnesses reveal just enough information to incriminate the bad guys.
The case that you've been assigned centers on the murder of an influential San Francisco artist, and involves his community of family and friends. The game has two major parts: first, a pre-trial interviews segment, and then the trial itself. Ask the right questions of the witnesses in the pre-trial section without alienating or exhausting them, and there's a better chance they'll respond similarly in court.
The interface takes the form of basic dialogue selection in which you choose from a list of questions or comments. Unlike other games, In the First Degree won't deliver a desirable outcome if you just click liberally through the different lines of dialogue. In this title, you must size up your witness and make decisions based on character, tolerance, and other human traits. By adopting a more sophisticated structure, the game admirably simulates actual conversation and personal interaction, and adds a decidedly emotional slant. The writing is top-notch, the acting is consistently strong, and the result is a very realistic—albeit dramatic—experience.
The game has 'replay' written all over it: one would have to be extremely lucky to achieve the first-degree murder conviction after playing the game just once. Indeed, failing becomes invaluable, because it teaches you how to proceed the next time. You will quickly learn how crucial it is to ask the right questions (even during the pre-trial phase): select a wrong approach, and the witness will clam up, depriving you of a chance to get some helpful information. You will no doubt be replaying the interview sessions over and over again, trying out various questioning options in an effort to chart out the right path. The pre-trial phase allows you to jump back and forth among the interviews and other materials, so that by the end you have a clearly worked out courtroom strategy. Similarly, your experiences during the trial teach you which strategies you should adopt and which ones you should avoid. All this means that the entire game is a bit like a long learning curve that can be mastered only after several replays. Still, I have to admit I felt perverse glee when I entered the trial stage for the first time, without any clue as to what my case should be.
Playing this game is more like reading a good courtroom drama novel than matching wits with mind-bending graphic adventures; this originality and accessibility are what make In The First Degree a murderously good time.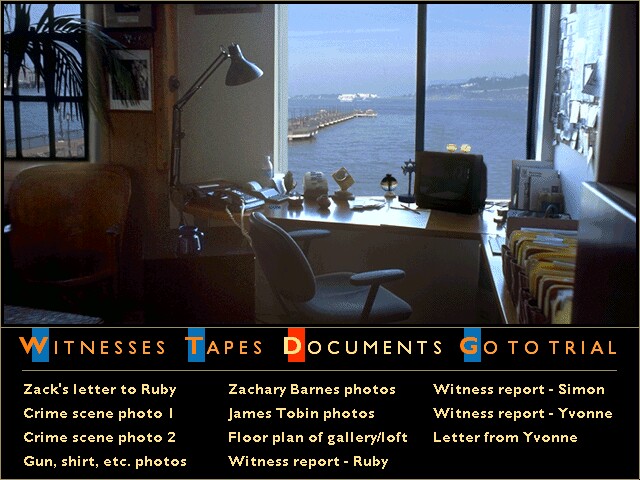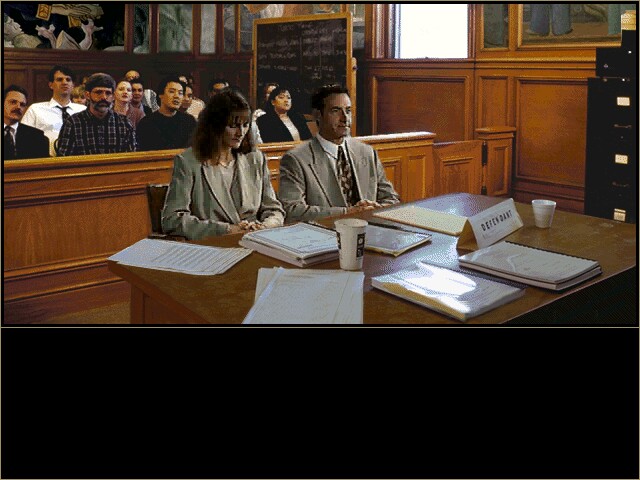 ---
Share this Product