---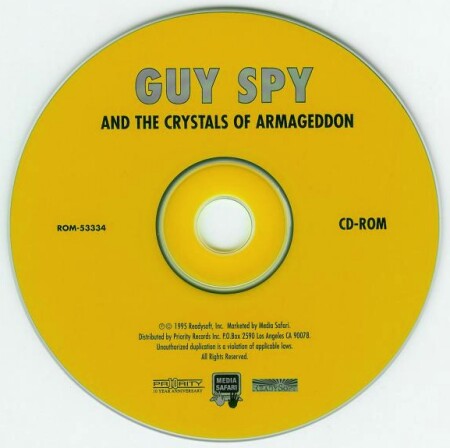 Actual Game
Don Bluth's Guy Spy
& The Crystals of Armageddon
1-Click Install
Windows 11, 10, 8, 7, Vista, XP
(ReadySoft 1992)
MY PROMISE
My games are genuine, install in one step, look, sound and play in Windows 11, 10, 8, 7, Vista and XP like they did in the old days, or your money back. This is my unconditional guarantee for three years.
WHAT IS INCLUDED
This listing includes the original game CD. An on-screen printable manual is also included. The box is pictured for reference and is not included.
I will also provide a compatibility CD that will allow the game to run under ALL VERSIONS of Windows 11, 10, 8, 7, Vista and XP, both 32 and 64 bit.
INSTALLATION
One step: Insert my CD and the game will automatically work on your computer. Done. Yes, it's that simple.
Want to play? Click the icon. Want the game off your computer? Click Uninstall. Zero hassle.
TECH SUPPORT
Rapid response technical support for three years is always an e-mail or phone call away.
In the extremely rare event I cannot get this title to work on your system I will take it back for a full refund. All I ask is minimal assistance from you during the troubleshooting process.
The Game
It's World War II and you, Guy Spy, are about to take on the assignment of your life. It seems the evil Baron Von Max is nearing completion of a dooms-day weapon that will allow the Nazis to realize their dream of total world conquest. The President has put the destiny of the country in your hands. (Doesn't that make you feel special?) His orders are clear: You must stop Von Max and save the free world. Are you up to the challenge?
ReadySoft's Guy Spy and the Crystals of Armageddon combines the plot of an old serial (or Indiana Jones adventure) and the graphics and interface of the company's earlier Dragon's Lair games. The game features over 1500 frames of animation and stylized graphics, original music, and sound effects.
While the basic gameplay is similar to ReadySoft's earlier cartoon-motif games, you do have a bit more flexibility in your actions here. (Playing the original Dragon's Lair was mostly a matter of memorizing sequences of joystick movements.) Along the way you'll battle Nazis in 13 different arcade sequences. The final fight pits you against Von Max himself, in a duel to the death. There are three levels of play, and you can save your game at any time. This last feature is a welcome addition, saving you from having to replay the same sequences over and over again.
Guy Spy is a great arcade game, reminiscent of Dragon's Lair and Space Ace, and is a fun walk down memory lane.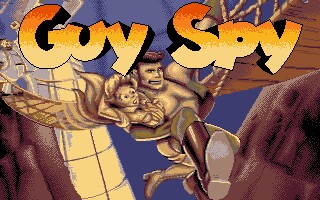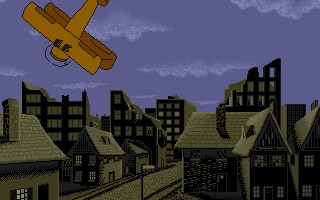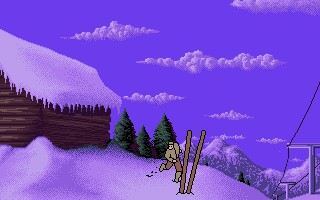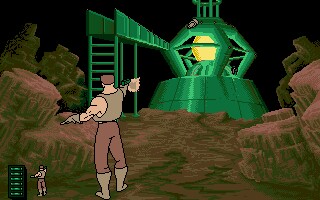 ---
Share this Product