---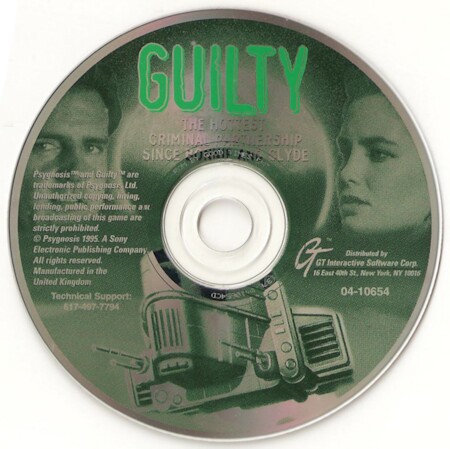 Actual Game
Guilty
aka Innocent Until Caught 2
1-Click Install
Windows 11, 10, 8, 7, Vista, XP
(Psygnosis 1995)
MY PROMISE
My games are genuine, install in one step, look, sound and play in Windows 11, 10, 8, 7, Vista and XP like they did in the old days, or your money back. This is my unconditional guarantee for three years.
WHAT IS INCLUDED
This listing includes the original game CD. An on-screen printable manual is also included. The box is pictured for reference and is not included.
I will also provide a compatibility CD that will allow the game to run under ALL VERSIONS of Windows 11, 10, 8, 7, Vista and XP, both 32 and 64 bit.
INSTALLATION
One step: Insert my CD and the game will automatically work on your computer. Done. Yes, it's that simple.
Want to play? Click the icon. Want the game off your computer? Click Uninstall. Zero hassle.
TECH SUPPORT
Rapid response technical support for three years is always an e-mail or phone call away.
In the extremely rare event I cannot get this title to work on your system I will take it back for a full refund. All I ask is minimal assistance from you during the troubleshooting process.
The Game
"Guilty" is the sequel of "Innocent Until Caught" produced by Divide by Zero and published by Psygnosis. In this new title, you will play as either Jack T. Ladd or Ysanne Andropath which gives you two different ways to complete the game.
Several improvements have been made to the second episode of this series. The interface is more user friendly than before, for example, with options to automatically arrange the items inside your inventory. A limited number of actions symbolized by icons are allowed. You may use the magnifying glass to examine, click on the mouth to talk, use the hand to pick up or drop objects and move the finger to use things. To select one of the actions, you click directly to the icon or simply right click the mouse to switch from one action to another. The objects in the inventory can be combined to have them work together or to create hand made artifacts for example.
The graphics are very realistic and are not in SVGA which proves that high resolution was not always necessary to make a game a winner, even during the 90s. Over 100 different locations are included in the game with rendered animations when moving from location to location on the CD-ROM version. The other enhancement offered by this CD-ROM version is the voices for all the characters, even for computers! Kerry Shale gave his voice to Jack while Jessica Martin was brought Ysanne to life. Other specialists voices are Pamela Keevil, Jason Isaacs, Adam Henderson and others.
Both characters have different capabilities and therefore, they will solve different puzzles according their abilities. Talking to each other is important as you can ask the other for help. In Guilty, you will build a relationship with the other character and who knows what may happen. For the player, the possibility of playing the role of Jack or Ysanne is like getting two games in one, as each character will face different challenges. For example, the first thing that Jack will have to complete is to escape his cell, while Ysanne has to bring him back to prison (although she won't really have anything to do in the spaceship in the beginning).
Having first played with Jack for a while, I was more than surprised to discover that new items appeared as well as new puzzles when switching to Ysanne. Of course, the locations were identical but still, it is like having a second dessert as good as the first one!
Divide by Zero designed the game so that you can not be killed at any time. The only way to end the game is to complete it and believe me, you will need more time than what you expect to finish the game. One more thing about Guilty is the possibility to see how much of the game you have completed through the statistics options. It is not necessary, but is uncommon enough to mention it!
Guilty reminds me of the days when I played with Space Quest IV and Monkey Island for hours. It should be remembered as a compelling game from that era, on par with the those blockbuster titles.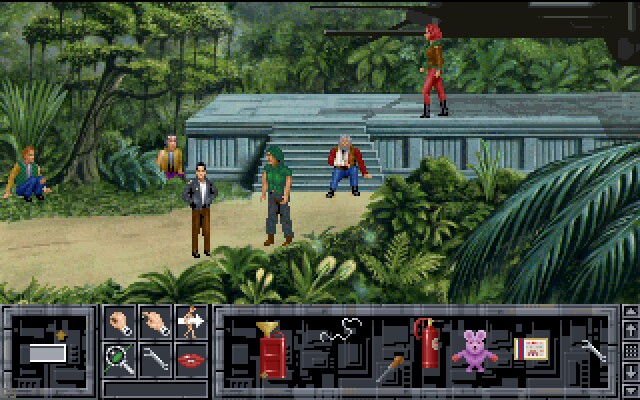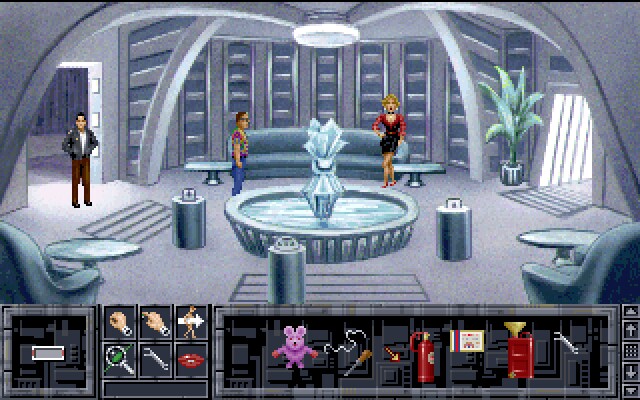 ---
Share this Product