---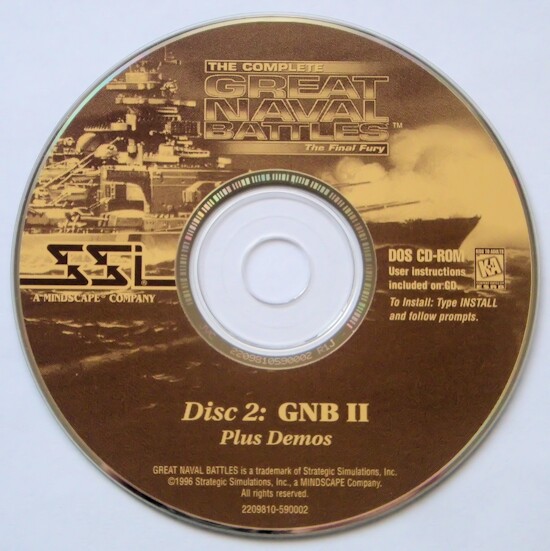 Actual Game
Great Naval Battles II
Guadalcanal 1942-43
1-Click Install
Windows 11, 10, 8, 7, Vista, XP
(SSI 1995)
MY PROMISE
My games are genuine, install in one step, look, sound and play in Windows 11, 10, 8, 7, Vista and XP like they did in the old days, or your money back. This is my unconditional guarantee for three years.
WHAT IS INCLUDED
This listing includes the original game CD. An on-screen printable manual is also included. The box is pictured for reference and is not included.
I will also provide a compatibility CD that will allow the game to run under ALL VERSIONS of Windows 11, 10, 8, 7, Vista and XP, both 32 and 64 bit.
INSTALLATION
One step: Insert my CD and the game will automatically work on your computer. Done. Yes, it's that simple.
Want to play? Click the icon. Want the game off your computer? Click Uninstall. Zero hassle.
TECH SUPPORT
Rapid response technical support for three years is always an e-mail or phone call away.
In the extremely rare event I cannot get this title to work on your system I will take it back for a full refund. All I ask is minimal assistance from you during the troubleshooting process.
The Game
I've always been a fan of naval warfare simulations, and used to badger my friends endlessly to play Avalon Hill's 'Jutland' or 'Midway'. Considering the success of Great Naval Battles I when chapter two was released I eagerly added it to my collection. Volume II focuses on the Pacific Ocean, recreating the conflict associated with the American campaign to take the island of Guadalcanal in 1942. Great Naval Battles 2 starts with the initial American landings on 7 August 1942 and runs thru the final withdrawal of Japanese forces on 31 January 1943.
There are five tutorials, seven historical engagements and two different campaigns, one running the full span of 7 August 1942 to 31 January 1943 and the other, truncated to allow for forces to build up, from 1 October '42 thru 31 January '43.
After running through the tutorials I played each of the historical engagements, alternating from the American to the Japanese side. The interface runs flawlessly, with the screen split evenly with a highly scalable map sharing the available space with information and command menus. As the commander you are always provided with both an overview of your forces and the ability to command their individual actions in great detail. You can let the AI control your weapons or drop down and aim each gun yourself.
The game employs historical accuracy, which means that enemies will come and go in numbers as they did during the actual battles the game simulates. There are seven scenarios in total, as well as a campaign mode. It is the campaign mode where the player takes the game through its paces and captures Guadalcanal.
As usual the SSI game logic works well. If you tackle a scenario that has you playing Admiral Crutchley patrolling the waters of Iron Bottom Sound you either come to respect the power of the Long Lance torpedoes used by the Japanese or you lose your entire Task Force. Playing either side, the ability of a combined strike by dive bombers and torpedo planes to wreak havoc will quickly command your full attention.
The sim lets you employ both macro and micro management in whatever mix suits you for control over the whole fleet. Eight different tasks have been crafted for the user to manage on each ship. These include such staples as gunnery and damage control, and leading up to the bridge, aircraft control and lookout. The subsidiary option for each of the tasks is also resplendent in its complexity. For gunnery alone there are a menagerie of options including types of shot, types of gunnery and firing style, amounting to over 36 different types of cannon combos.
Since the player will be coordinating dozens of ships distributed across the fleet, and the player is responsible for caring for all of each ships systems the programmers added an option that allows the player to designate certain tasks to the computer AI. This is a necessity that thankfully minimizes what could be a tidal wave of micro management. Not only that, the computer is decent at the tasks you assessing it. I found myself most often controlling only navigation and gunnery so that I could place my ships in strategic spots and launch salvos as I saw fit. Damage control is also a fun aspect of the game s you spend your time distributing teams to battle blazes and floods aboard your ship. It plays as a mini game but can get distracting from the tasks at hand, so I eventually left it to the computer.
Another way to describe Great Naval Battles 2 is to compare it with another very popular game of its era -- Task Force 1942 by Microprose. Naval 2 wins hands down, particularly in the quality of the display. Great Naval Battles 2 has SVGA graphics that are used from fixed control stations like a gun or torpedo director. The views available are breathtaking as you see salvos straddle the target in your sights. Both games revert to VGA resolution if you go to a lookout or bridge position and watch an engagement in real time. Also, Great Naval Battles 2 includes the ability to capture video tapes from the lookout or bridge position! This might be a distraction, particularly if you prefer map view to maintain control of your forces. All in all, it comes down to a matter of your personal preferences. I give Task Force 1942 the edge for ship to ship slugging matches, while Great Naval Battles 2 makes much better use of aircraft, both in a search role and for air strikes.
This series is now up to chapter seven. SSI has effectively captured the market for naval simulations with their engine. With each version the system was improved, from the damage control code, to the aircraft deployment subsystem, to the overall look and feel. It is almost as if SSI spent days playing 'Midway' on a table top in search of the ultimate battle model. SSI commitment to accuracy shows with almost every title.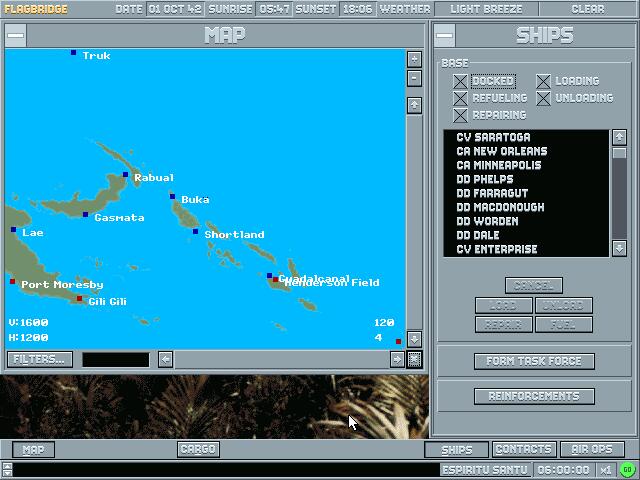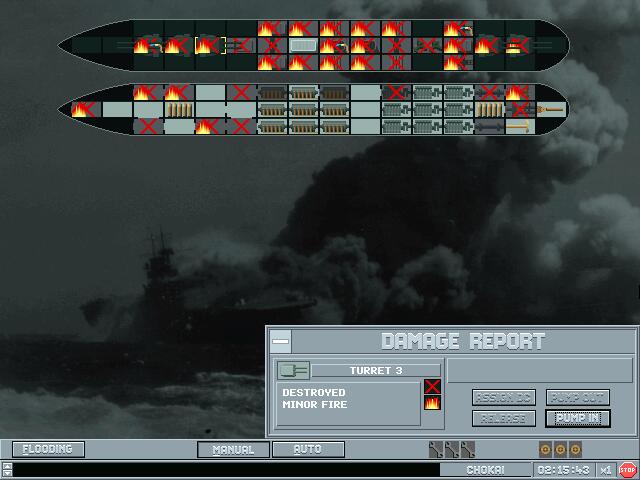 ---
Share this Product