---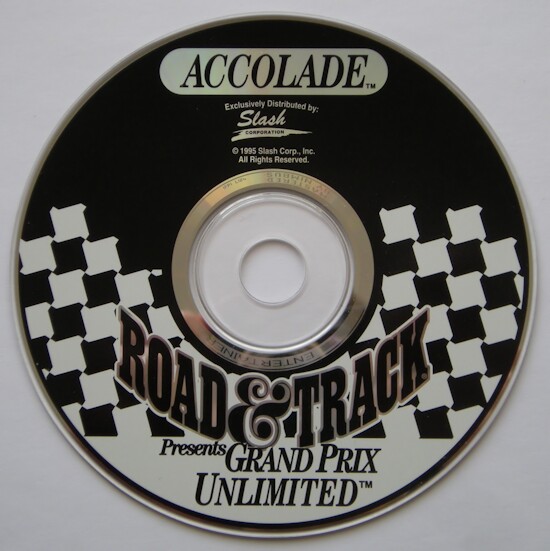 Actual Game
Grand Prix Unlimited
1-Click Install
Windows 11, 10, 8, 7, Vista, XP
(Accolade 1992)
MY PROMISE
My games are genuine, install in one step, look, sound and play in Windows 11, 10, 8, 7, Vista and XP like they did in the old days, or your money back. This is my unconditional guarantee for three years.
WHAT IS INCLUDED
This listing includes the original game CD. An on-screen printable manual is also included. The box is pictured for reference and is not included.
I will also provide a compatibility CD that will allow the game to run under ALL VERSIONS of Windows 11, 10, 8, 7, Vista and XP, both 32 and 64 bit.
INSTALLATION
One step: Insert my CD and the game will automatically work on your computer. Done. Yes, it's that simple.
Want to play? Click the icon. Want the game off your computer? Click Uninstall. Zero hassle.
TECH SUPPORT
Rapid response technical support for three years is always an e-mail or phone call away.
In the extremely rare event I cannot get this title to work on your system I will take it back for a full refund. All I ask is minimal assistance from you during the troubleshooting process.
The Game
In the early 90s Accolade had a phenomenal collection of high-quality sports simulations, with titles like Mike Ditka Ultimate Foot ball, Winter Challenge, and Hard Ball II. Grand Prix Unlimited continued their hot streak.
As with most of Accolade's sports simulations of the era, Grand Prix Unlimited offers virtually complete control over the sporting experience, which in this case is Formula One racing. On the macro scale, you can choose a practice session or a single race, or you can take to the road in a battle for the World Championship. As you dig deeper into the game, however, you'll discover lots of options, including the ability to modify your car's attributes, the track's weather conditions, and your skill level. There's even a built-in track architect program for constructing your dream racing environment, piece by piece. While such features are expected in today's sims back in the early 90s this was groundbreaking.
Because Grand Prix Unlimited is a fairly complicated simulation, you'll need to spend time in the practice or single-race mode before joining the circuit for the World Championship. In these modes, you start by selecting your car and track, and then move to the starting line for your first-person-perspective race. For each race, you can set the number of laps, the weather conditions, and the number of opponents.
During a race, the game controls are sensitive and quick to react. It takes skill on the joystick or keyboard to keep your car screaming down the blacktop. Luckily, novice drivers have a number of helpful options from which to choose, including automatic shifting and steering. You can also set the skill level to one of five levels, which determine the speed and aggressiveness of the other drivers. On the Novice level, just keeping your car on the road is all that's required to take first place, whereas at the Pro level only awesome joystick wizards have a chance of making it to the World Championship.
After you get the hang of driving, you'll want to experiment with your car's attributes. By accessing the Car Adjustments screen, you can change the height of your view, the sensitivity of your brakes and steering, tire types, and more. These options allow you to fine-tune your car's performance to a specific track, a skill that must be mastered by any Grand Prix champion.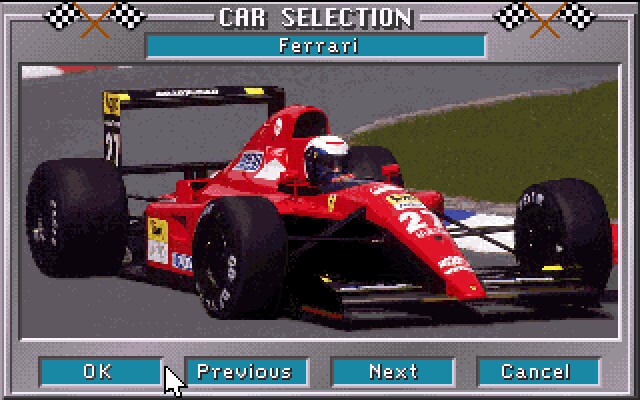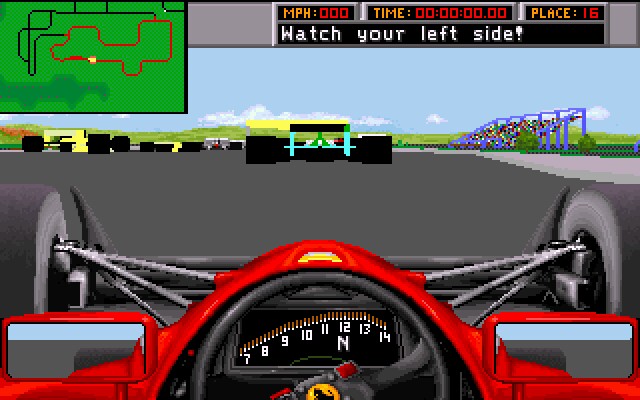 ---
Share this Product