---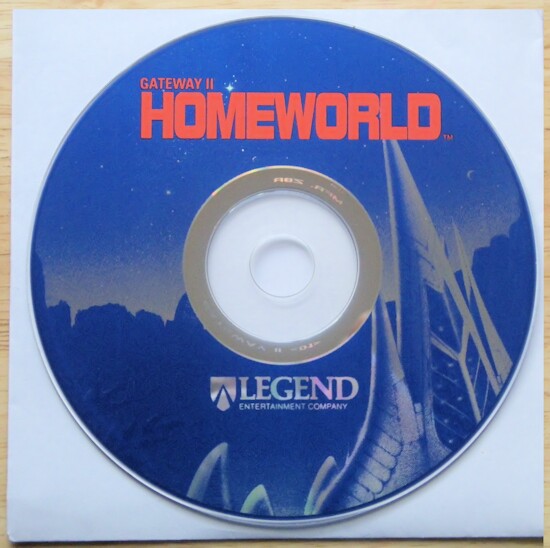 Actual Game
Gateway 2: Homeworld
1-Click Install
Windows 11, 10, 8, 7, Vista, XP
(Legend 1993)
MY PROMISE
My games are genuine, install in one step, look, sound and play in Windows 11, 10, 8, 7, Vista and XP like they did in the old days, or your money back. This is my unconditional guarantee for three years.
WHAT IS INCLUDED
This listing includes the original game CD. An on-screen printable manual is also included. The box is pictured for reference and is not included.
I will also provide a compatibility CD that will allow the game to run under ALL VERSIONS of Windows 11, 10, 8, 7, Vista and XP, both 32 and 64 bit.
INSTALLATION
One step: Insert my CD and the game will automatically work on your computer. Done. Yes, it's that simple.
Want to play? Click the icon. Want the game off your computer? Click Uninstall. Zero hassle.
TECH SUPPORT
Rapid response technical support for three years is always an e-mail or phone call away.
In the extremely rare event I cannot get this title to work on your system I will take it back for a full refund. All I ask is minimal assistance from you during the troubleshooting process.
The Game
Homeworld is the second of Legend's text-based adventure games based on the premise of a set of novels by noted science fiction author Frederik Pohl.
The game opens dramatically, with the player pursued by assassins. Not The Assassins, mind you. The latter is an alien race, discovered in the first Gateway game, that destroys all intelligent life it discovers, for reasons that remain unknown. (Obviously, no one has ever talked to one!) No, the killers that are after you are agents of the Phoenix Sect, a cult that wants the Assassins to purge the Earth of life. They have a plan to contact the Assassins, and accurately guess that you are the only one who can stop them.
After a few plot developments and accidents, the player winds up unexpectedly wandering around on distant planets once again, discovering the lost secrets of the Heechee - secrets which ultimately lead to stopping the Phoenix Cult.
As a game Homeworld is divided into several chapters, which the player must proceed through serially. Chapter 3 is the first one to have several "worlds", like the various planets in Gateway.
The puzzles are good. Almost all of them required some thought, in many cases figuring out how an object found elsewhere can be used in an incongruous situation. There are strange aliens to interact with, large monsters to kill, and unlabelled machines to figure out (always my favorite puzzle type). No puzzles were impossibly difficult, but I still got a good feeling of accomplishment upon figuring out the more obscure parts.
Conversation is done through menus, which offer a choice of four or five comments at a time. Unlike the conversation menus in Legend's Eric the Unready, Homeworld's menus branch and change. As far as I could tell, the player is never punished for making the wrong choice in conversation.
Homeworld is a good adventure with an interesting story. If you like adventures for the puzzles this is a perfect match.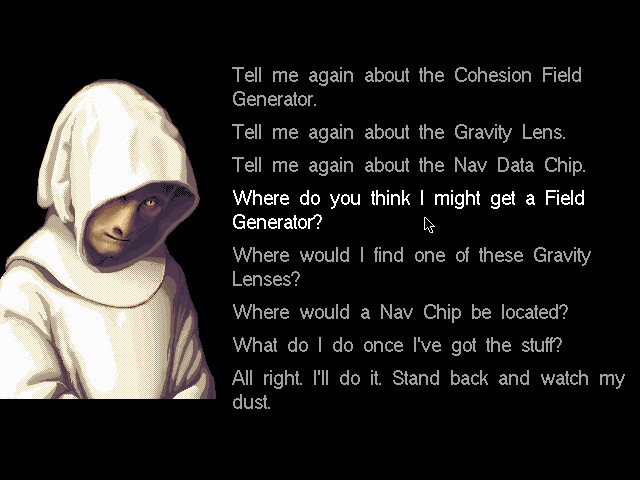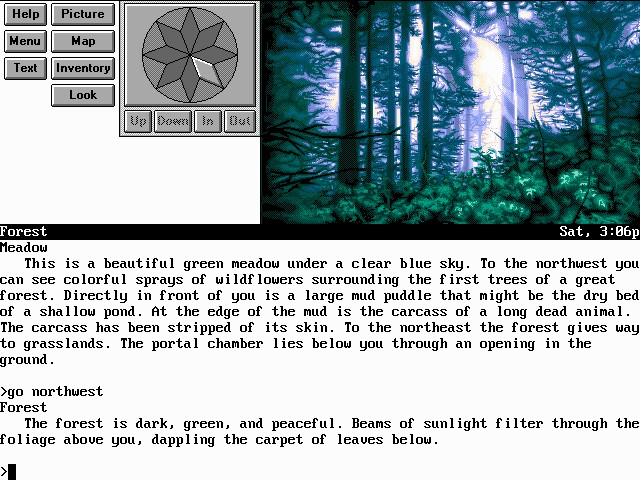 ---
Share this Product