---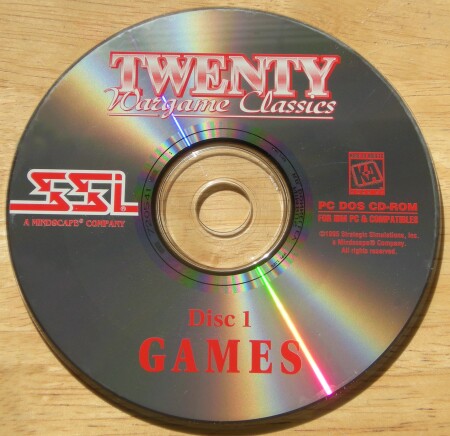 Actual Game
Gary Grigsby's
War in Russia
1-Click Install
Windows 11, 10, 8, 7, Vista, XP
(SSI 1993)
MY PROMISE
My games are genuine, install in one step, look, sound and play in Windows 11, 10, 8, 7, Vista and XP like they did in the old days, or your money back. This is my unconditional guarantee for three years.
WHAT IS INCLUDED
This listing includes the original game CD. An on-screen printable manual is also included. The box is pictured for reference and is not included.
I will also provide a compatibility CD that will allow the game to run under ALL VERSIONS of Windows 11, 10, 8, 7, Vista and XP, both 32 and 64 bit.
INSTALLATION
One step: Insert my CD and the game will automatically work on your computer. Done. Yes, it's that simple.
Want to play? Click the icon. Want the game off your computer? Click Uninstall. Zero hassle.
TECH SUPPORT
Rapid response technical support for three years is always an e-mail or phone call away.
In the extremely rare event I cannot get this title to work on your system I will take it back for a full refund. All I ask is minimal assistance from you during the troubleshooting process.
The Game
The complexity of Gary Grigsby's Pacific War will test the tenacity of any veteran wargamer brave enough to tackle it. With that in mind, any novice or weekend warrior is forewarned to enter at your own risk. The time spent learning every aspect of this game may literally exceed that of the playing time for other war games. Examples of the incredible detail associated with the game include: more than 100 Allied and 50 Japanese ships, each with at least ten rated attributes; fifty or so checks to perform during the orders phase (includes half a dozen categories); around forty basic checks during the execution phase; nearly 200 bases and more than 300 identifiable ground units to control; more than 200 leaders, a full complement of combat aircraft, a manual that runs 160 pages and a gaming world that covers the entire Pacific theater of World War II from Asia to Australia to the United States. There's a five page tutorial included with the manual which easily could have (and should have) equaled the fifty-plus pages of rules. Gary Grigsby's Pacific War is definitely not for the casual gamer who wants to pop in and out of the game a few times and walk away whistling a happy tune of satisfaction. To succeed at the game requires a self-disciplined serious commitment to invest lots of study time on how to play comfortably.
Is the game fun? Once you've passed the rigors of initiation (the learning curve) into the game's heart and soul, micro-management to the max, then the answer is a resounding "you betcha!". If your idea of fun doesn't include a week of study time augmented with small doses of frustration, then maybe this one isn't for you. As to game play, the game design is for two players, you against the computer or another human, full control by the computer, or an interesting alternative where you assign overall tasks to any or all of your Headquarters and then turn over operations to the computer to execute the orders. Most seasoned war game veterans will undoubtedly scoff at the latter idea and accept the considerable challenge of hands-on control of every single aspect of operations such as managing resources, coordinating every ground or air strike, reconnaissance missions, submarine forays, distribution of supplies, assignment of leaders (different personality and aggressiveness ratings), fleet mobilization and tactical planning, targeting, and so forth.
The game covers the entire length of WWII in the Pacific arena (December 7, 1941 to August 1945) in a huge week-at-a-turn campaign and provides a good number of shorter "full war" experiences dependent upon when you "enter" the war. A couple of even shorter scenarios (4-months and 2-months) are available if desired. Gary Grigsby's Pacific War is highly recommended but it's not a simple walk in the park.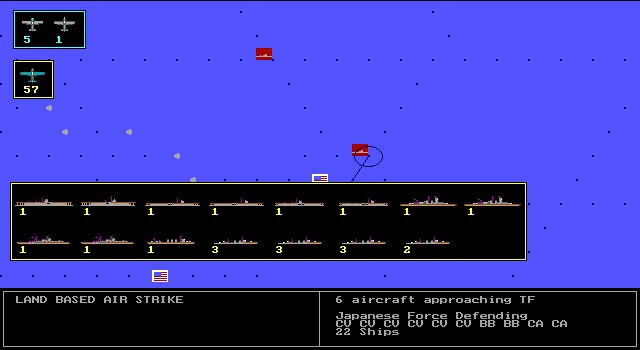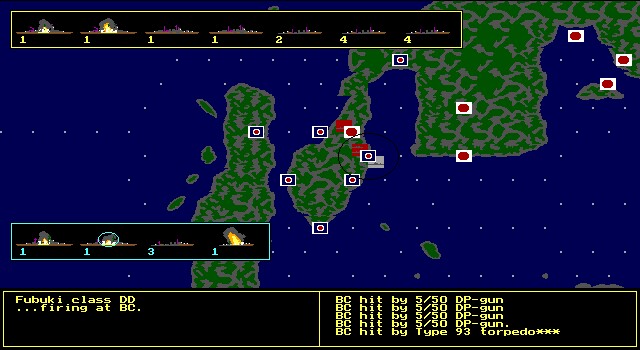 ---
Share this Product