---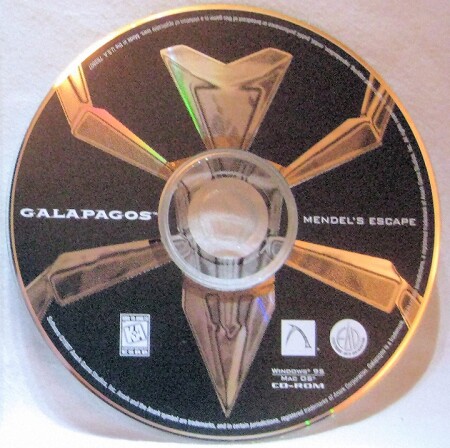 Actual Game
Galapagos
Mendel's Escape
1-Click Install
Windows 11, 10, 8, 7, Vista, XP
(Electronic Arts 1997)
MY PROMISE
My games are genuine, install in one step, look, sound and play in Windows 11, 10, 8, 7, Vista and XP like they did in the old days, or your money back. This is my unconditional guarantee for three years.
WHAT IS INCLUDED
This listing includes the original game CD. An on-screen printable manual is also included. The box is pictured for reference and is not included.
I will also provide a compatibility CD that will allow the game to run under ALL VERSIONS of Windows 11, 10, 8, 7, Vista and XP, both 32 and 64 bit.
INSTALLATION
One step: Insert my CD and the game will automatically work on your computer. Done. Yes, it's that simple.
Want to play? Click the icon. Want the game off your computer? Click Uninstall. Zero hassle.
TECH SUPPORT
Rapid response technical support for three years is always an e-mail or phone call away.
In the extremely rare event I cannot get this title to work on your system I will take it back for a full refund. All I ask is minimal assistance from you during the troubleshooting process.
The Game
One of the most unique games ever made, Galapagos: Mendel's Escape is a fascinating artificial life simulation that combines intricate puzzles, fantastic Escher-like worlds, and advances in AI technology to create a captivating game.
Your job in the game is to manipulate the environment around Mendel, a spider-lookalike artificial creature who has a mind of his own, to help him overcome various obstacles, stay alive, and explore as much of the Galapagos world as possible. While you cannot directly tell Mendel what to do, where to go, or what to be careful of, you can prod him left or right (by right-clicking on his left or right side) and observe the results. There are numerous elements in the environment you can manipulate, including platforms, force fields, floors, walls, moving objects, and many others. The graphics is not as detailed as modern 3D games, but they successfully communicate the Escher-plus-Tron feel of Galapagos, which contains rich and diverse landscapes that keep the game interesting.
In Mendel, the developers at Anark created a new form of artificial intelligence they called "Non-stationary Entropic Reduction Mapping," or NERM for short. NERM allows Mendel to adapt to his surroundings and develop a personality of his own over time, which is the amalgam of his personal reactions to different stimuli. Depending on how successful you have been in keeping Mendel alive, and depending on what and how Mendel learns about the environment, Mendel will start figuring out things for himself. It is always fascinating to watch Mendel learn new things, although sometimes it can be frustrating to get him to do what you want.
The game's interface is excellent in that it is almost completely transparent. You basically click on various things on the screen to interact with the environment, and right-click on Mendel's sides to prod him. After the first few minutes of practice, you will be guiding Mendel through the first maze of puzzles and traps with ease. The only big disappointment is the inability to save the game whenever you want. Similar to console games, you must find "save spots" that dot the levels in order to save.
Even without considering the exciting possibilities that NERM technology promises, Galapagos is a lot of fun to watch and play. Mendel is a fascinating creature, and the puzzles and obstacles placed in his way are always fresh and innovative. The closest game I can think of to this remarkable game are the Creatures series and Wonder Project J for the Super Nintendo, but Galapagos is better than both in distilling the main elements of artificial intelligence down to offer the most abstract, most "personal" interaction. Definitely a must-play for anyone who is interested in artificial life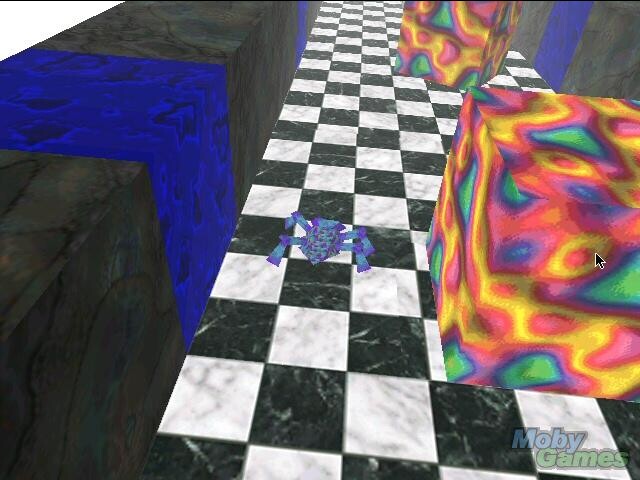 ---
Share this Product