---

Actual Game
FX Fighter
1-Click Install
Windows 11, 10, 8, 7, Vista, XP
(GTE 1995)
MY PROMISE
My games are genuine, install in one step, look, sound and play in Windows 11, 10, 8, 7, Vista and XP like they did in the old days, or your money back. This is my unconditional guarantee for three years.
WHAT IS INCLUDED
This listing includes the original game CD. An on-screen printable moves list is also included. The box is pictured for reference and is not included.
I will also provide a compatibility CD that will allow the game to run under ALL VERSIONS of Windows 11, 10, 8, 7, Vista and XP, both 32 and 64 bit.
INSTALLATION
One step: Insert my CD and the game will automatically work on your computer. Done. Yes, it's that simple.
Want to play? Click the icon. Want the game off your computer? Click Uninstall. Zero hassle.
TECH SUPPORT
Rapid response technical support for three years is always an e-mail or phone call away.
In the extremely rare event I cannot get this title to work on your system I will take it back for a full refund. All I ask is minimal assistance from you during the troubleshooting process.
The Game
In 1997 FX Fighter represented the future of PC fighting games: the fully three-dimensional fighter. Just as Battle Arena Toshinden did on the consoles of the era, FX Fighter illustrates just how visually impressive a full 3-D environment can be.
This is an extremely atmospheric and versatile title, allowing variation in environment, challenge, number of players, and graphic detail. The characters are diverse, both in appearance and ability, and the worlds where the battles take place are dark and surrealistic. While the characters are advertised to have forty different attacks, you rarely utilize (or need to utilize) more than about ten. In fact, if you get too ambitious, you risk sending your character spinning out of the ring and into the Great Beyond.
Gameplay follows the standard one-on-one fighting rules, with customizable round times and settings. The game also makes the winning decision to incorporate a selection of great gameplay modes that include arcade, vs and multiplayer tournament mode that's good for parties, definetively a winning addition that most fighting games pass up.
Still, probably the best achievement one can note down for FX is that it does provide a reasonably fast and detailed graphic experience at a time when polygons where still far into the future. Save for the rather crude models and the low resolution the game was a major achievement, with fully textured characters and stages.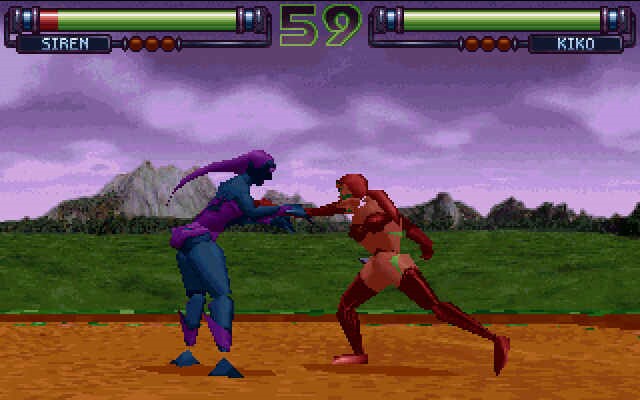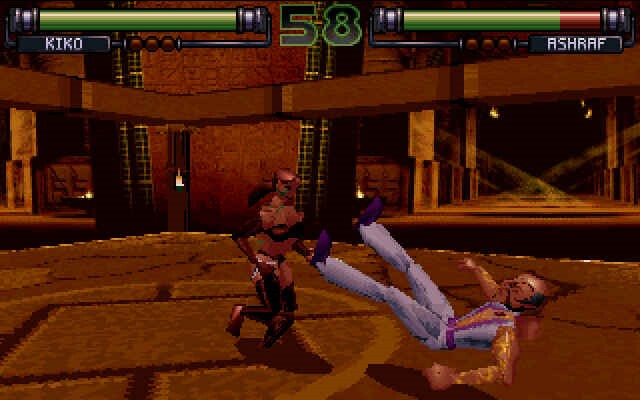 ---
Share this Product