---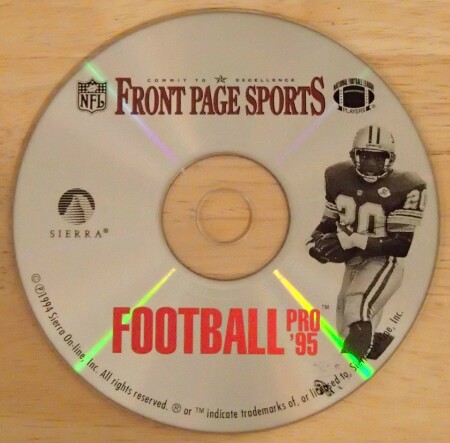 Actual Game
Front Page Sports
Football Pro '95
1-Click Install
Windows 11, 10, 8, 7, Vista, XP
(Sierra 1994)
MY PROMISE
My games are genuine, install in one step, look, sound and play in Windows 11, 10, 8, 7, Vista and XP like they did in the old days, or your money back. This is my unconditional guarantee for three years.
WHAT IS INCLUDED
This listing includes the original game CD. An on-screen printable manual is also included. The box is pictured for reference and is not included.
I will also provide a compatibility CD that will allow the game to run under ALL VERSIONS of Windows 11, 10, 8, 7, Vista and XP, both 32 and 64 bit.
INSTALLATION
One step: Insert my CD and the game will automatically work on your computer. Done. Yes, it's that simple.
Want to play? Click the icon. Want the game off your computer? Click Uninstall. Zero hassle.
TECH SUPPORT
Rapid response technical support for three years is always an e-mail or phone call away.
In the extremely rare event I cannot get this title to work on your system I will take it back for a full refund. All I ask is minimal assistance from you during the troubleshooting process.
The Game
Nobody had ever seen anything like Front Page Sports: Football when it debuted in 1992. Sierra On-Line's Dynamix division crafted the game to be a total re-creation of the NFL, complete in nearly every way. Just presenting the basics of the sport wasn't good enough for this design team. Along with a meticulous depiction of the gridiron game, Dynamix painstakingly detailed every aspect of NFL operations, from custom playbooks for every team to multiseason career play. It was every die-hard football fan's dream come true. Actually, it was every computer-owning football fan's dream come true, as there were no other credible football games available for the PC at that time.
It was hardly a surprise to see that the original game developed a sizable following in short order. The series reached its peak with the release of Front Page Sports: Football Pro 95. Even today it is still regarded as the Holy Grail of football simulations, a remarkable achievement that has yet to be matched. Some of its features evoke envy even today. This enhanced version of the game comes with 10,000 different plays (the floppy based version sports only 3,000), a figure that was light years ahead of the measly two dozen or so included with Madden games of the time. Each team uses different playbooks designed to accentuate their strengths. And a complex play editor lets you design and store your own plays if you didn't find enough choice in the default selections.
Franchise play was, and remains to today's jaded audience, truly outstanding. You could get lost in Football Pro 95 for months, guiding a club from season to season, through good times and bad, from rebuilding years to championship drives. Seasons unfolded like stories, with every game, signing, and trade somehow interacting. There was something natural about the way that everything unfolded. What's more, the AI was spectacular. And very, very astute. Along with responding to single-game trends, the computer reacted to plays used frequently in earlier weeks in the season as if it had scouts in the stands watching those contests. As a result, the killer play that surprised everyone in week three wasn't nearly as effective in week six.
From the play editor, you can change or create basically any type of play that you'd like to use. Just get 7 men up on the line of scrimmage, and go from there. Your players can execute basically any action found in the NFL, including quarterbacks using play- action, receivers stutter-stepping to fool the cornerbacks, and lead fullbacks blocking for the following halfback. The options allowed are really too detailed to describe here, but trust me, if they happen on the field, they can happen here.
Another wonderful development in this game is the implementation of the new camera system. It uses 360-degree, fully rotoscoped VGA animation. In English: you can place the camera anywhere in the stadium and catch the action from any view. It's absolutely beautiful to watch a charging halfback coming right at you get hit by a linebacker entering from the right side.
No other sports game in memory provided as much of a long-term challenge as Front Page Sports: Football Pro 95. If you simply want to play an arcade style game, set playcalling to `Basic' and action to `Advanced,' and away you go. If you simply want to coach or manage, that's possible too. Even today the game demonstrates a high level of detail and good artificial intelligence; in short this is one simulation that can easily provide hours of challenging play for any armchair quarterback.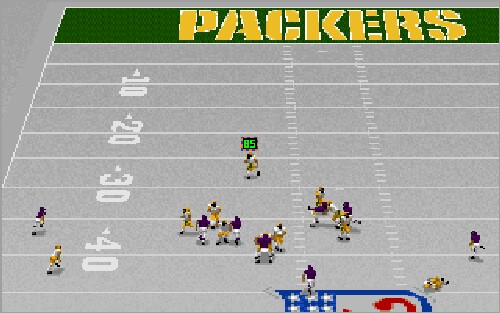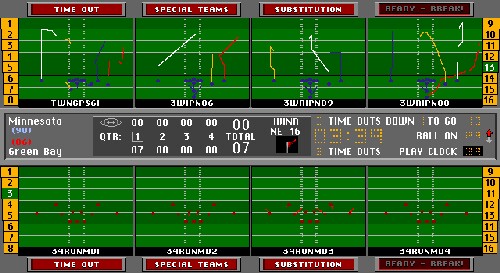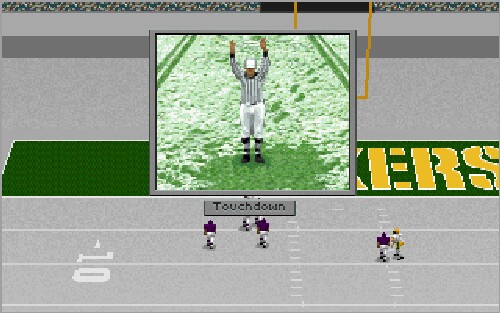 ---
Share this Product