---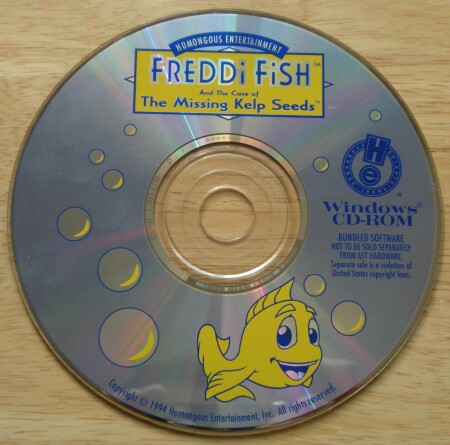 Actual Game
Freddi Fish 1
The Case of the
Missing Kelp Seeds
1-Click Install
Windows 11, 10, 8, 7, Vista, XP
(Humongous 1995)
MY PROMISE
My games are genuine, install in one step, look, sound and play in Windows 11, 10, 8, 7, Vista and XP like they did in the old days, or your money back. This is my unconditional guarantee for three years.
WHAT IS INCLUDED
This listing includes the original game CD. An on-screen printable manual is also included. The box is pictured for reference and is not included.
I will also provide a compatibility CD that will allow the game to run under ALL VERSIONS of Windows 11, 10, 8, 7, Vista and XP, both 32 and 64 bit.
INSTALLATION
One step: Insert my CD and the game will automatically work on your computer. Done. Yes, it's that simple.
Want to play? Click the icon. Want the game off your computer? Click Uninstall. Zero hassle.
TECH SUPPORT
Rapid response technical support for three years is always an e-mail or phone call away.
In the extremely rare event I cannot get this title to work on your system I will take it back for a full refund. All I ask is minimal assistance from you during the troubleshooting process.
The Game
In the mid 90s Humongous Entertainment began the Freddi Fish series. The first installement, Freddi Fish and the Case of the Missing Kelp Seeds, is an adventure game that is just about perfect for the 3-to-8-year-old age group it targets. The puzzles are difficult without being frustrating, and there are plenty of fun animations to watch and hot spots to click along the way.
There are lots of places to go in this game as kids navigate around Freddi's world in search of clues which will lead them to Grandma Grouper's stolen kelp seed treasure. Kids learn problem-solving skills as they pick up various items and try to figure out how to use them in order to get what they need. Sometimes the puzzles are easy to solve, such as finding the key to open the cage which Fiddler Crab is stuck in, while others, such as figuring out what to give the king, require solving two or three puzzles first before the goal becomes clear. While this may be difficult for kids who are preschool age, first and second graders should be able to follow the sequence of events needed to solve the crime.
Like the Putt-Putt and Pajama Sam series, Freddi Fish is full of well-done animations and engaging music. The characters are endearing, and the background music sets the tone nicely without being too overbearing. The hot spots are one of the best features, since they usually produce a variety of effects when clicked, which encourages plenty of exploring. This is good, especially for the younger kids, because they can feel like they're accomplishing something even if the gameplay is too hard.
There are also a couple extra activities in this game, such as a math quiz run by a starfish and a feeding game where the player controls Freddi and tries to throw jellyfish into the mouths of approaching fish, turtles, and octopii. In short, there's definitely some childlike fun to be had with Freddi and Luther as they meet a whole host of colourful characters and help them in their troubles.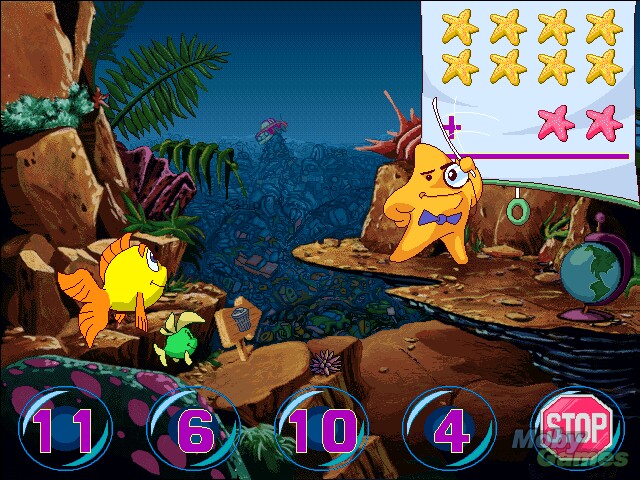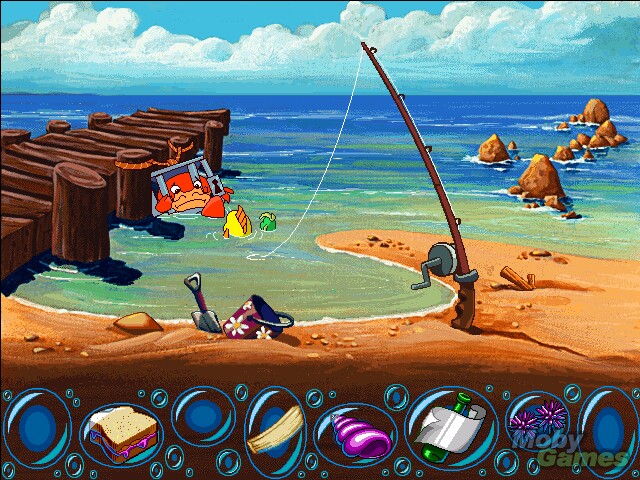 ---
Share this Product