---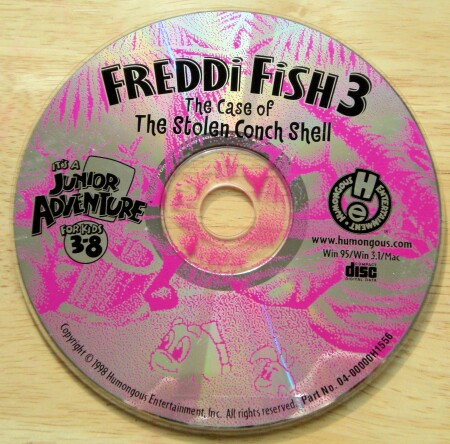 Actual Game
Freddi Fish 3
1-Click Install
Windows 11, 10, 8, 7, Vista, XP
(Humongous 1998)
MY PROMISE
My games are genuine, install in one step, look, sound and play in Windows 11, 10, 8, 7, Vista and XP like they did in the old days, or your money back. This is my unconditional guarantee for three years.
WHAT IS INCLUDED
This listing includes the original game CD. An on-screen printable manual is also included. The box is pictured for reference and is not included.
I will also provide a compatibility CD that will allow the game to run under ALL VERSIONS of Windows 11, 10, 8, 7, Vista and XP, both 32 and 64 bit.
INSTALLATION
One step: Insert my CD and the game will automatically work on your computer. Done. Yes, it's that simple.
Want to play? Click the icon. Want the game off your computer? Click Uninstall. Zero hassle.
TECH SUPPORT
Rapid response technical support for three years is always an e-mail or phone call away.
In the extremely rare event I cannot get this title to work on your system I will take it back for a full refund. All I ask is minimal assistance from you during the troubleshooting process.
The Game
Freddi Fish is like a younger Angela Lansbury of the fish world, always ready to find the culprits and solve a mystery. This time Freddi Fish and her sidekick Luther are taking a vacation trip to the tropics to attend a festival. Luther's Uncle Blenny is the Grand Exalted Keeper of the Great Conch Shell, which is blown every year to symbolize the start of the Founder's Day Festival. But this year, there is a problem: the Great Conch Shell has been stolen and Uncle Blenny is the suspect. So Freddi and Luther must find the real culprit and recover the Conch Shell and its three Golden Pipes so the festival can begin. Along the way, they meet a variety of wonderful and funny characters and some are suspects:
Claw: Claw is President of the Bully's Club. He's a mean little lobster with a big attitude.
Gill Barker: Gill is a rough-mannered carnival barker. See what he charges for admittance to the carnival?
Horst Fedders: Horst is a friendly, foreign tourist speaking an unknown language. How do they learn his language?
Pelican Sam: Sam admires Freddi and wishes that he could be as brave and smart. What does Sam do to help them?
Magenta: She is a gentle creature who loves to lay about on the white sands eating bananas. Sometimes she can be as adventurous as Freddi, though.
Nadine the Narwhal: Nadine is special because she is one of the few narwhals to grow a tooth.
Old Soggy: Have you ever wanted a dogfish companion? Well, Old Soggy is Uncle Blenny's loyal dogfish. He might be old but the sniffer is still working. He can smell out a culprit anyday.
Pierre the Tailor: Pierre is a snooty tailor who thinks he is a cut above other fish. He's ready to help, but can he be trusted?
Rosy Pearl: Rosy has a huge smile, a brassy style and is known for her famous Luau Show. She is one tough squid.
There are enough puzzles and games to delight children and adults. Some of the puzzles might be somewhat difficult for a 3 year old but that's ok. It will give you an excuse to sit and play with them. I am always amazed at the clickable objects. I probably spend as much time clicking on everything as playing the games. The Crook Book, the Carnival Organ, and the Tumble Tubes should keep your kids laughing and occupied for quite a while.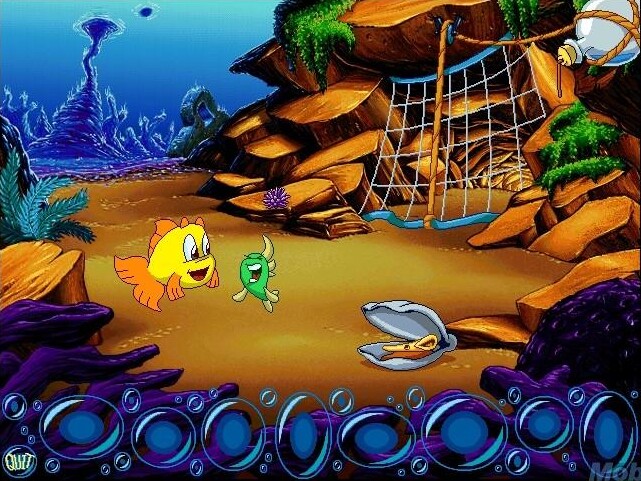 ---
Share this Product