---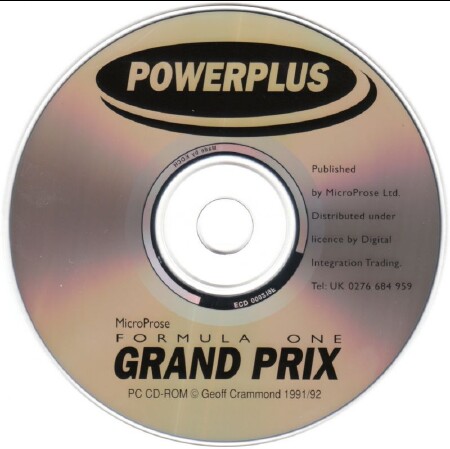 Actual Game
Formula 1 Grand Prix
aka World Circuit Racing
1-Click Install
Windows 11, 10, 8, 7, Vista, XP
(MicroProse 1992)
MY PROMISE
My games are genuine, install in one step, look, sound and play in Windows 11, 10, 8, 7, Vista and XP like they did in the old days, or your money back. This is my unconditional guarantee for three years.
WHAT IS INCLUDED
This listing includes the original game CD. An on-screen printable manual is also included. The box is pictured for reference and is not included.
I will also provide a compatibility CD that will allow the game to run under ALL VERSIONS of Windows 11, 10, 8, 7, Vista and XP, both 32 and 64 bit. Note that while joysticks are supported, X-Box and PS4 style controllers are not. Also driving pedals and wheels do not function.
INSTALLATION
One step: Insert my CD and the game will automatically work on your computer. Done. Yes, it's that simple.
Want to play? Click the icon. Want the game off your computer? Click Uninstall. Zero hassle.
TECH SUPPORT
Rapid response technical support for three years is always an e-mail or phone call away.
In the extremely rare event I cannot get this title to work on your system I will take it back for a full refund. All I ask is minimal assistance from you during the troubleshooting process.
The Game
Speed Racer sits in his powerful Mach Five, nervously awaiting the starting light for the Italian Grand Prix at Monza. His prospects are dim as he starts in the 26th and last slot, and hasn't set his car for this fast track. At the green, he gets his characteristic slow jump off the line, but quickly passes some slow pack drivers and moves into 20th before the first chicane. He knows he must be more aggressive as this race is only 13 laps, 25% of the full length. Hope of a money finish is almost lost when an ill-timed pass results in a slight shunt. But he saves the spin and only loses a single place. With each lap, the road improves and the car's handling settles down and he continues to pass lesser drivers. Fortunately other cars have their problems, and he moves to 7th by lap 6. No problem catching the mediocre Capelli and Nakajima by lap 10. But with a 10 second gap to Ferrari #2 with the tough Alesi, it looks like he'll have to settle for 5th. But he finds his groove and drives like a madman, picking up 3 seconds a lap. A big break, Prost is well ahead, but the other leaders are bunched and thus slowed. The pack is in sight on the final lap. A well timed final run on the Parabolica catapults him into a sprint to the finish line. Alesi deftly passes Mansell after drafting him through the turn, Mansell slips up just allowing Racer to clip him at the finish by 20 thousandths. Not bad, a fourth place finish and three hard-earned championship points.
In World Circuit, you compete for the F1 championship racing the complete 1991 circuit of 16 tracks (in '92 S. Africa replaced Phoenix and in '93 another European track was added). Alternatively, you can opt to run a single race, or just practice. Just released is a second patch which upgrades the game to v1.05 and fixes the modem play (introduced in the first patch). You can also time-share in a race, where one player drives while the other player car(s) are computer-driven until their turn to assume control.
Though fictitious names are used, the computer drivers are designed to emulate the performances of the actual 1991 season. And editing team and driver names is easy with the supplied data. A total of 35 drivers are given, with 26 qualifying for any given race. If you prefer not to have McLaren-Honda and Williams-Renault dominate, you can set opponent ability to random, or equal. One poor design choice: only the drivers are modeled, not the cars. So the player can turn the same times in a Coloni-Ford, as in Ayrton Senna's championship car. Driver abilities are otherwise not editable, so reconfiguring the racers to emulate '92 or future years would be difficult. Given these limitations, I'm glad they stuck with '91 rather than the boring '92 season absolutely dominated by Williams (and where Ferrari disappeared as a major player).
The car graphics aren't outstanding but are at least the equal of all other sims. The otherwise identical cars are finished in up to three colors to reflect 1991 teams. The single cockpit design is attractive though about as austere as a real F1 car's. Added are indicator lights for configuration options, and a status panel. As you can't see any of the team colors from inside, the only driver identification comes from the status panel or a name box.
The layouts are extremely accurate. I watched the Grand Prix of San Marino, and every turn, elevation change, and even bridge, was right on! Their scenery and layouts do give them all very unique feel. Some are wide open, others like Monaco, are claustrophobic. Buildings, grandstands, trees, signs, even yachts, abound. The superb texturing of the track's road and grass give a nice impression of motion, but at a framerate cost. Anyway, you don't get to enjoy the view much, as you must pay strict attention to the course and cars. In wet races, the road ahead will be progressively less visible due to cars kicking up spray in front of you.
Views include cockpit, from behind, from in front, and from the nearest of many trackside cameras. A replay is included but it only shows about the last 10-20 seconds. You can select all views from any car in replay or while racing (dangerous!). I would like to have seen zoom, pan, and selectable camera views added. As the side view mirrors are worthless for opponents pulling up broadside, why does no driving sim let you turn your head sideways?
As to the simulation, understeer and oversteer are setup dependent. Setup options are: front/rear wing downforce, braking distribution, gear ratios, and tire compound. The included options give this gamer a sufficient taste of the role of track dependent car setup, without stalling gameplay. For me, the "feel" is there. Both slipstreaming, and early race sluggishness (due to fuel load and, cold tires, and/or a clean track) are modeled. You sense the imminent loss of grip, loose tire traction with too much applied power, and can sometimes save impending spins. Weaknesses include a simplified damage model which includes only tire wear and wing damage, and ignores over-revving.
As important is the competition and feel of the racing experience. Amiga users reported that opponents were too easy to master. The intro re- enactment of a race on Pro level (fourth of five), partly supports this. But I'm not a lock to win at that level, finishing third in a full championship season. I do usually manage the fastest qualifying times, and by a good margin on the courses I consider myself to be competent on. Your car tends to be faster than the computer opponents, but they compensate by being better in a crowd and more consistent on turns (at least compared to me). Still, there is "ace" level to master, and if even that gets too easy, one can always handicap themselves by starting from the back. Or choose a wet track. Or the wrong setup!
But on the positive, opponents have different ability. I can't definitively state that aggressiveness or steadiness is individually modeled. But more than once I've seen Mansell and Senna duel till one (or both) is bumped off. All we need is Mansell's ceaseless whining and appeals to the racing stewards to complete the picture! Drivers will make mistakes, and get into accidents. If you see a flagman ahead, be careful as a spunout car may block the road just around the bend. Reportedly, they will make pitstops for tire changes. Time in the pits varies, and you may have to wait if your teammate is already there. Also, opponent lap and race times (and even championship standings) will reasonably recreate actual 1991 results. In summary, they act like racers, not like objects put in your way.
As to the learning curve, at first the courses seem daunting. But the six driving aids and the manual's fine course maps and descriptions help. I'd start by watching other drivers run the circuit to get a feel for the layout. Then run a few laps with all aids on. After a few, disable the auto-braking (which brakes for curves, not other cars). A few more laps and you're ready to defeat the auto-shifting. The next aids to go are indestructibility, self-righting spins, suggested gear, and finally, suggested line. By then, you'll be eclipsing the course record. Then increase the competition level, which also disables the various aids in turn. Further you can set both traction and steering control aids which tend to keep you on course. The patch is supposed to have fixed the very squirrely handling which resulted with the steering aid deselected. But this steering aid isn't so overt, as you still have to steer properly to stay on course, so I've kept it on.
Post-race information is good, including each driver's race and fastest lap time, and comparison to stored records (originally set to the actual pre- 1992 record). The computer tracks driver's and constructor's championship points as well as the placement of each driver for each race in a season. These can be displayed, printed, or downloaded to files.
The designers captured what was important. The feel of the racing experience is there: excellent track layouts, smooth graphics, believable modeling of both driving and opposition. There is enough adaptability to appeal to both arcade and simulation fans. It's even terrific fun to just watch a race enfold. Its combination of open-ended play, configurability, and reasonable opponent ability has already provided countless hours of challenge and fun. In final, my anticipation placed this one on the pole. In the opinion of this hard core simmer, it is superior to my other driving sims of the era (GP Circuit, Stunts, Indy 500, Car & Driver).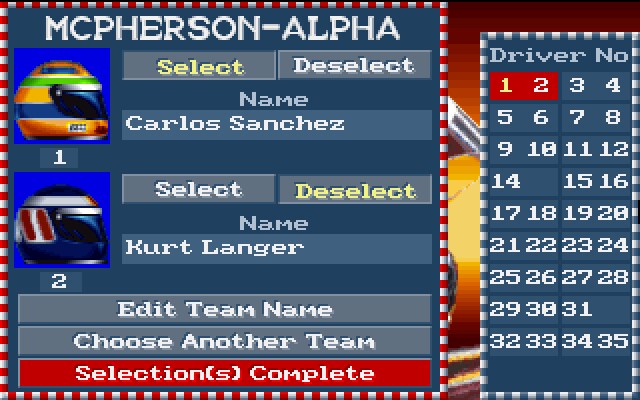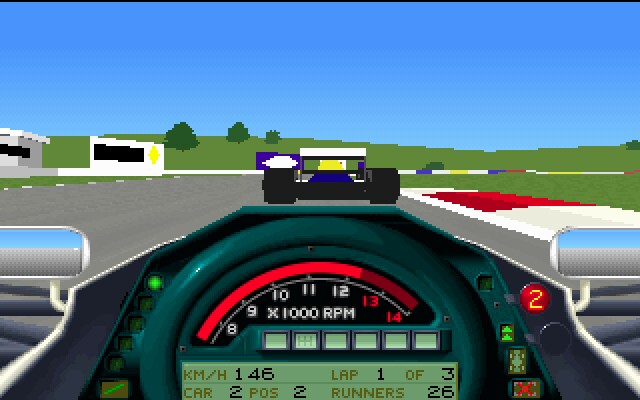 ---
Share this Product