---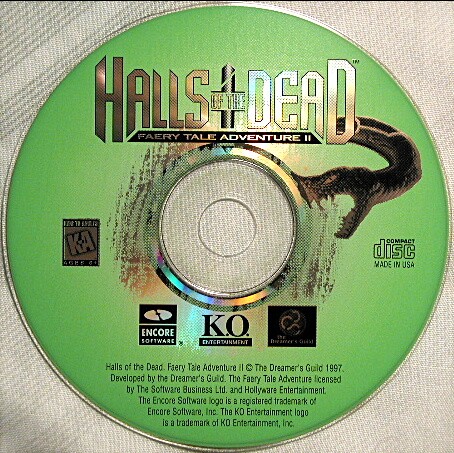 Actual Game
Halls of the Dead
Faery Tale Adventure II
1-Click Install
Windows 11, 10, 8, 7, Vista, XP
(Encore 1997)
MY PROMISE
My games are genuine, install in one step, look, sound and play in Windows 11, 10, 8, 7, Vista and XP like they did in the old days, or your money back. This is my unconditional guarantee for three years.
WHAT IS INCLUDED
This listing includes the original game CD. An on-screen printable manual is also included. The box is pictured for reference and is not included.
I will also provide a compatibility CD that will allow the game to run under ALL VERSIONS of Windows 11, 10, 8, 7, Vista and XP, both 32 and 64 bit.
INSTALLATION
One step: Insert my CD and the game will automatically work on your computer. Done. Yes, it's that simple.
Want to play? Click the icon. Want the game off your computer? Click Uninstall. Zero hassle.
TECH SUPPORT
Rapid response technical support for three years is always an e-mail or phone call away.
In the extremely rare event I cannot get this title to work on your system I will take it back for a full refund. All I ask is minimal assistance from you during the troubleshooting process.
The Game
Halls of the Dead is the excellent sequel to The Faery Tale Adventure, classic RPG and MicroIllusions' best-known game. In Halls, the three brothers from the prequel Julian, Phillip and Kevin are teleported to a foreign country, where they are (naturally) tasked with saving the region from evil powers that are sapping the once peaceful lands.
Halls of The Dead builds upon its predecessor's best-loved feature: a huge, dynamic, densely populated world where you can always find something to do and gentle townsfolk to talk to. Similar to the first game, Halls of The Dead is a light RPG in a sense that it focuses much more on storytelling and adventure-style quests than on building characters' stats to a godlike level. The interface and graphics are similar to the isometric view of Ultima 8, but less elegant: a full quarter of the screen is taken up by character and action panel at all times, but this does make simple tasks like equipping your characters and casting spells much easier. In contrast to the single-player game of Faery Tale Adventure 1, you can now control all three brothers at once while they roam the lands. Similar to the Magic Candle games, you can control each brother separately, via the banding command. For example, you can have two of the brothers in the far west, and the remaining one in the east. Centering controls which one is in the center of the view. The other brothers will follow the centered character unless they are not banded. The spellcasting interface is a little cumbersome and takes some getting used to, but it is not annoying once you get used to it.
With a huge world to explore, hundreds of subquests, and numerous NPCs who always have interesting tales or useful advice to tell, Halls of The Dead is an outstanding introductory-level RPG that will keep you occupy for months. A truly vast gameworld and four different endings will guarantee that you will always see something new in your subsequent travels in the lands of Farr after finishing the game once. Die-hard RPGers will probably dislike the game's superficial handling of stats and simplistic combat options, but newcomers and anyone who likes a good story will find Halls a pleasant surprise.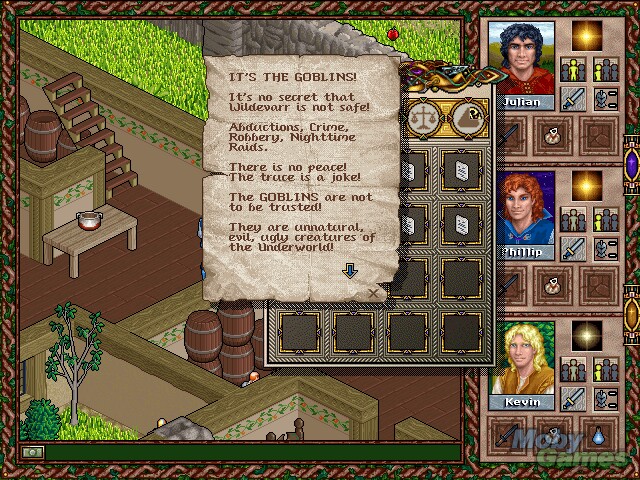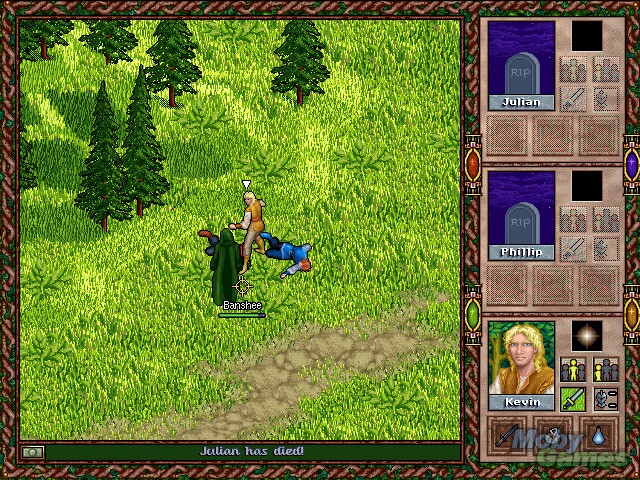 ---
Share this Product