---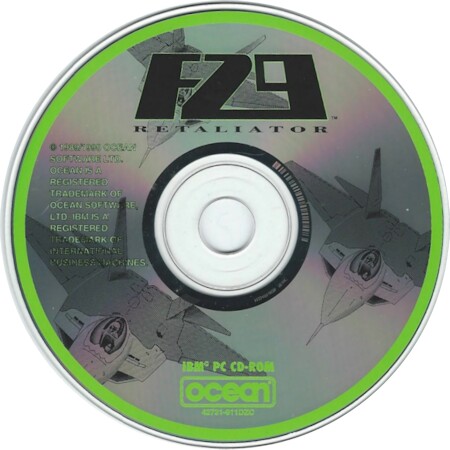 Actual Game
F-29 Retaliator
1-Click Install
Windows 11, 10, 8, 7, Vista, XP
(Ocean 1990)
MY PROMISE
My games are genuine, install in one step, look, sound and play in Windows 11, 10, 8, 7, Vista and XP like they did in the old days, or your money back. This is my unconditional guarantee for three years.
WHAT IS INCLUDED
This listing includes the original game CD. An on-screen printable manual is also included. The box is pictured for reference and is not included.
I will also provide a compatibility CD that will allow the game to run under ALL VERSIONS of Windows 11, 10, 8, 7, Vista and XP, both 32 and 64 bit.
INSTALLATION
One step: Insert my CD and the game will automatically work on your computer. Done. Yes, it's that simple.
Want to play? Click the icon. Want the game off your computer? Click Uninstall. Zero hassle.
TECH SUPPORT
Rapid response technical support for three years is always an e-mail or phone call away.
In the extremely rare event I cannot get this title to work on your system I will take it back for a full refund. All I ask is minimal assistance from you during the troubleshooting process.
The Game
F29 Retaliator allows you to fly with an F-22 or F-29 fighter against the Russian MIG-29 fighters or SU-27 bombers. There are two modes of gameplay - a 'practice' mode called Zulu Alert, where your mission is to shoot down lots of enemy fighters with unlimited ammunition, and a mission control mode, which is basically the campaign mode.
In the mission control mode, you can earn promotions, medals, and points, by shooting down enemy fighters, bombing targets, and completing missions. However, if you are not a 1st Lieutenant (you can choose your rank at the start of the game), you will have limited ammunition, which can be set at the 'Select Armament' menu. There are four campaigns, each set in different locations: an Arizona-based training range, Pacific Ocean, Middle East and Europe. But beware: if you get killed, captured, busted, or go missing on a mission, your service file (profile) will be terminated.
The in-flight game engine is very well made for the time. In your fighter's cockpit you have lots of controls, from selecting weapons to activating/deactivating your ECM (Electronic Countermeasures). However, if you are hit, some controls will surely be damaged. This is shown by indicators in your cockpit.
The music of the game is of the Adlib variety and it fits the game. Every in-flight effect has a sound. You'll hear when an enemy is targeting you, when you may fire your Backwinder rockets, or when it is time to eject.
The only drawback of this game is that the aircraft cannot be blown up, and only by crashing into the ground can they be destroyed. However, if you lose your vital systems, you are sure to be downed!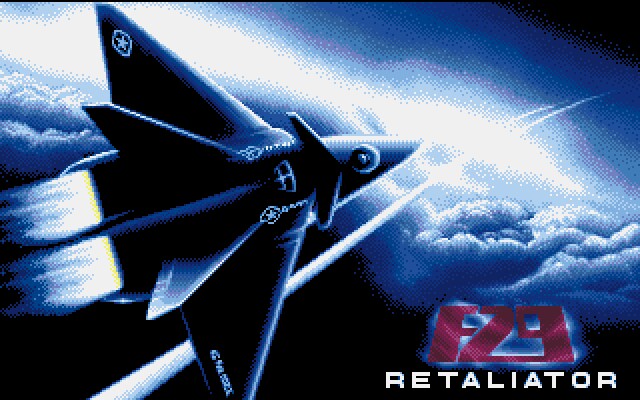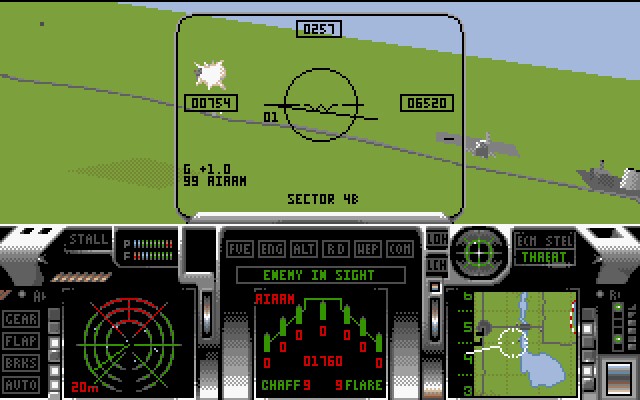 ---
Share this Product