---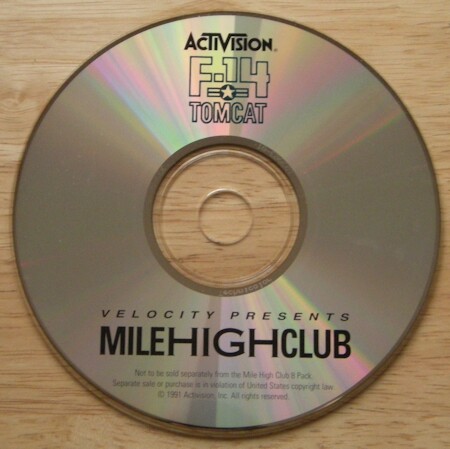 Actual Game
F-14 Tomcat
1-Click Install
Windows 11, 10, 8, 7, Vista, XP
(Activision 1990)
MY PROMISE
My games are genuine, install in one step, look, sound and play in Windows 11, 10, 8, 7, Vista and XP like they did in the old days, or your money back. This is my unconditional guarantee for three years.
WHAT IS INCLUDED
This listing includes the original game CD. Online help is available within the game. The box is pictured for reference and is not included.
I will also provide a compatibility CD that will allow the game to run under ALL VERSIONS of Windows 11, 10, 8, 7, Vista and XP, both 32 and 64 bit.
INSTALLATION
One step: Insert my CD and the game will automatically work on your computer. Done. Yes, it's that simple.
Want to play? Click the icon. Want the game off your computer? Click Uninstall. Zero hassle.
TECH SUPPORT
Rapid response technical support for three years is always an e-mail or phone call away.
In the extremely rare event I cannot get this title to work on your system I will take it back for a full refund. All I ask is minimal assistance from you during the troubleshooting process.
The Game
Training starts in a lesser jet and care must be taken to follow the flight instructor's words closely otherwise your career will end in something less glamorous, like flying a news traffic report helicopter. There's an action mode where you can randomly jump into the thick of things and have a fast shoot-em up. Throughout your career, there's a bit of simple teasing on the ground too from your friendly competition and it might be just what you need in order to secure yourself a nice handle like Iceman.
Now when you finally land your first tour, you need to bear in mind that what you do affects your outcome. There's nothing like having the knowledge that you can blow the enemy out of the sky with your long-range Phoenix missiles only to held back by orders! Barking at your enemy to go away from your airspace is clearly not working. That single blip on your radar transforms into two - then three. Suddenly, that 80 km gap between you and him has dwindled to nothing and you are being fired upon! Finally, your CO gives you the word and you give them the business-end of the cannons. Your ever watchful co-pilot shouts out invaluable information during the heat of combat. Ultimately, you take out two and the other one decides to run. You've taken damage. You could choose to land yourself or choose to save both time and energy and use the nifty auto-land feature which really is a 'end completed mission button' and is a must unless you love killing 15 minutes of your life trying to land an unresponsive craft...possibly killing your career for good after all that hard work.
Continue to prove yourself successful in your patrols and you get some R&R or even get to go to the now legendary Top Gun school where only the best get to attend. I'll warn you right now, it ain't easy. After that, if you survive long enough to retire, you can earn yourself a spot as an Top Gun instructor or well, a cargo plane pilot carrying a load of lawn furniture out of Hong Kong. O.K. I made that last part up, but you know what I mean. Life, here in the Navy, is what you make it.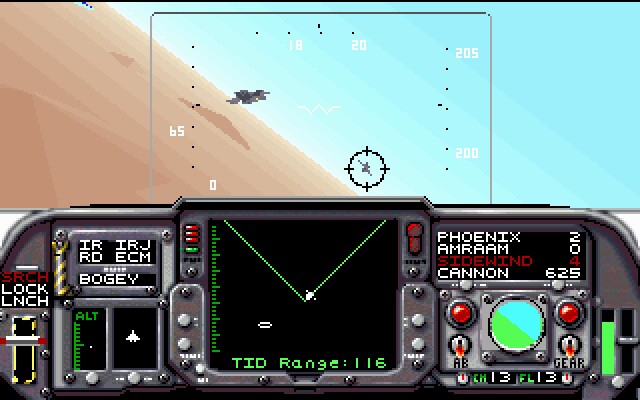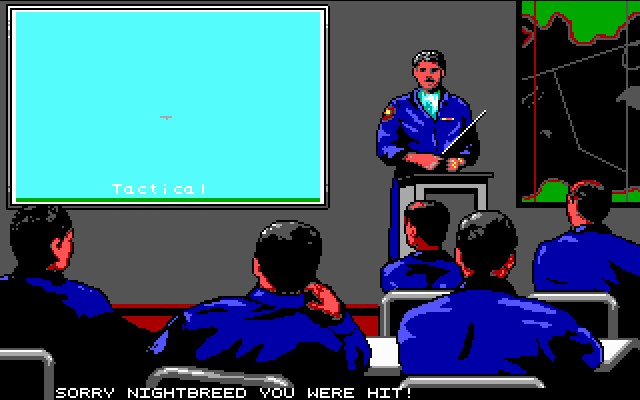 ---
Share this Product