---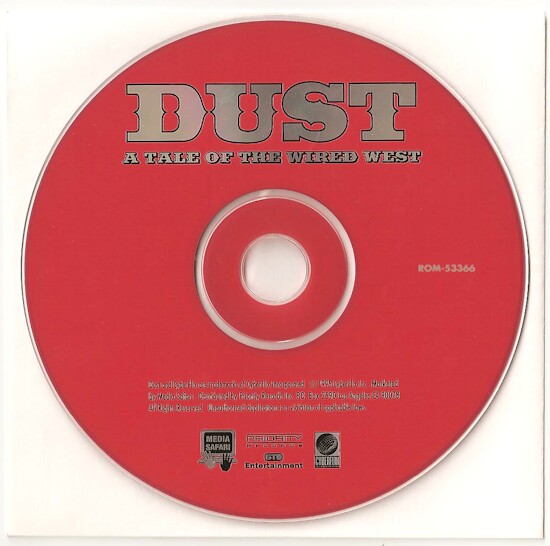 Actual Game
Dust
A Tale of the Wired West
1-Click Install
Windows 11, 10, 8, 7, Vista, XP
(Cyberflix 1995)
MY PROMISE
My games are genuine, install in one step, look, sound and play in Windows 11, 10, 8, 7, Vista and XP like they did in the old days, or your money back. This is my unconditional guarantee for three years.
WHAT IS INCLUDED
This listing includes the original game CD. An on-screen printable manual is also included. The box is pictured for reference and is not included.
I will also provide a compatibility CD that will allow the game to run under ALL VERSIONS of Windows 11, 10, 8, 7, Vista and XP, both 32 and 64 bit.
INSTALLATION
One step: Insert my CD and the game will automatically work on your computer. Done. Yes, it's that simple.
Want to play? Click the icon. Want the game off your computer? Click Uninstall. Zero hassle.
TECH SUPPORT
Rapid response technical support for three years is always an e-mail or phone call away.
In the extremely rare event I cannot get this title to work on your system I will take it back for a full refund. All I ask is minimal assistance from you during the troubleshooting process.
The Game
With its mix of pure adventure elements and arcade shootouts, Dust is one of the more revered adventure titles from the mid-90s. The game is an entertaining romp through a dusty New Mexico town in the 1880s.
Dust is a first person point-and-click adventure in which you play a mysterious, handsome, unnamed stranger. After an atmospheric opening cinematic in which your character crosses a dangerous outlaw named The Kid, the game begins with you moseying into the desperate desert town of Diamond Back. Through the town's frightened, scheming inhabitants, you gradually learn the huge backstory to the game, which includes a displaced Indian tribe, bounty hunters that are tracking a poker player, lost treasure, murder, a confidence scheme involving a pyrite mine, and, well, that's just the tip of the iceberg. Not to mention the fact that the town is without a sheriff. Could this be a career opportunity for the Stranger?
Clearly, your character has a lot of catching up to do, and this is done largely through conversation. There is a lot of entertaining conversation in DustThe voice acting is well-performed, and well-programmed. For gamers who like a rich deep plot, Dust is a feast.
The game is full of nice visual detail, like animated farm animals, buzzards, and some especially welcome tumbleweeds. The interface shows your character's upper torso and face, and there are nice animations, such as a slight sneer to his lip when The Kid shows up.
Also, the game provides a convincing and fully explorable small town, with a handy map to aid navigation. There is a nice sense of reality and freedom as you move through this complex story. There's even a helpful character who provides clues when you need it.
The gameplay is varied, including a certain amount of inventory-gathering, information gathering through all that conversation, and, in the endgame sequence, a certain amount of Timelapse-esque puzzles. This variety is one of the game's major strengths. In fact, the game designers took a big risk with the mystic finale sequence, which could seem out of place to some players. However, I considered it to be a rich and unexpected finale to an already good game. Good endgames are rare in this genre, and I appreciated this one.
The gameplay does include a strong action element as well, and this will be a dealbreaker for pure adventurists who have no patience for arcade elements in their games. There are two major gunfights and a final showdown with The Kid. Many players have complained about the difficulty of the gunfights in this game. I have to say that I thought they were a riot - challenging enough to be fun, but never impossibly difficult. They added a bit of spice without totally skewing the games genre identity. And Dust also contains an opportunity to "train" in the necessary action skills.
The characters are generally fun and entertaining. One particular character (a certain doctor) had me wondering how Cyberflix avoided a lawsuit, and I really enjoyed an outrageous faux French loser named Buick Riviera.
Overall, Dust is a far better-than-average game of the era and is an especially good introduction to the adventure genre. Even seasoned gamers will have to leap a few hurdles before happily riding off into the sunset.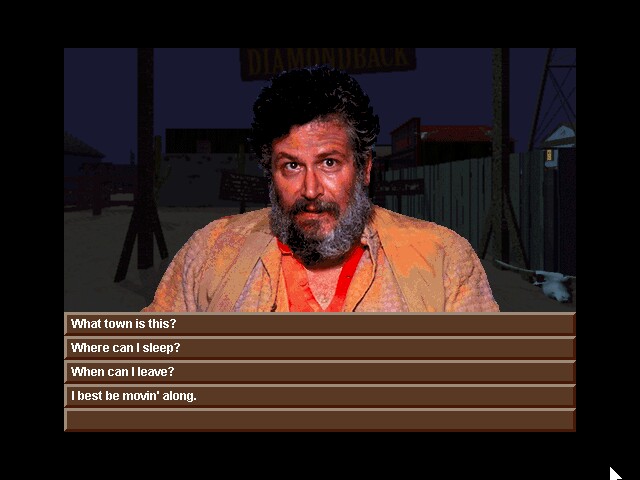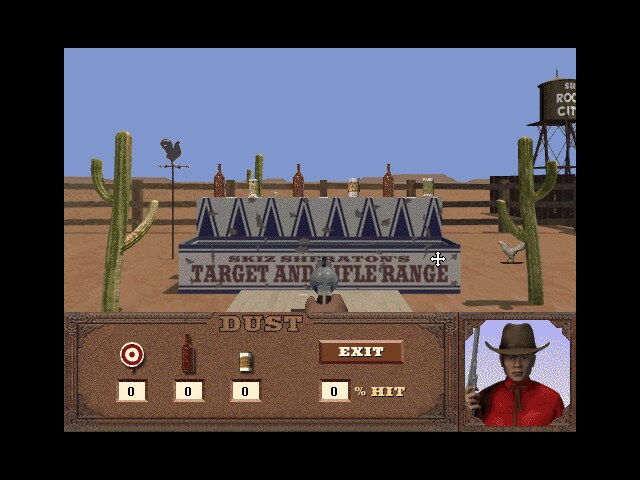 ---
Share this Product