---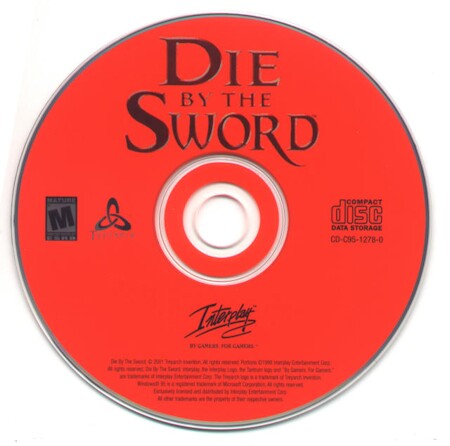 Actual Game
Die by the Sword
1-Click Install
Windows 11, 10, 8, 7, Vista, XP
(Interplay 1998)
MY PROMISE
My games are genuine, install in one step, look, sound and play in Windows 11, 10, 8, 7, Vista and XP like they did in the old days, or your money back. This is my unconditional guarantee for three years.
WHAT IS INCLUDED
This listing includes the original game CD. An on-screen printable manual is also included. The box is pictured for reference and is not included.
I will also provide a compatibility CD that will allow the game to run under ALL VERSIONS of Windows 11, 10, 8, 7, Vista and XP, both 32 and 64 bit. Note that multiplayer mode no longer functions.
INSTALLATION
One step: Insert my CD and the game will automatically work on your computer. Done. Yes, it's that simple.
Want to play? Click the icon. Want the game off your computer? Click Uninstall. Zero hassle.
TECH SUPPORT
Rapid response technical support for three years is always an e-mail or phone call away.
In the extremely rare event I cannot get this title to work on your system I will take it back for a full refund. All I ask is minimal assistance from you during the troubleshooting process.
The Game
Do you know how gratifying it is to dismember the enemy? Have you had the enjoyment of finally decapitating a monster, then fighting off others with the their compatriot's own (previously detached) foot? Have you ever had the determination of continuing a sword fight, even after loosing both arms and a leg? Well, if answered "no" to any of these questions, then you just haven't played Die by the Sword.
The game runs in an entire 3D world with a camera angle most resembling that of Tomb Raider. As a result all characters, enemies and objects are (obviously) three Dimensional. Many of these characters, unfortunately, appear to be a tad on the blocky side. In can be argued that this is compensation for the complex level structures (the levels, rocks, corridors etc. have a blocky appearance also), and all characters and enemies DO have extremely smooth, fluid movements. Enemies also have their own, unique characteristics, which are displayed in their manner of fighting. For example, Kobolds, small blue dog-like creatures, are quick, jumpy, and attack in numbers, while Ogres are massive in size, but extremely slow in attacking.
Character animation gets me to my next point, controls. Die by the Sword incorporates the most innovative and unique use of controls that I personally have ever seen, called VSIM motion technology. Basically, the way that the player moves the mouse (you can also use the keyboard, but it is very awkward, even more so than the mouse), is the way that the character swings. If you move the mouse from up to down, than the character strikes down, left to right and the character slices across his body, from left to right, etc. While any new player might call this means of control awkward at first, once you get used to it, it becomes very helpful and very realistic. For those who just don't like new things, the classic control configuration (move around keys and an attack key) is also available.
For actually playing the game, there are two types of modes available. The single player quest uses the story mentioned above. Basically, the player passes through different levels, in search for his girlfriend. Different types of levels include fending off enemies on a river, exploring through caves, and wandering around through ancient corridors. Players must execute a wide range of tasks from finding different keys, to disguising as the enemy; many of which are pretty difficult. Parts of the game will be played many times before actually passing it. In other words, the game is pretty damn hard.
The arena mode involves up to four opponents inside a ring, hacking each other to pieces. There are only four arenas to choose from: the Lava Pit, Pit of Ennui, the Mosh Pit, and the Pit of Love. While there is an initial thrill of dismembering your opponents, arena mode does grow old due to the limited number of arenas and the extremely unbalanced characters. Some characters just suck while others (i.e. Ogres) are awesome. As a result, when playing multiplayer you have 4 people all playing as Ogres, or the one person who is an Ogre totally dominating. Overall, all action/adventure game fanatics should definitely take a look at Die by the Sword as the actual playing of the game is like none other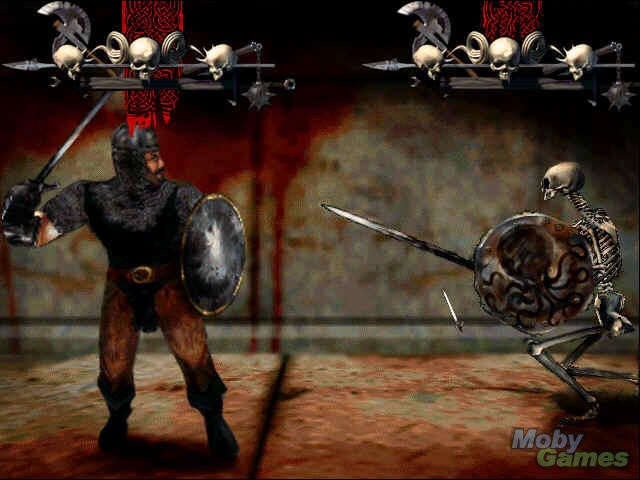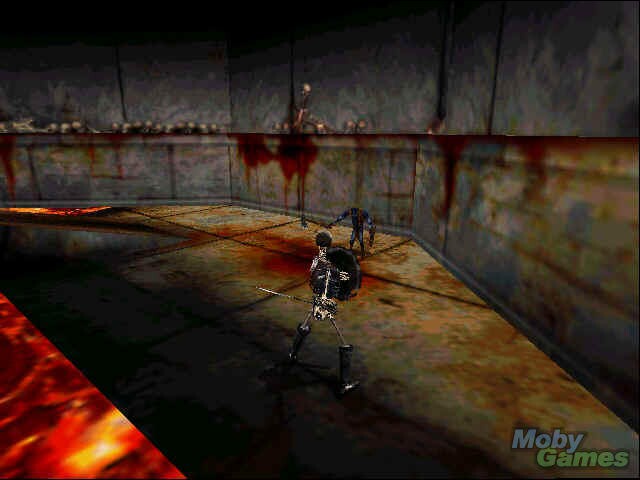 ---
Share this Product