---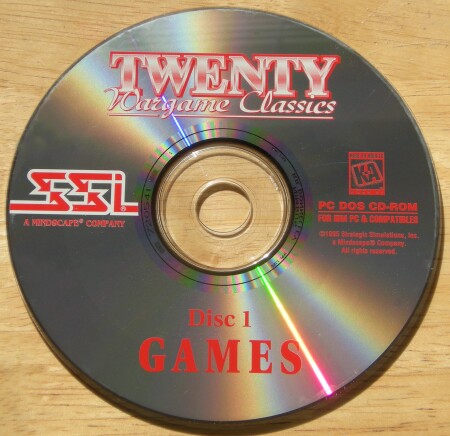 Actual Game
Decisive Battles of
The American Civil War
1-Click Install
Windows 11, 10, 8, 7, Vista, XP
(SSG 1992)
MY PROMISE
My games are genuine, install in one step, look, sound and play in Windows 11, 10, 8, 7, Vista and XP like they did in the old days, or your money back. This is my unconditional guarantee for three years.
WHAT IS INCLUDED
This listing includes the original game CD. An on-screen printable manual is also included. The box is pictured for reference and is not included.
I will also provide a compatibility CD that will allow the game to run under ALL VERSIONS of Windows 11, 10, 8, 7, Vista and XP, both 32 and 64 bit.
INSTALLATION
One step: Insert my CD and the game will automatically work on your computer. Done. Yes, it's that simple.
Want to play? Click the icon. Want the game off your computer? Click Uninstall. Zero hassle.
TECH SUPPORT
Rapid response technical support for three years is always an e- mail or phone call away.
In the extremely rare event I cannot get this title to work on your system I will take it back for a full refund. All I ask is minimal assistance from you during the troubleshooting process.
The Game
The American Civil War has been a popular choice for wargamers for some time now. Board games abound, covering everything from individual conflicts to the entire theater of war. When viewed as a whole, it seemed that the Union had all the advantages, with abundant manpower, resources, and infrastructure. Yet the Confederacy demonstrated time and again their superiority on the battlefield. The deciding factor in each battle was the leadership that drove the conflict. In Decisive Battles of the Civil War, you get a taste of what it was like to be a battlefield commander, with victory or defeat stemming from your decisions.
The game consists of 30 different scenarios from the American Civil War. The scenarios cover most of the major battles, from the first major engagement of the war at Bull Run to arguably the most important battle, Gettysburg. Indeed, Gettysburg is actually split up into two scenarios, representing Day 1 and Day 2 of the conflict. Combat is done at the brigade level, so your units represent anywhere from a few hundred to a couple thousand soldiers. As in most Civil War games, the three main types of troops are infantry, cavalry, and artillery.
As you might be able to tell from the screenshots, this game tends to lean towards complexity, and as such I advise downloading the manual with the game. Included with the documentation are some excellent tutorials that will get you started on some of the easier scenarios, getting you into the action quickly. Once you cut your teeth on a few of these tutorials, the full manual offers all the information you need to get the most from your soldiers.
Your typical game turn consists of giving orders to your units and then executing those orders. Your units can be given specific orders, such as defend, take an objective, and of course engage the enemy. What sets this game apart from others in the genre lies with your units themselves. They are not simple puppets, awaiting your orders for everything. They will give their own orders according to what they think is best. Of course you can override their decisions if you feel the need, but this makes it easier to slide into the gameplay as you can give general objectives and they will take care of the individual actions.
To add even more complexity, you can control how you interact with your units. Instead of playing a floating entity with the ability to tell every unit what to do, you can choose to represent a physical commander on the field. That means that you can only give orders to those units that are close enough to receive them. Since each unit is led by a leader with a rating for his command, you will have to decide where your direct intervention will best serve your forces and move your overall commander there to ensure your orders are carried out. Since you are a physical unit, you are subject to attacks and can be eliminated, severely limiting your side's ability to react to enemy actions. This is something wargames rarely do, but it more accurately depicts the realities of combat on a battlefield.
The scenarios are relatively short, with a strict turn limit imposed. Victory is achieved via a point system, with points awarded for kills and objectives completed. An editor exists, so you can tweak the scenarios and even create new ones if you desire. I recommend checking out the scenario descriptions included with the manual, as it gives you the historical background and even recommends some tweaks based on historical what-ifs. Whenever you start the map, you can go into the options for a side to get advice on how to proceed, giving you an idea of your overall goal. Overall, this is a fine game with a good amount of depth and strategy.
This game actually includes Volumes 1-3 of the series, which were originally released separately. This is a part of SSG's Battlefront system, which is used in several other games.
---
Share this Product