---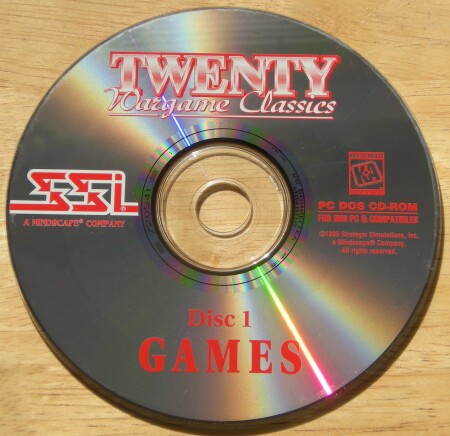 Actual Game
D-Day: The
Beginning of the End
1-Click Install
Windows 11, 10, 8, 7, Vista, XP
(Impressions 1994)
MY PROMISE
My games are genuine, install in one step, look, sound and play in Windows 11, 10, 8, 7, Vista and XP like they did in the old days, or your money back. This is my unconditional guarantee for three years.
WHAT IS INCLUDED
This listing includes the original game CD. An on-screen manual is also included. The box is pictured for reference only and is not included.
I will also provide a compatibility CD that will allow the game to run under ALL VERSIONS of Windows 11, 10, 8, 7, Vista and XP, both 32 and 64 bit.
INSTALLATION
One step: Insert my CD and the game will automatically work on your computer. Done. Yes, it's that simple.
Want to play? Click the icon. Want the game off your computer? Click Uninstall. Zero hassle.
TECH SUPPORT
Rapid response technical support for three years is always an e-mail or phone call away.
In the extremely rare event I cannot get this title to work on your system I will take it back for a full refund. All I ask is minimal assistance from you during the troubleshooting process.
The Game
One of the interesting features of D-Day: The Beginning of the End is the option which allows you to manipulate the opening scenario settings and create conditions vastly different than the historically based defaults. Besides assuring diversity in replay situations this option presents the player with a definite chance to re-think history and direct operations accordingly. The game is designed to accommodate two human players or human against computer. Because of the complexity of the strategic and tactical decisions as well as the detailed level of troop movement and supply, D-Day: The Beginning of the End has a tendency to produce extremely long games. It wouldn't be unusual for games between humans to last a period of weeks. The reasons behind this are the vast size of the theater being emulated and the painstakingly involved campaign requirement of moving all troops from turn to turn. Long term orders are not supported so you'll have to direct each and every unit under your command every single turn if movement is desired or necessary. Adding to the realism of the simulation are the options to customize areas such as the military leaders' personalities (more aggressive, tentative, etc.), hands-on control of supplies and weaponry, difficulty levels which impact the computer's "smarts" and ability to select fog of war conditions. Two modes of play are offered with the standard option dependent upon factual historical records of troop placement, timelines, availability of units, actual supply and weapons readouts, movement and various other aspects while the historical option allows for the manipulation of starting conditions referenced above.
Nearly all movement and player induced commands are entered by choosing menu options and troop movement is handled nicely with the mouse (simply right click on unit to select it and then left click on destination hex). The game's complexity results in an intensive time investment as each unit must be checked or monitored each turn and note-taking is suggested as a way to keep track of your overall strategy which can be lost in the myriad of details and passage of time. Terrain affects troop movement and units have assigned movement points so careful planning is a must. Another positive point is the inclusion by the designers of an option that allows the computer to determine combat outcome automatically rather than force you to direct every single movement of every unit during a battle. Perhaps a bit more detail regarding outside influences could have been built into the game such as the war going on in the Eastern Front. As it stands, very little impact is considered in this regard which can result in unfair advantages during manipulation of scenarios, especially in the area of German troop strengths. What would have happened if Hitler only had one front to worry about instead of two? Inadvertently, D-Day: The Beginning of the End gives you an opportunity to test out that avenue of strategy. In summary, the game is a very complex exercise in all aspects of strategic management and is geared toward seasoned wargaming veterans.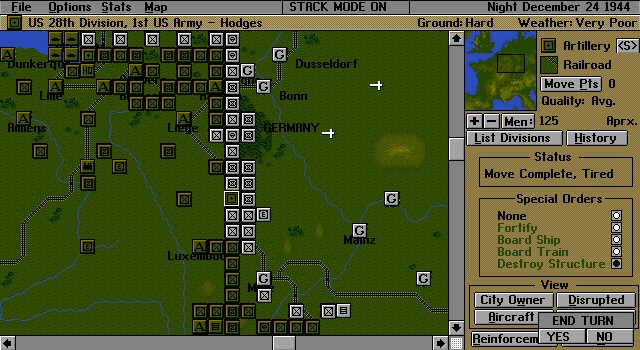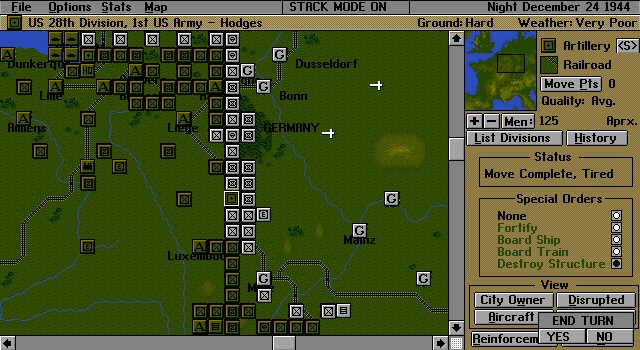 ---
Share this Product