---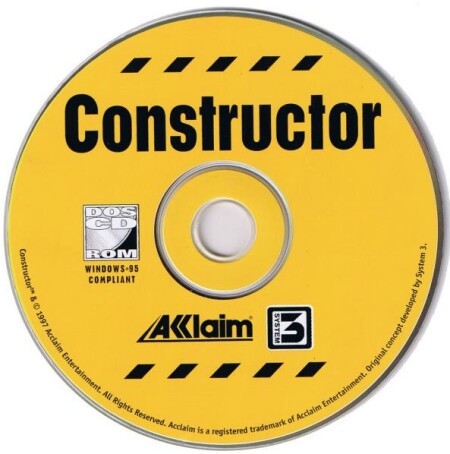 Actual Game
Constructor
Mob Rule Prequel
1-Click Install
Windows 11, 10, 8, 7, Vista, XP
(Acclaim 1997)
MY PROMISE
My games are genuine, install in one step, look, sound and play in Windows 11, 10, 8, 7, Vista and XP like they did in the old days, or your money back. This is my unconditional guarantee for three years.
WHAT IS INCLUDED
This listing includes the original game CD. An on-screen manual is also included. The box is pictured for reference only and is not included.
I will also provide a compatibility CD that will allow the game to run under ALL VERSIONS of Windows 11, 10, 8, 7, Vista and XP, both 32 and 64 bit.
INSTALLATION
One step: Insert my CD and the game will automatically work on your computer. Done. Yes, it's that simple.
Want to play? Click the icon. Want the game off your computer? Click Uninstall. Zero hassle.
TECH SUPPORT
Rapid response technical support for three years is always an e-mail or phone call away.
In the extremely rare event I cannot get this title to work on your system I will take it back for a full refund. All I ask is minimal assistance from you during the troubleshooting process.
The Game
Constructor gives the player the chance to run a construction company in a place where real estate is up for those who want to develop it first and where everything is allowed to get rid of the competition.
Starting in a single plot of land with the headquarters, a construction team (composed by a foreman and one to five workers) and a repairman, the player must start by building a wood mill and provide housing to the bottom of the social ladder: slobs. From there, taking advantage of their fast reproduction rate, the player can train new workers, and as soon as three different wooden huts are available, the council will allow the construction of a cement yard, which in turn allow the construction of better buildings. However, slobs wouldn't appreciate living in such luxury, and so a gadget factory can be built so that computers are distributed to their houses, allowing for a new generation of better educated citizens. While the workers pack a nasty punch when in a large group, violence should be left to the professionals. After building a Pizza Parlor, the player is allowed to use the services of gangsters. These are able to take on that pesky foreman or that building the Council asked to get rid off.
But there's more to the game than build from ghetto houses to luxury buildings, and as they say, all is fair in war, and construction IS war. The player can send his foremen to capture other teams' buildings, or do even worse: provide housing for the scum of society. From hippies to ghosts, these can do a number on the other teams' properties. Want to stress out a tenant? Send the thugs to do a wild party in their house. Need some cash or materials? Send the thief to relieve a team from them. All this while avoiding the others do the same on you by assigning police patrol to key areas. As time passes, it pays out to build other, more friendly, buildings. A school allows everyone to breed more civilized members of the society, the hospital allows recovery of wounds much faster or the park, where everyone goes to relax a little, among others. Improving the rooms and giving them garden furniture is also a good way of keeping tenants happy, but jealously can grow among neighbors. Failing to comply to tenants requests and demands will quickly turn the Council against the player.
The player will have to balance the output of their tenants to achieve success: overdoing one of the elements will take a dent on the bank account (leading to bankruptcy), cut the arrival of new workers (putting a strain of existing teams), replacement for deceased tenants (leaving houses vacant that eventually decay into a flaming pile of rubble not before giant cockroaches settle in) or police and mob favors (to patrol areas against undesirables and gangster actions).
The difficulty level affect what maps can be selected, but also which actions the undesirables can perform. To choose higher difficulty settings, more computer players (up to three) must be activated.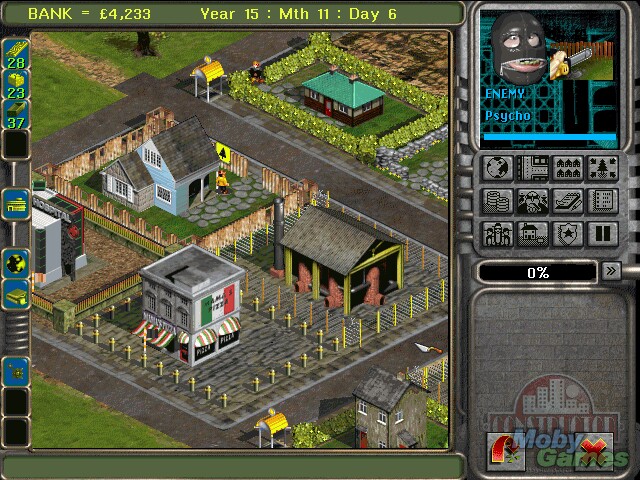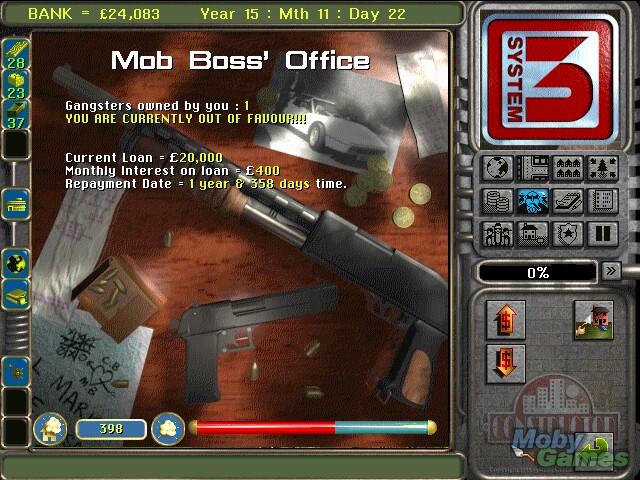 ---
Share this Product