---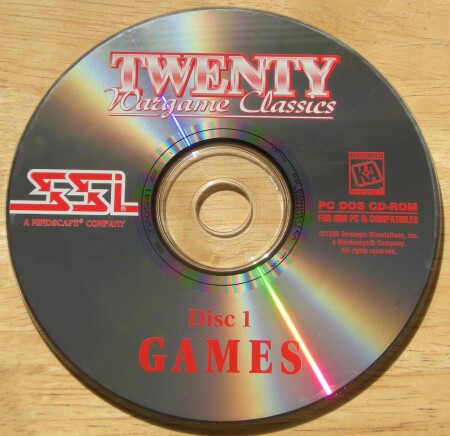 Actual Game
Clash of Steel 2.0
Future Wars
1-Click Install
Windows 11, 10, 8, 7, Vista, XP
(SSI 1993)
MY PROMISE
My games are genuine, install in one step, look, sound and play in Windows 11, 10, 8, 7, Vista and XP like they did in the old days, or your money back. This is my unconditional guarantee for three years.
WHAT IS INCLUDED
This listing includes the original game CD. An on-screen manual is also included. The box is pictured for reference only and is not included.
I will also provide a compatibility CD that will allow the game to run under ALL VERSIONS of Windows 11, 10, 8, 7, Vista and XP, both 32 and 64 bit.
INSTALLATION
One step: Insert my CD and the game will automatically work on your computer. Done. Yes, it's that simple.
Want to play? Click the icon. Want the game off your computer? Click Uninstall. Zero hassle.
TECH SUPPORT
Rapid response technical support for three years is always an e-mail or phone call away.
In the extremely rare event I cannot get this title to work on your system I will take it back for a full refund. All I ask is minimal assistance from you during the troubleshooting process.
The Game
Clash of Steel was made for those looking for an in-depth wargame that covers the entire spectrum of the European theater in World War II but don't want to invest months completing it. The entire war (on both European fronts) can be completed in less than ten hours assuming you're not a novice. The number of turns run from two to eleven with "phased" increments equaling two months of real time across a map that is displayed in hefty fifty mile hexes. Even though the interface accommodates both mouse and keyboard, there's no doubt that using the former is the way to go. Simply click on a unit followed by the desired destination and just that easily your movement is executed. It's even simpler on air strikes. Select the target, then the strike command, and the nearest available air unit will attempt to carry out your order. Of course, hex-by-hex movement is still an option if you like to ride with your troops across the multi-faceted, realistic terrain. The game fairly represents both sides of the conflict so if you're hankering to rewrite history with a German victory, go for it! The challenges offered by Clash of Steel are steeply ingrained with tons of accurate logistical information, equipment, forces, weather considerations, personnel and optional campaign lengths (six different start dates are supported).
Because of the large chunks of time eaten up by each turn, you'll have to be very careful in your forward planning and strategy. Approaching the war from a theater commander's perspective can be daunting, yet game play fully supports the idea. You'll need to think your offensive thrusts through in detail and pay very close attention to available forces and allow for seasonal vicissitudes. Clash of Steel focuses on the war in a semi-macro sense and you'll be busy coordinating the multi-national responses, usually at the corps or army level. Victory conditions are somewhat simplified and usually require a go-for-broke type of mentality. With so many optional approaches for playing out your strategic ideas, the game's quick pace and relatively short time investment pays big dividends for those interested in the game as a war gaming laboratory designed for experimentation. So often war games are rigidly restrictive by not allowing the user a chance to significantly change outcomes.
Clash of Steel straddles the line wonderfully by providing a high degree of historical accuracy and at the same time offering the opportunity to try out different strategies. There is an errata card included with the game and one is advised to update the manual because a couple of the changes are very significant. Judging important aspects such as force capability, research contingencies based on budgetary restraints, and strategically plausible targets are just a small part of the mix that Clash of Steel brings to your on-screen alter ego.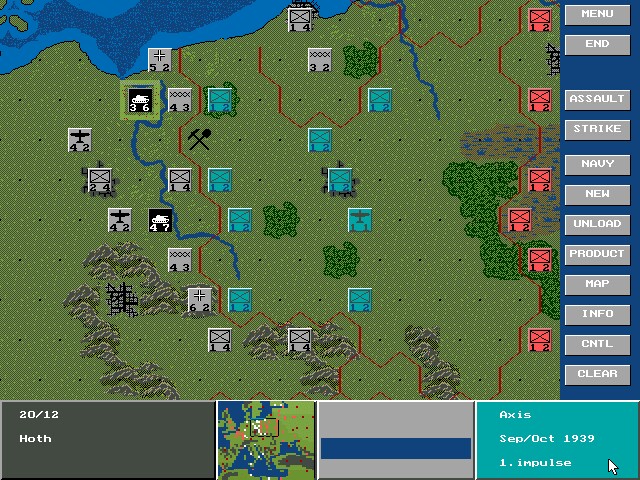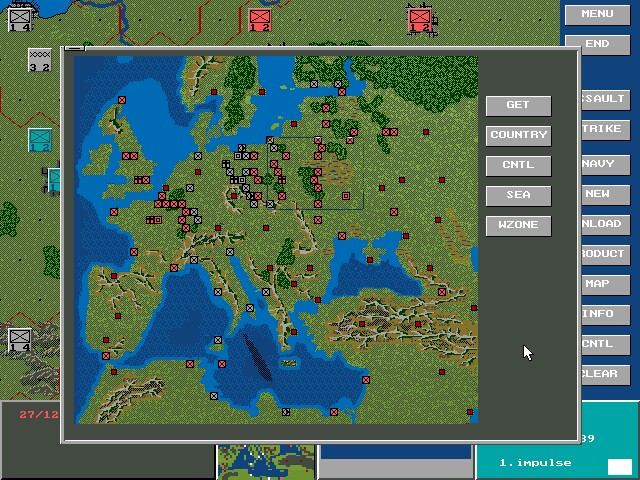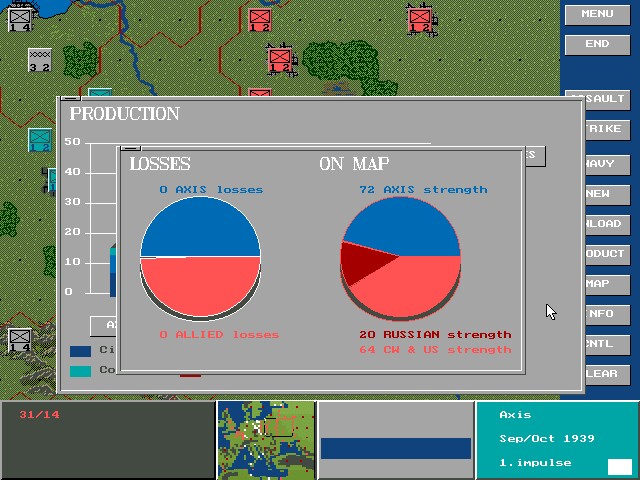 ---
Share this Product