---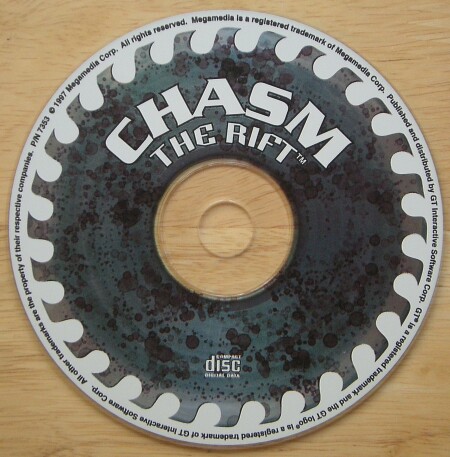 Actual Game
Chasm: The Rift
1-Click Install
Windows 11, 10, 8, 7, Vista, XP
(GT Interactive 1997)
MY PROMISE
My games are genuine, install in one step, look, sound and play in Windows 11, 10, 8, 7, Vista and XP like they did in the old days, or your money back. This is my unconditional guarantee for three years.
WHAT IS INCLUDED
This listing includes the original game CD. An on-screen manual is also included. The box is pictured for reference only and is not included.
I will also provide a compatibility CD that will allow the game to run under ALL VERSIONS of Windows 11, 10, 8, 7, Vista and XP, both 32 and 64 bit.
INSTALLATION
One step: Insert my CD and the game will automatically work on your computer. Done. Yes, it's that simple.
Want to play? Click the icon. Want the game off your computer? Click Uninstall. Zero hassle.
TECH SUPPORT
Rapid response technical support for three years is always an e-mail or phone call away.
In the extremely rare event I cannot get this title to work on your system I will take it back for a full refund. All I ask is minimal assistance from you during the troubleshooting process.
The Game
Another dimension has opened up, and nasty mutated critters have bounced through to wreak havoc, steal beer, and be a general nuisance. Enter You, the Faceless Soldier, who must clean up those nasties, close the rift, and restore order. You accomplish this by battling through a multitude of mazes, picking up bigger weapons, and throwing switches to open doors in the standard Doom fare.
Chasm's engine wasn't the latest or greatest during the late 90s , but the gameplay is solid. A handful of small touches boost the atmospheric content - the rain effect in the outdoor environments is pretty spiffy, and you can blow out windows and destroy light sources, which darkens the surrounding environment. Levels are spread out over military bases, alien installations, and Egyptian pyramids, and each mission begins with a briefing from your superiors, who look like the officers from the Wing Commander games.
But the stars of the show are the monsters, which have a higher level of detail than the ones in Quake. In the first few levels of Chasm, you'll run up against gas-masked Nazi-esque stormtroopers who come in all shapes and sizes, and best of all, you can actually blast off their limbs. One or two well-placed shotgun blasts will remove a random appendage - but instead of dropping dead and bleeding to death, the enemy keeps coming at you with whatever's left. Unfortunately, one limb is all you're allowed to take off - you can't pull a Monty Python and leave your armless opponent hopping on one leg.
In the long run, Chasm is good late 90s 3D shooter. It's lower hardware requirements made it accessible to a wider audience and the gameplay was exactly as expected.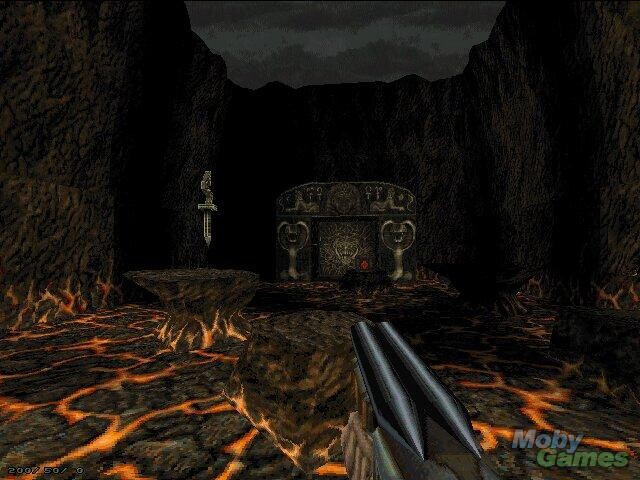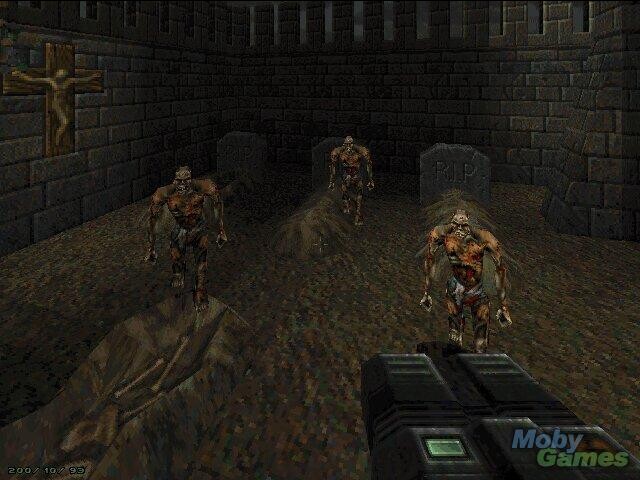 ---
Share this Product